We are holding out hope that 2013 will be a banner year for the Sweet Science. Recent years haven't been so bad, but failed to deliver on their expected promise to some extent. Here are some things that can breathe some life into the sport and thrill existing fans, while hopefully luring in some new ones.
A True Super-Fight
I'm talking Leonard-Hagler or at least Trinidad-De La Hoya–something along those lines. It's doubtful that it could even happen. Who could you match that would reach those heights? Klitschko vs. Klitschko? Well, that's not going to happen. If anything, we learned that if a super-fight is to be made, it should be made. Mayweather-Pacquiao now looks like it will never happen. Too bad.
The sport cannot afford to squander opportunities like this ever again. It doesn't say much for the caretakers of the sport that Mayweather-Pacquiao never happened or if it ever will–it will be under diminished conditions. Considering the precarious position this sport is in in relation to its glory days–it is shameful. The endless cultivation of big fights has grown tiresome. Just make it happen already. If a fight is hot–make the damn thing.
Take the top fighters in the sport and if possible, match them against each other. Even if it's not a "super-fight," it would go a long way toward creating one. Look at recent super-fights. Before it could take place, the principles had to notch a number of high-quality wins. You don't just wake up one day and appear in a super-fight. In 2013, it isn't too much to ask the powers-that-be to start setting the table for some huge fights that could sustain the sport for the next several years. But it's going to take some adventurous matchmaking. These things would be a good start:
Match Fighters Across Continents
A lot of marginal fighters could do their careers a lot of good by striving to truly become what it says on their belts–"world" champions. It seems in recent years, there are world champions who operate exclusively in their regions, never tangling with other top fighters from other areas of the globe. Opening the borders would lend some much-needed clarity to a lot of careers and weight classes.
At 108, for example, you have Roman Gonzalez and Kazuto Ioka as the top two dogs. They could fight each other and have the most significant junior flyweight fight since the Carbajal/Chiquita days, or at least since Finito Lopez fought Rosendo Alvarez. This mindset did wonders for the super middleweight division, where the best of the USA and Europe mixed it up and brought the division into prominence. Let's see it happen with other weight classes.
A Good Heavyweight Title Fight
Can boxing survive without the heavyweight division? Maybe. But it sure doesn't do the sport any good when its most historically-significant division is devoid of any drama whatsoever for the better part of a decade. The standards are so low that when Dereck Chisora gave Vitali Klitschko a decent go, people talked about it like it was Holyfield-Dokes. That's how low things have gotten.
With the Klitschkos aging, maybe we're due for something dramatic. The list of threats to their supremacy is growing. If the Klitschkos take some higher-risk type of fights, we could see some fireworks. The list of challengers is about as threatening as its been in a decade. Combine that with the Klitschko's age, it seems like this is actually a wish that could come true.
Turn the 122 and 140-Pound Divisions Loose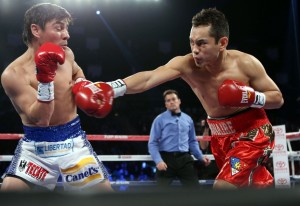 The roster of exciting fighters at 140 is breathtaking–Danny Garcia, Amir Khan, Lamont Peterson, Lucas Matthysse, and Brandon Rios, just to name a few. If Garcia beats Judah, who wouldn't want to see him fight Rios or Matthysse. How about Rios-Matthysse? At 140, you can pretty much draw names from a hat and be sure you're going to get a barnburner.
At 122, we have Nonito Donaire, Abner Mares, Guillermo Rigondeaux, and a roster of solid veterans and newcomers alike. Exciting IBF Bantamweight Champion Leo Santa Cruz is talking about moving up to 122. Hopefully by this time next year, we can have some clarity on the identity of the top dog in this weight class. So what's it gonna be, powers-that-be? Are we gonna make some of these fights or are you going to pit the top guys against the second-tier in an endless effort to build up the big fights that might never happen?
Make These Fights:
Mayweather-Alvarez: It would be a huge attraction and has the potential for being a stiff test for the aging king. For Mayweather, it's the perfect resume-building win to add late in his career. For Alvarez, it represents the possibility of the torch being passed to a young unbeaten star.
Pacquiao-Marquez V (Or would it be Marquez-Pacquiao V now? What's the rule on that?): I came out against there being a 4th fight, so now it's time to backtrack a bit. After the last result, however, we now at least have reason to expect the unexpected. Now there is no question that this is the final one, regardless of the result.
Donaire-Mares: There is just something about 122-pound super-fights that always seem to deliver, whether it be Gomez-Zarate from way back or the more recent Marquez-Vasquez rivalry. This one is a can't-miss.
Comments
comments