-Taking a Look at Boxers That Should Get into the Hall, and Those Who Shouldn't be There-
The International Boxing Hall of Fame, located in Canastota, NY, is a thoughtful organization, a group that has done the sport proud by representing its history in an accurate way. But like with any Hall of Fame, whether it is in baseball, football, or even rock and roll, there is usually a fair amount of disagreement as to who should be in, and who shouldn't be in.
Let's address the 500-pound elephant in the room. What right does a writer have to call into question and nit-pick the accomplishments of boxing greats? Admittedly, it rings a little hollow for a man who's never scaled the heights of pro boxing to overly-scrutinize the careers of true greats. It's downright low for a person to stand on the sidelines years later and say, "Oh look, he wasn't as great as people think he was." Some of these men are dead or otherwise really cherish their legacies, so what's the harm with them being in the Hall?
Let's face it, to even be considered for the Hall of Fame means an awful lot. It means you were better than at least every 10,000 boxers who ever fought pro. These men are in rarified air. Nevertheless, here is a short list of boxers (all great) who shouldn't be in the Hall of Fame and those who should.
Eight Boxers who shouldn't be in the Hall of Fame:
Barry McGuigan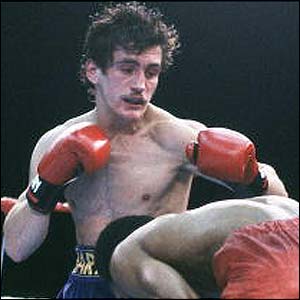 Why he's in: Captivating fighter and personality who was enormously popular in the boxing-rich 80's. Beat legendary champion Eusebio Pedroza, ending a long reign for the iconic Colombian. Pre-title list of wins impressive, including a win over still-relevant Juan LaPorte. Notched a high-quality defense against 33-0-1 Bernard Taylor.
Why he shouldn't be: By the time you were getting into him, he was gone. Was champion for only a year, in a division where Azumah Nelson reigned supreme. Loss to Stevie Cruz at 26—a fighter who never went on to establish excellence—was a major setback he never recovered from. Win over Pedroza was huge, but frankly against a waning force who had been showing signs of erosion. The inclusion of McGuigan in the HOF now gives dozens of fighters an argument on why they should also be in. Very good fighter, but didn't do enough.
Joey Giardello
Why he's in: Grizzled ring craftsman who toiled for years, fighting the biggest names in the sport. Beat top welterweight Billy Graham twice on his way up, as well as tough contenders Harold Green, Gil Turner, Bobby Boyd, Chico Vejar, Holly Mims, and others. Served as a contender endlessly through the 50's and early 60's. Fought Middleweight Champion Gene Fullmer to a tough draw in 1960. Beat an aging Sugar Ray Robinson in 1963. Best wins are probably his pair of triumphs over Hall of Fame great Dick Tiger, the latter one being for the World Middleweight Title. Scored a quality defense against Rubin "Hurricane" Carter. Giardello's level of competition was incredible.
Why he shouldn't be: Took him an awfully long time to get clicking, as he lost to most name fighters he fought in the first ¾ of his career. From 1958-61, he was only 6-8-1. He beat a lot of good fighters, but had accrued 24 losses by the time he became champion—a title he held for one defense. He beat Dick Tiger twice, but Tiger also had two wins over Giardello and seemed to have the final word in that rivalry. If you go through his career and cherry-pick his good moments, it is an impressive list. I just think he was a step below the great Middleweight Champions of that time, and despite an inspiring late-career renaissance, his career doesn't scream all-time greatness.
Jose Torres
Why he's in: Reigned as light heavyweight champ in a tough era in the 60's. Beat excellent champion Willie Pastrano to win the belt. A hard guy not to like, as he spent his retirement years as a visible elder statesman of the game, carrying himself with class and dignity. Only two men beat him in an 11-year career. Beat a good list of contenders and made 3 defenses, including a bristling victory over Eddie Cotton in the 1966 Fight of the Year.
Why he shouldn't be: Had a wonderful career, but lost twice to an aging Dick Tiger, which seemed to prevent him from crystallizing his greatness. His biggest win is over Pastrano, who was in his final fight. Then it becomes difficult to identify what you would call a landmark victory. If there was some sentimentality that went into his induction, we can understand that, even if it gives a Hall-of-Fame-case to dozens of other fighters.
Terry Norris
Why he's in: Being the first man to dominate Sugar Ray Leonard doesn't hurt. Either do 16 title defenses of his junior middleweight laurels. His ability jumped out at you. Has an argument as being the best junior middleweight ever and was utterly dominant in many of his fights. Norris is one of the more offensively talented fighters in the entire Hall of Fame. Holds wins over big-name fighters like John Mugabi, Donald Curry, Meldrick Taylor, Maurice Blocker, and Simon Brown.
Why he shouldn't be: While being struck by his talent and dominance, you always had the impression that Terry was always fighting guys who were either moving up in weight or over the hill, and sometimes both. Virtually every big name he faced was on the downslide. Ridiculously remained in the talent-starved junior middleweight division his entire career, despite a resurgent middleweight division just 6 pounds north. Many tantalizing matches awaited Norris—especially a rematch with Julian Jackson, who flattened him at 154. Disqualifications led to his involvement in an absurd three-fight series with losing-fighter Luis Santana. Was bludgeoned by a post-peak Simon Brown in their first fight, when Norris eschewed his athleticism and strangely kept hanging his head in Brown's wheelhouse, while getting clunked on the head and failing to make a mid-fight adjustment. Didn't always fight smartly or cleanly, was chinny when hit solidly, and spent his prime cleaning up his messes and fighting hopeless challengers.
Brian Mitchell
Why he's in: Only loss in 49 fights came in first year as a pro, a defeat he twice avenged. Long undefeated run highlighted by 5-year title reign at 130 pounds. Was a lightning rod for controversy as a white South African, which probably cost him in his career. Made 12 title defenses and finished his career at the top by drawing (he should have won) and beating Tony Lopez in Sacramento.
Why he shouldn't be: With Azumah Nelson at 130 pounds at the same time as Mitchell, Brian was never really "the man" in his weight class. While penalized for circumstances out of his control, the fact is that his challengers were an uninspiring lot. Lopez was quality, but after that, he just didn't beat many good fighters, including the guy he beat for the title—Alfredo Layne. Mitchell was an excellent fighter who was unbeaten in his last 42 fights, but he never struck me as being Hall of Fame material.
Curtis Cokes
Why he's in: Long serving contender with a solid pre-title run finally won the title in 1966, reigning as Welterweight Champion until 1969—scoring five title defenses. Beat excellent former champion Luis Rodriguez in two out of 3 fights.
Why he shouldn't be: Was too green to deal with the best welterweights when the division was hot in the first half of the sixties. Benefited from a weak era at 147, as evidenced by him becoming champion by virtue of wins over mediocre Manuel Gonzalez and Jean Josselin. Lost to the best fighter he fought during his reign, losing a non-title tilt to Gypsy Joe Harris. Wins over a slightly past-peak Rodriguez were impressive, but after that, the next best fighter he beat was maybe Josselin. Doesn't seem like enough, does it?
-Use the Links Below to Move onto the Next Article Segment-