-Kelly Pavlik vs. Bryan Vera is the Co-Feature Bout on the Manny Pacquiao vs. Antonio Margarito Pay Per View Event November 13th-
It's September 29th, 2007, and Kelly Pavlik has just resoundingly captured the undisputed middleweight championship of the world by stopping the undefeated Jermain Taylor in the 7th round, capping off a dramatic comeback after he was nearly stopped in the 2nd. The blue-collar, fan-friendly Pavlik was the new face of boxing, and was primed for a long and glorious title reign that brought mainstream America back to the sport.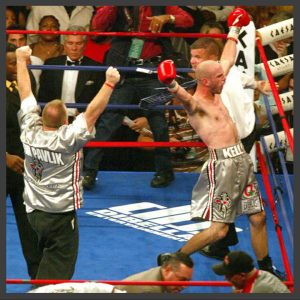 In just a few days Pavlik will be three years removed from that performance, and in truth, it feels even farther than that. The Ghost is now 36-2, and has been a mere phantom of himself since his title-winning effort. He's set to face former The Contender cast member, Bryan Vera, 17-5 with 2 knockout losses, in the lead supporting bout on the Manny Pacquiao vs. Antonio Margarito card on November 13th.
Pavlik first shot into the public's consciousness with several HBO televised performances in the beginning of 2007. He knocked out fringe contender Jose Luis Zertuche, and then defeated feared slugger Edison Miranda via 7th round TKO, walking down and punishing the bully en route to his stoppage win. The winner of the Miranda vs. Pavlik match – and the more common opinion was that Miranda would be the winner – was to land a showdown with middleweight champion, and two-time Bernard Hopkins conqueror, Jermain Taylor.
Although Pavlik was backed by a legion of fans from his hometown of Youngstown, Ohio, it was Taylor who was favored to be victorious that evening. By the 2nd round, it looked like Taylor would make short work of the challenger, and appeared close to stopping his man. The underdog was able to survive his knockdown and the Taylor barrage that followed, and as he did against Miranda, Pavlik began walking Taylor down, firing off thudding straight rights behind a long and powerful left jab. The victory soon became inevitable, and Pavlik's combinations would end up leaving Taylor a crumbled heap in the corner of the ring.
The two would have a rematch in February of 2008, and this time Pavlik won a clear but fairly close unanimous decision. The bout was held at a catch-weight of 164 lbs, so the middleweight titles were not at stake. Pavlik would never have a meaningful, successful defense of that title bout that he won so resoundingly three years ago.
Instead, after the Taylor rematch, he fought Gary Lockett in June of 2008, defeating him by third round TKO to retain his WBC and WBO middleweight straps. If you've never heard of Lockett, you're not the only one, and you haven't missed anything either. It was Lockett's only fight outside of the United Kingdom, and Pavlik is the only recognizable name on his ledger.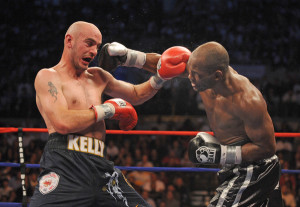 Next came another catch-weight contest, this time against Hopkins at 170 lbs, in October of the same year. Hopkins routed and embarrassed Pavlik that night, roughing him up and taking him out his element, in the same arena, in front of the same fans, where Pavlik triumphantly rejoiced his first conquest of Taylor, just a year prior.
Pavlik dropped back down to middleweight, and made two lackluster title defenses in 2009. The first came against Marco Antonio Rubio in February, a one-sided affair that was stopped prior to the start of the 10th round, and the second came against Miguel Angel Espino in December, a 5th round TKO win.
He had a long layoff in between those bouts, dealing with injuries to his hands and a subsequent staph infection, while rumors also swirled about potential alcohol problems. A highly anticipated showdown against Paul Williams was postponed on several occasions before finally being canceled entirely. The Espino fight though took place nearly immediately after the Williams fight would have, bringing up major questions about the true severity of Pavlik's injury and infection.
Espino, a largely unheralded member of the first season of The Contender, was appropriately viewed as fodder for the middleweight champion. It was the third such "bum of the month" defense for Pavlik, with the devastating loss to Hopkins sandwiched in between.
In April of 2010, he finally lined up a real opponent, Sergio Martinez. Martinez started off using his slickness and superior speed to immobilize the offense of Pavlik. After a mid-rounds rally by the champion, a bad cut over his right eye gave the momentum back to Martinez, who closed the show and won a unanimous decision to become the new middleweight champion of the world.
Now Pavlik is slated to face Vera, loser of four of his last five bouts, on the Pacquiao vs. Margarito undercard. Instead of headlining Pay Per View events, he's supporting them. Instead of improving as a fighter by facing strong opposition, he faces another KO victim in the waiting. It's the same strategy that saw him make three title defenses, opponents be as they may, while twice losing badly to the men he faced who weren't pushovers, and completely failing to capitalize on his emphatic and rousing first performance against Taylor. The Ghost hasn't disappeared from the sport, not yet, but he's just a phantom of that fighter we saw three years ago.