This past weekend, Showtime's event featured 3 great fights filled with action (albeit with questionable television coverage). I, like everyone else, reveled in watching the non-stop fisticuffs and toe to toe exchanges throughout the night.
However, as the final fight featuring Andre Berto and Jesus Soto-Karass wore on, I began to realize and ponder the lack of defense in the three fights that night. While wildly entertaining, and appropriately billed as Knockout Kings, I became somewhat alarmed at the brazen, caution-to–the-wind advances and lackluster movement which filled the evening.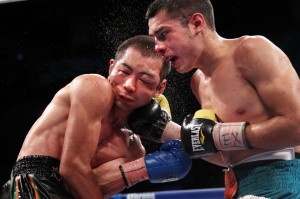 I watched a once highly touted talent in Andre Berto get bounced around the ring as he ate shot after shot from a game and willing Soto-Karass. I thought to myself, what if Berto had learned and mastered the arts movement and boxing defense? Would he be such a diminished fighter at this stage in his career?
How about Keith Thurman's future prospects? He certainly appears to have the offensive arsenal to reach the lofty heights of boxing, but will his flame become a Berto-like flicker as his career moves on without an improved avoidance of getting hit?
Finally, what will become of the other young upstart on Saturday's card, Omar Figueroa?  He has demolished his foes and appears to be a very marketable young star, but on Saturday, when faced with a game and freakishly durable foe like Nihito Arakawa, he walked away battered, welted and bleeding, thanks to a surprising penchant for staying on the ropes and "in the phone booth" for most of that fight.
When we discuss most pound for pound all-time greats, there are several common threads, not the least of which is an above average ability to manage an opponent's advances, e.g., movement and good defense. Even today's top pound-for-pounders like Floyd Mayweather Jr., Andre Ward and Wladamir Klitschko all are known for, among other superior traits, above average defense.
Cuban sensation Guillermo Rigondeaux is actually admonished and somewhat disregarded by many fans and match makers for being too elusive. While I understand that styles make fights and that action sells tickets, I do believe some of these young "prospects" could benefit greatly from spending a bit more time in the gym, understanding some of the things that Rigondeaux has mastered.
It seems to me that what is separating the "great" fighters of today from many of the "good" or "entertaining" fighters of today is movement and defense. Surely, some of the younger crop is figuring it out, but when you look at fighters like Amir Khan getting exposed repeatedly, prospects like Seth Mitchell getting knocked out, and fighters like Brandon Rios, Mike Alvarado and Ruslan Provodnikov all heading towards an incredibly fun but likely short-lived stint amongst the upper echelon of the sport, you can see the reality.
Thurman and Figueroa still have time to figure it out. But if they don't? Well, just ask Andre Berto.