But, What's He Really Saying: Floyd Mayweather's interview with Bob Costas

Earlier this month, Floyd "Money" Mayweather sat down with Bob Costas and gave an unsurprisingly candid, nearly 22-minute interview that was, in a phrase, classic Floyd.
With my background, I found this to be a particularly compelling and intriguing interview, and a glimpse at who Mayweather really is. Part of what you're trained to do in law school—aside from create a beautiful utopia of half-truths—is read the person you're talking to.  Not in any sort of expert type of manner, but simply to look for physical cues as to what's behind the way they carry themselves and, especially, their composure when they answer questions.
Am I an expert?  Absolutely not.  Just a boxing writer with a basic level of body language training and impeccable radar for equine excrement.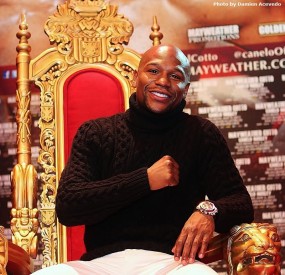 Having watched the interview multiple times over the past month, I can't shake the following feelings about what Floyd was really saying during his answers.  Here's the breakdown, by topic:
At the opening bell …
Floyd is very comfortable.  He loves hearing about himself and seems at ease with the situation.  Costas is known for being a tough but fair interview, but Mayweather doesn't seem fazed.  His shoulders are slightly slumped and he seems comfortable in his own skin.  Not a care in the world for this guy.
On Miguel Cotto as a threat …
He answers honestly, being respectful and not the least bit condescending.  Doesn't show true concern for facing Cotto, but we're spared the vitriol and rhetoric we're used to hearing from Floyd.  Avoids responding to Costas' mention of his perfect record.  Allows the 42-0 to speak for itself.  Something tells me this will come up, again, later.
On age and rust eventually settling in …
Immediately, Floyd touts his clean living and dedication to the sport as to how he's able to stay on top.  He's not defensive, but he wants to make it clear that the way he lives outside the ring is a testament to the respect he has for the sport.  He recognizes the inherent danger of boxing and doesn't want to put himself in a position to be injured.   Floyd genuinely believes this.  He doesn't stammer or pause.
On coming from a boxing family, specifically how his relationship with his father stands …
And, there it is. For the first time in the interview, Floyd is staggered.  He snickers a bit during the question, and then goes in to a diatribe about his father's jealousy and desires to see his son fail without him.  Floyd's eyes quickly dart away from Costas at one point during the answer.  He's not comfortable with the question.  The mood turns upward when Floyd changes the topic to his "brilliant trainer," uncle Roger Mayweather.
Follow-up:  Costas references a line, incorrectly, in which Floyd intimated that his father couldn't beat a cab driver in a fight.  Floyd quickly corrects him, and the good will from the Roger-love is gone.  Indicates that, as a fighter, his father always failed when he had a shot.  Floyd's defending his stance.  He's being questioned on his position and doesn't like having to justify it.  Floyd doesn't seem to have any interest in reconciling.  Attributes his success to his mom and uncle in his corner.  He believes that his father is jealous of his success.
On Manny Pacquiao …
Floyd's entire disposition changes.  He's brazen.  Sips his water nonchalantly as if he was asked any generic question, and not the one that boxing fans worldwide would like answered.  Answers "uh-huh" while Costas is asking the question.  He's pushing to get to the canned response and facts he seems to have bottled up.  He's in promo mode at this point.  Feigns openness, but you know it's as carefully crafted a response as he'll have all night.
Follow-up: The phone call.  Floyd's business hat is on.  He's telling the truth, at least as he sees the facts.  No reason to doubt him on this one.  Says he offered $40M ($20M upfront; $20M later). Finally told they were going in a different direction. Floyd seemed earnest. Too many facts for this to be false.  Added that he thought Manny lost to Marquez, but it would've been bad for business to saddle him with the defeat.  Interesting conspiracy theory, albeit not an original one.  Comes off as sour grapes at the end of this answer.
On pay-per-view revenue as the hang-up with Pacquiao …
Costas puts forth what is thought by everyone else: Floyd not willing split the PPV revenue.  Manny wanted 45/45 extra 10 to winner.  Floyd is agitated.  He doesn't have to share at all, by his estimation.  He was being congenial with his offer.   Costas counters while Floyd is off his game, temporarily, and postures that it's less about the money than it is about history:  Even if Floyd retires undefeated, people will say that he never faced the other best of that time, in Pacquiao.  Floyd is in self preservation mode both in comfort as well as in his answers.  He reiterates that he must put himself first.  He has to pay his own bills and take care of his family.  No one is going to take care of them.  Insists that everyone is entitled to their own opinion, but he's clearly staggered.  He doesn't like hearing this criticism, which has long been the bane of his career.  His body language is defensive.  He keeps going to his chest.  And moving his hand out toward Costas, setting the comfort zone.  Floyd is sticking to talking points and truly looks unnatural in his responses.
Follow-up: Pay-per-view revenue split with Manny.  No doubt about his position on this one: Absolutely not.  Vehemently against it and almost insulted by the thought of it.  Feels that he gave everything to the sport. Came off very entitled, and rightfully so to some extent.  The sums of money being bandied about are massive.  He believes he's the bigger draw of the two and should be entitled to his equitable share.  Cited his record breaking PPV numbers.
On Ali "needing" Frazier as part of the big draw …
And, here's where we go off the rails.  Mayweather attempts to interrupt Costas twice and settles on the only landing spot he knows: "Floyd Mayweather fights for Floyd Mayweather."  Insists that he must be happy.  Cannot let what the fans want push him into what he sees as a bad decision.  Not winning any points by going against the fans, openly.  Asserts that if Ali could trade in what he had through the end of his career–by appealing to the fans–for his health, he would. Second time he brings up health.  At least the third time he discusses money.
On his health …
Costas flat-out asks him the same question that was running through my head: He keeps referencing his health, is there a concern for that in stepping in with Pacquiao?  This was the question that allowed Floyd to right the ship and get back to form.  Naturally, he indicates that he fears no man.  He's back in competitor mode.  He clearly feels as if he's withstood the worst and can now refocus.  He's not leaning forward as much as he answers.  Closes the question with some circular logic in asking that if the thought is that he's scared, why would people be clamoring to watch his fights?  Perhaps it's to see if he can be beat, no?
On being the prohibitive favorite against Pacquiao …
And, we're back in full on "Money" mode.    Insists that nobody can beat Floyd Mayweather.  This is the opening he was looking for.  He's right back to his confident, cocky self.  Repeated use of the third person indicates that he does see the boxing self and the everyday Floyd differently.  Ties it back to the money.  Cites Manny's original resistance to Olympic style drug testing, for less money, but now willing to do it for much more.  Paints a picture of unreasonableness on the Pacquiao side that is plausible at times.
On whether he thinks the fight will happen …
Two words sum it up: "Not sure."  Because Floyd believes the facts he has laid out, it's clear that he truly doesn't know whether this will happen or not.  He believes he's taken every step possible to make it work, but it's now out of his hands.  Leaves a lot up to external forces.
On whether his KO of Victor Ortiz was sportsmanlike …
"Things happen."  Perhaps what should have been his strongest case of the night starts off with a response that clearly implies he feels sorry for himself.  Believes that he'll never get his "just due," and that people will always make excuses as to why he succeeds.  Not scoring any points by the self martyrdom.  Again, his answer and delivery truly seems as if he believes this.  For the first time all interview, the man who is admittedly all about self utters the phrase, "Give the fans what they want to see."  Apparently, that doesn't include a fight with Pacquiao.
On being the villain of boxing …
The former WrestleMania participant likens the showmanship of boxing to WWE.  He's looking at this analytically.  Combination of talking points and true Floyd and, in a weird way, the most refreshing answer he's given.  He views it as entertainment and knows who he is away from the ring isn't the same as what you see on television.  Again, Floyd likes talking about himself, but he's most at ease when he's dissecting his own psyche.  Very comfortable now.
On the Jeremy Lin controversy …
And, just like that, we're back to the world-versus-Floyd Mayweather.  Blames the media for blowing it up.  Indicates that it's okay for different ethnicities to root for athletes of their own nationalities but somehow he's racist.  But, all races work for him so, clearly, he can't be racist.  Floyd obviously knew this topic was going to be discussed, yet here's where he comes off as least prepared.  His arguments are choppy and flawed at best.  Again, he's getting agitated and looking to interject points whenever possible.  Costas is his usual, persistent self, but not attacking; Floyd sees it differently.  He's defending himself against himself.  Admirable that he stood by what he said and owned up to his position, as much as I disagree with it.  Still, his argument is critically flawed when he blames others (as is his wont) and cites freedom of speech.  Also, because he employs people of different ethnicities is a shoddy defense for being called racist.
In the end, it is fairly clear to me that Floyd Mayweather is exactly as you expect him to be, regardless of the line of questioning.  More often than not he says what he means, but he's clearly got a chip on his shoulder the likes of which you do only see among some of sport's greatest athletes.  But, in those cases, it's usually an athlete striving to be better than expected in their chosen profession.  Floyd is constantly on the defensive because he's constantly putting himself out there for the public to see and interpret.