Bryant Jennings got past Sergei Liakhovich on Saturday night, and he did it in style. When I wrote my preview and prediction for this heavyweight match-up, my editor wondered if I wasn't being too harsh in my evaluation of Liakhovich, who was, after all, a former WBO titleholder. As it turned out, I pegged the Belarussian just right, but was too conservative regarding "By-By" Jennings. The Philadelphian dominated the "White Wolf." Much to his credit, Liakhovich didn't tuck his tail in between his legs and run, but his corner was still forced to throw in the towel.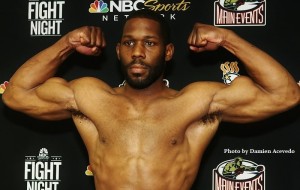 The outcome of this fight confirms Liakhovich's status as a gatekeeper, so in decisively routing him, Jennings has confirmed his own status as a rising heavyweight and a man to watch. In my analysis, Jennings is a quick, aggressive boxer with rugged durability, but only average hitting power. In terms of his prospects, I think his fellow Philadelphian Eddie Chambers is a good point of comparison.
The two men have different boxing styles, and "Fast Eddie" is undoubtedly slicker, but he is also such a small heavyweight that he could easily be fighting as a cruiserweight instead. Jennings is a solid, mid-sized heavyweight. I don't see him dethroning a Klitschko brother, but he certainly has the stuff to worry any of the men waiting in line for the big Ukrainian champions to retire.
This will probably be the last fight for a year or two in which Jennings enters as a slight underdog, but I expect that will be a busy time for Jennings and produce exciting fights for heavyweight fans. It was Jennings' second appearance on NBC Sports, and he has delivered on both occasions. Furthermore, while Jennings is only 13-0, the man is also 27 years old. Like any late starter, he needs to get moving in his career.
By-By will be back in the ring against a fringe contender just as soon as his management can make that happen, so it is reasonable to assume he will produce another action-packed undercard bout later this year. If you missed this last fight, keep an eye out for Jennings next appearance. You won't be disappointed.