This week saw one of the most competitive fields ever seen in the Prizefighter series as the lightweights assembled with three former British champions mixing it with five other hopefuls in a battle for £32,000 (about $50,000). This week I'll recap the action from that entertaining night in the Liverpool Olympia, while also discussing the tension that threatened to bubble over as Amir Khan and Kell Brook met face to face on Sky's weekly boxing show, Ringside.
Flannigan arrives with shock Prizefighter victory
Saturday, October 6, 2012 will forever be engrained in Terry Flannigan's mind as the night his career took a turn for the better. The 23-year-old Manchester man, who had previously spent the majority of his time competing as a super featherweight, took home the Prizefighter trophy along with the £32,000 winner's check, besting a number of quality domestic lightweights in doing so.
This was a highly anticipated tournament due to some of the names on show. Derry Matthews was British lightweight champion merely three months ago, while the man he beat for that title, Anthony Crolla, also appeared. Throw in to the hat super featherweight champion Gary Sykes and the caliber of the tournament was better than most seen before. All three of the above mentioned men got through their quarter finals, though not without an element of suspense.
Matthews won every round clearly against the tournament underdog Jamie Spence, but the clashing of heads in the second and third rounds mean he had an uphill task in the semis, with his left eyebrow almost sliced down the middle. It may have come as a slight surprise he elected to box on, though not to those who are aware of Matthews' tremendous heart.
Sykes was fortunate to be on the winning end of a closely contested fight with young Tommy Coyle, who seemed to catch him coming in time and time again with hooks from either side and rocked him twice in the final round. Crolla, on the other hand, made easy work of his match with Stephen Jennings. Stifling Jennings with a pinpoint jab, Crolla found it easy to tag Jennings as he moved forward and barely broke sweat with a comfortable win.
Flannigan's night of success began in earnest with a relatively easy win over Liam P Walsh. Using his feet and southpaw jab, Flannigan was hard for Walsh to find, while despite a short period in the final round where Walsh upped the tempo, Flannigan dominated. With a semi final awaiting him, the Sky cameras took a look backstage at Matthews, who appeared pensive having watched his next opponent get through with such ease.
Having had a decent rest, Matthews and Flannigan limbered up for the first of the semi finals. With cuts over both eyes, Matthews almost resembled Rocky Balboa in his final rounds with Apollo Creed, a worrying sign given a new contest was about to begin. The worrying signs continued in the first round, where Flannigan was sharper and faster, nailing Matthews with a straight left that visibly hurt the Liverpudlian, who was determined to put up a valiant challenge in his hometown. And that he did, despite being forced to the bottom rope by Flannigan's incessant pressure in the second and blood streaming down each side of his face, Matthews increased his work-rate in the third, defying the referee who had prompted the ringside doctor to inspect him on two separate occasions in the bout.
In the end it was a clear win for Flannigan though, who afterward stated his desire to meet friend and occasional sparring buddy, Anthony Crolla, in the final. Unfortunately for him this was a dream unfulfilled as Crolla fell apart in the second round of his semi final with Gary Sykes. Having outboxed his former super featherweight foe in the first, Crolla struggled against Sykes' high punch volume in the second, bleeding from the nose. From their on it seemed as if Crolla was swimming against the tide, and Sykes' improved form led him into a Yorkshire versus Lancashire final against Flannigan.
Prior to the final, Sykes admitted his hatred for southpaws. His unbridled honesty was refreshing, but could also be seen as a lack of confidence ahead of a crucial bout to revive a career that had been flagging slightly of late, with a proposed fight against Adrien Broner falling through earlier in the year.
His modesty was unwarranted however, as he played his part in arguably the closest fight of the night thus far as he and Flannigan went toe to toe. The first round was nip and tuck as Flannigan opted to pick his shots while Sykes attempted to keep up his now famed work-rate. Come the second and it was Flannigan's turn to ratchet up the heat, bundling Sykes to the ropes and throwing straight shots but getting countered in return. In the third and final round, Sykes leaned on his man and emptied what remained in his gas tank as Flannigan struggled to find the space needed to land his clean shots. I saw it for Sykes, but the judges saw it for Flannigan and awarded him a split decision that could prove vital to his future in this sport.
Flannigan, stone-faced and close-lipped throughout, afforded a grin as he collected the trophy and hoisted it high above his shaven head. Having boxed a ten rounder just two weeks prior to the competition, it is admirable he could even last such an intense pace. Winning speaks volumes to his fitness and desire. He is now a young man with an undefeated record of 18-0, and the road up ahead looks a whole lot brighter.
Khan and Brook stoke the fires for a potential British super-fight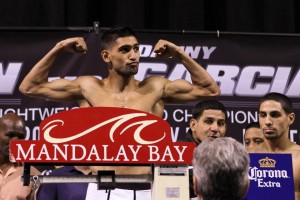 This past Thursday Amir Khan and Kell Brook came head to head on British television screens. Sitting next to each other, they threw barbed comments at one another whilst also making mention of the return of Ricky Hatton. The come together was no doubt an attempt to hype a potential meeting between the two, though there is no doubting their dislike for one another is genuine.
Khan, who recently appointed Virgil Hunter as his new trainer and is set to start from scratch against Carlos Molina in December, began proceedings by stating his intention to clean up at light welterweight before moving up seven pounds to test the water at welterweight. Brook announced he had turned down a fight with Tim Bradley in favor of an IBF final eliminator against Hector Saldivia because Bradley's team wanted options on him afterwards, while this would not be a concern should he become the mandatory for the IBF title.
Polite enough to start with, the smiles slowly faded when Khan suggested that he used to "school" Brook in sparring as youngsters. The conversation soon descended to a melee of insults and taunts with each saying they believed Ricky Hatton to be a tougher fight for them than the other.
Khan, who believes he will be stronger at 147 lbs, said when pressed on a potential fight between the two; "I've faced bigger and tougher guys than Kell in sparring" while Brook retorted – "Accuracy beats speed. It's only a matter of time before I land one and he's gone." Brook went on to proclaim that Khan "can't hold a shot", a reference to Khan's multiple knockout losses and also stated that regardless of who trains Khan in future, the danger of knockout defeat will always lurk as "he likes to have a fight". Annoyed, Khan responded in kind by criticizing Brook for turning down the Bradley match-up.
All in all it was a heated set-to that will only fuel the growing speculation that they are set to meet in the near future and, with Ricky Hatton also coming back into the fray, the British welterweight scene looks ready to burst into life in the next year or so.