The Ten Greatest Junior Bantamweight Boxers in History
Junior bantamweight is a division that has caught its share of flack. With what seems like an unnecessary gap between 112 and 118, the interest has been marginal in America and Europe. A look at the top ten, however, reveals a deep cast of quality fighters, especially for a weight class that has only been around since 1980.
For a Westerner, compiling a 115-pound all-time division rankings can be problematic. With most of the great junior bantamweights from the East, their careers could only be followed peripherally. At the end of the day, the great Asian 115-pounders' resumes spoke for themselves. There are some great 115-pound fighters and title bouts, however, that went under the radar of western fans.
So while some of these fighters might seem obscure, keep in mind that there is a whole different world of boxing in Asia, where champions can remain sequestered from boxing fans in the states. So the challenge is not to over-mythologize fighters I had the privilege of seeing (Johnny Tapia, Gilberto Roman and others), while neglecting illustrious fighters who operated solely in Asia. Here goes nothing!
1. Khaosai Galaxy (1980-1991)
In a violent sport like boxing, having power is the great equalizer and the most memorable of qualities. Galaxy, therefore, stands out as the most unforgettable of all 115-pounders. His torso told the story–with a heavily-muscled physique he boiled down to 115 pounds. In many ways, his greatness legitimized the weight class. As WBA champion from 1984-1991, he defended his belt 19 times, with most of his challengers struggling to regain their senses.
He lost his 7th pro fight, then retired on the heels of a 43-fight win streak. Galaxy seemed vulnerable. His chin wasn't foolproof. So there was an air of danger in many of his defenses, but his power always won the day. While many might not recognize most names on his long list of defenses, the enthralling bomber beat 7 world champions and knocked out all of them.
2. Gilberto Roman (1981-1990)
One of those guys I marveled at as a kid, only to find when I grew up, his name is hardly mentioned. But unlike some fighters where I was blinded by bias and boyhood adulation, I'm not ready to let this one go. I was too young for Salvador Sanchez, but I got Roman instead–another Mexican champion who was an atypical fighter from south of the border. He used elegance, speed, ring smarts, and a certain presidential quality that made him one of the greats at 115.
In 1986, he defeated one of the division greats in Jiro Watanabe. His reign would also be fruitful. He made 6 defenses, before losing the strap to former flyweight champ Santos Laciar in 1987. Roman returned to prominence by beating Laciar's conqueror Sugar Baby Rojas to regain the belt. After 4 quality defenses, including another win over Rojas, Roman beat Laciar at the Inglewood Forum to register his 11th combined defense.
A fast lifestyle, breakneck schedule, and a ceaseless stream of tough fights robbed Roman of his prime and by 27 he was a spent force. Like Sanchez, he would tragically pass away in a car accident. He was only 28 years old.
Check out our entire collection of the all-time best fighters by weight class, as well as the breakdown of how these lists were made and what factors were included.
3. Jiro Watanabe (1979-1986)
When talking to old-school Japanese fight fans, it's hard to not notice how their eyes light up when discussing the ring craft and cleverness of the great Watanabe. The cunning lefty first fought for a world title after two years as a pro, losing narrowly to the excellent Korean Chul-Ho Kim. A year later, Watanabe won the WBA belt with a decision over Rafael Pedroza, leading to a 4-year reign that included 11 defenses.
In his first defense, he knocked out 57-1-1 ex-champ Gustavo Ballas. In defense number two, he stopped former flyweight king Shoji Oguma. The defenses kept mounting until 1986, when he lost a decision to Gilberto Roman and retired at 26-2 (17 KOs) with almost half of his fights being contested for a world title.
4. Johnny Tapia (1988-2011)
You almost have to find a spot somewhere for "Mi Vida Loca," so why not the division where he won 15 world title bouts? In addition, Tapia won by far the most high-profile of all 115-pound title bouts in the U.S., when he emerged the victor in a battle against fellow New Mexico-native Danny Romero in an inspirational performance. By the time Tapia left the division, he was unbeaten in 45 fights.
His body of work here is pretty deep, including his run in the 80's, when he established himself as the best young junior bantamweight in the world. After a drug-related absence of over 3 years, Tapia returned in 1994 and by the end of the year became WBO champion–a title he would hold until 1998. Some might protest the quality of some of his challengers, but his roster of defenses included some darkhorse quality contenders. His pickings were rather slim as an American 115-pound champ, but the Romero win was huge. Tapia's motor was one of the best of all-time.
5. Masamori Tokuyama (1994-2006)
The North Korean-born Chang Soo Hong made his name in Japan under the name Masamori Tokuyama. He was 11-1 in WBC 115-pound title bouts, with many of those wins coming against quality opposition. Beat fading Japanese great Hiroki Ioka in 1998, before besting undefeated WBC champ In-Joo Cho in 2000 to win the belt. Tokuyama beat Akihiko Nago in a defense before stopping Cho in the 5th round of their rematch.
In his best wins, he twice decisioned Gerry Penalosa–one of the more talented 115-pounders of the era. Masamori also beat future titleholder Dmitri Kirilov, before shockingly losing his belt in the first round to Katsushige Kawashima, a man he had previously beaten. In the rematch, he dominantly regained the belt and retired as champion after a defense against American Jose Navarro. A long reign and a slew of quality wins makes Tokuyama one of the more under-appreciated champions in modern history.
6. Sung-Kil Moon (1987-1993)
Moon packed 15 title fights into a 20-2 (15 KOs) record. After a title run at bantamweight, Moon dropped down to 115 and scored a win over Nana Konadu, who looked like he was going to be a heck of a 115-pound champion. His reign would be fruitful. He defeated Gilberto Roman in 8 rounds in his first defense. The hard-hitting and swarming Moon knocked out Konadu in the rematch, while also racking up defenses over shifty American Greg Richardson, two-division champion Hilario Zapata, and future titlist Carlos Salazar. One of the most productive 6-year careers you can hope to see.
7. Vic Darchinyan (2000-present)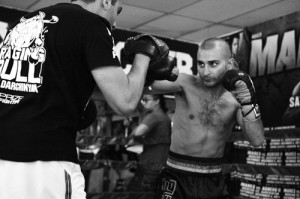 After a crushing loss to Nonito Donaire at 112, Darchinyan immediately regained top form at 115. Darchinyan's run at jr. bantam is a case of quality over quantity. In a division known for a lack of unification fights, Darchinyan is the only junior bantamweight to hold the WBC, WBA, and IBF belts at the same time. A draw against Z Gorres should have been a win. That would be the last time anyone was competitive with Darchinyan at 115.
He smashed IBF titleholder Dmitri Kirilov, leading to an upset over high-flying WBC/WBA champion Cristian Mijares. Though an underdog, Vic was thoroughly dominant en route a to a 9th-round knockout against the streaking Mijares. In his last fight at 115, he hammered Jorge Arce for another dominant knockout win.
8. Fernando Montiel (1996-present)
Montiel had world title runs at 112, 115, and 118, but it his work at junior bantamweight that really allowed him to stand out. His first 115-pound title bout ended tragically with a fatal knockout of WBO champion Pedro Alcazar. Two wins later, he fell victim to the vast skills of Mark Johnson in the Hall of Famer's final great performance in 2003. He knocked out Johnson's conqueror–the unbeaten Ivan Hernandez to regain the belt in 2005. Two defenses later, he failed in a bantamweight title fight to Jhonny Gonzalez, but returned to 115 and reeled off 5 more defenses, including wins over Z Gorres and tough Martin Castillo. With ten world title wins at 115, Montiel was a real handful and an appealing combination of talent, power, and boxing ability.
9. Cristian Mijares (1997-present)
While his run at the top didn't last long, Mijares garnered a lot of attention from fans for a nice run at 115. It earned him placement on most pound-for-pound top tens–a designation not historically afforded many 115-pounders. As WBC champion, not many gave him a chance against Jorge Arce, who had not tasted defeat in 8 years. A whitewash decision got Mijares some much-deserved notice.
Defenses mounted, including wins over American Olympian Jose Navarro, a WBA/WBC unification win over Alexander Munoz, and a 3rd-round knockout of well-spent former Pacquiao-conqueror Chatchai Sasakul. A brutal upset knockout loss to Vic Darchinyan put a graphic end to his run at 115, but Mijares' work earns him the number-nine slot on the all-time top ten.
10. Chul-Ho Kim (1978-1983)
It's not easy to make an all-time top ten list when you retired at 22, but Kim's career was very high-quality. In 1981, the 19-year old Kim knocked out unbeaten WBC champ Rafael Orono in Venezuela–an impressive feat for a teenage fighter. His first defense would come against one of the greatest 115-pounders ever in Jiro Watanabe, which Kim won by unanimous decision. Four defenses later, he would lose the belt to the man he won it from, with Orono stopping him in 6 rounds on Kim's turf in South Korea. One loss later, Kim retired, leaving a brief but substantial body of work.