Cyclone Promotions and Matchroom Boxing announced the first two Ireland vs. England battles on the undercard of Carl Frampton and Scott Quigg's Super Bantamweight unification clash at the Manchester Arena on February 27.
Belfast's Marco McCullough and Morecambe's Isaac Lowe clash for the vacant Commonwealth Featherweight title while unbeaten former Team GB star Charlie Edwards tackles Belfast's Luke Wilton in a final eliminator for the British Flyweight title at the sold-out arena.
McCullough will be full of confidence ahead of his first action of 2016 having finished a challenging year with wins over Sergejs Logins and Sergio Prado – and the 26 year old expects to have too much for the local man in Manchester.
"I'm delighted to be part of this massive show," said McCullough. "To be boxing on Sky Sports Box Office on the undercard of my Cyclone stablemate Carl Frampton is a huge moment in my career.
"Isaac is a talented lad but I have boxed at a higher level and I'm one hundred percent confident that I will be walking away with that Commonwealth belt on February 27. My uncle Tommy Waite won the Commonwealth Bantamweight title in Manchester sixteen years ago and I can't wait to emulate him.
"I have boxed in front of massive crowds before against former World Champions, Isaac hasn't, and it's this experience that will prove the difference on the night. I will have the bigger support in Manchester and I'm going to do them proud and win this fight in style."
English champion Lowe turns 22 this week and the 'Westgate Warrior' believes he'll KO his Belfast rival and notch a second major title in his blossoming career.
"It's great to get the opportunity to box on such a big show," said Lowe. "To fight on Sky Sports Box Office is a dream come true so early in my career – I'm so excited.
"Marco has had a good career, he's a strong puncher – but he's hittable and beatable. He's been knocked out twice and on my day I beat him all day long. He is my toughest test so far, but as we've seen with my past two fights – the better opposition, the better I perform.
"I'm expecting him to give everything he's got – but I'm confident I will weather the storm and emerge victorious. If the Irish boo me, so be it. I will feed off that and perform even better. Remember, there will be 10,000 screaming fans from North West, so we will do our best to drown them out. I want to prove to everyone in Britain that I am World class."
Surrey starlet Edwards landed the English Flyweight title in his fifth fight and defended it in style in November at the Manchester Arena with a sixth round stoppage of Phil Smith to end his debut year on a high. The 22 year old says he wants to hit the ground running in 2016 by landing a British title shot with a big win over the experienced Wilton.
"It's great to be on such a huge bill in my first fight in 2016," said Edwards. "Last year was amazing, starting in January with my pro debut before ending the year in Manchester with a first defence of my English title, I couldn't have asked for more.
"Luke has been around for a while and has had a lot more fights than I have, so I am expecting a tough night, but I am on a roll and I feel unstoppable, and I fully expect to put in a great performance in Manchester."
Hibbert: If Martin thinks spars were 'wars' – he's in for a shock
John Wayne Hibbert has laughed of Tommy Martin's claims that their sparring sessions were 'wars' – and said he cannot wait to silence the young pretender at the Copper Box Arena in London's Queen Elizabeth Olympic Park.
Hibbert defends his Commonwealth and WBC International Super-Lightweight titles against Martin, his friend and sparring partner for the fight of the year battles with Dave Ryan in 2015 for the belts he defends in east London.
Essex man Hibbert is aware that Martin, ten years his junior, has the backing of the bookmakers and fans in the fight, but warned the 21 year old that he will not be taking his titles away and that he is in for a rude awakening if he thinks their sparring sessions were tough.
"I read the other day that Tommy said our sparring sessions were 'wars' – I've got news for you pal, they weren't wars!" said Hibbert. "If you think they were wars then come January 30, you are in for a massive shock.
"We had good sparring sessions and they were competitive but whatever he brings to the table I have the answer for. He has said that he is expecting us to have a war – I think that will be mistake as it will be a short night.
"If Tommy wants a tear-up, we can do that, if he wants to box – we can box, I'm not fussed. The bookies and many on social media have Tommy as the favourite going in to this fight – maybe the feel he is too young and too fresh but they will be losing a few quid on fight night."
Hibbert landed the belts in a rematch with Ryan at The O2 in September after their epic battle for the same straps in May, having come out on top in a tussle with Tyler Goodjohn earlier in the year – big fights that has put Hibbert at the top end of the Super-Lightweight division and in line for more major title shots, if he sees off the challenge of Martin.
"It's the second consecutive year I've missed Christmas as it's be slap-bang in the middle of camp," said Hibbert. "I had a busy 2015 with the Tyler fight and then the two wars with Dave.
"The May fight with Dave was an absolute classic. I dropped him twice and he won in the ninth – fair play to him. The recent one in September I've had some stick off his fans for on social media – yes, he was injured, but even the referee said he was completely gone and it was the right decision to stop the fight.
"Some might argue if the shoe was on the other foot – would he have reacted differently? We will never know. You can never say never when it comes to myself versus Dave – who knows what the future holds.
"Tommy has my undivided attention though – some people believe I may be overlooking him and assuming he is just young, but that is not the case – I've grafted hard and ready to do a number on him."
Langford: I'm a Class Above Taylor
A brilliant 2015 took unbeaten Brummie middleweight Tommy Langford to the cusp of contention. Now it's time to transform rich potential into something more concrete. The 26 year old former England amateur skipper dips his toes into 12 round championship waters for the first time next month when he fronts up to Dronfield's decent Lewis Taylor in a quality clash for the vacant Commonwealth strap at Liverpool's Echo Arena.
The fight serves as a tasty hors d'oeuvre to WBO World Lightweight Champion Terry Flanagan's shootout with Derry Mathews.
'Last year was fantastic for me,' admits the articulate Devon born sports science graduate who has won 15 straight as a pro.
'I had four good wins, won my first title (WBO Inter-Continental) and got a 10 rounder under my belt. Finally my performances are getting me credit and other people are starting to agree that I'm as good as I always thought I was.
'In addition to my fights, throughout the year I really benefitted from quality sparring with the likes of Chris Eubank Jr, Liam and Callum Smith, Hassan N'Dam N'Jikam and Liam Williams. Mixing with such quality lads has been vital for my learning.
'Sparring fighters beneath my ability can be intense but it lacks the intelligence, the cuteness, the mental challenges. Against the calibre I'm sparring now, you can waste nothing because every little mistake gets punished. It's been really beneficial for my development. I've always had good offence. This forces me to eradicate silly defensive mistakes.
'I've got all the punches. Now I need to improve my ring generalship, develop a greater understanding of when to throw which punches. At this level, you can't afford to get game plans wrong.'
A stylish, highly skilled operator, schooled by respected coach Tom Chaney in Hall Green, Langford has latterly added some bite to his often beautiful boxing. Four of his last six victims failed to cross the finishing tape though he concedes he is more a breaker of hearts than bones.
'I've never professed to be a banger but my punches hurt and my work rate combined with my boxing ability makes me every bit as dangerous,' says the diehard West Bromwich Albion fan.
'When I'm constantly throwing and landing, opponents have got to defend or get out the way. It must be very frustrating, highly demoralising. You notice their heads drop mid fight. When I land four or five in a row, it's exciting for the fans.'
Ominously, Langford's career path continues to mimic that of fellow Baggie Richie Woodhall – the former WBC Super-Middleweight champion – with whom he is so frequently compared.
Tommy says: 'It's ironic that, like Richie, my first major title shot will be for the Commonwealth. Richie reigned on the Commonwealth throne for a long time, before adding European and world titles. Let's hope the similarities continue.'
Having impressively dispatched imports from Mexico, Argentina and Poland in his last three gigs, the six footer squares off with 18-1-1 Derbyshire rival Taylor in a fight that would have been a fitting bill topper at any small hall venue in the Midlands.
'I really enjoyed the attention of being main event at Wolverhampton Civic against Rios but it's equally good to be part of these massive bills. Rather conveniently the Baggies are away at Everton that day so hopefully a lot of fans will stay up for my fight,' says Langford who already holds the WBO Inter-Continental belt and a world ranking of six with the same governing body.
'Cristian Rios, who I shut out in October, was Argentine champion and a very good fighter but not recognised on these shores. So fighting a top ten domestic rival from the same region heightens interest, gives the fans and press something to get their teeth into.
'Lewis is a big tall middleweight like myself, a good stand up boxer with a decent jab. He's pretty busy himself so the fans are likely to see an exciting fight, a good spectacle. I want to win in fights like that. It's better for recognition.
'But it's a case of levels and I aim to show that I'm a grade above Taylor. He'll find there's a difference between throwing lots of shots at defensive minded journeyman and getting away with the same thing against a contender like me. I'll punish his mistakes.
'I WILL win but the manner I win is increasingly vital this year if I'm to throw my name into the hat for a world title challenge to Billy Joe Saunders.
'I intend to deliver a performance that'll separate myself from all the other domestic contenders. That will open doors for me. I'm confident I'll force another stoppage.'
Ryan Walsh media workout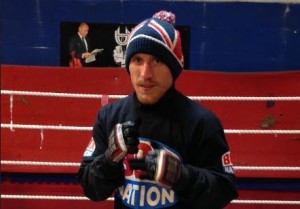 Media visited the KickStop Gym in Norwich today as Cromer featherweight Ryan Walsh put on a show for the cameras. Walsh was put through his paces by trainer Graham Everett ahead of his fight against Aberdeen's unbeaten Darren Traynor this Friday at London's York Hall.
Walsh carved his name into the boxing history records last September when he joined super-featherweight brother Liam as the first set of twins to simultaneously hold British titles. Unbeaten southpaw Liam has enthralled championship rings since winning the Commonwealth title back in 2010 but now it's Ryan's name on fight fans lips.
"I've been sat behind Liam in his shadow for two years, pushing him and motivating him and vice-versa. He's been doing brilliant things in boxing, won numerous titles and he's inspired me. Me and Liam work very hard, his success has always been my success. I couldn't be the fighter that I am without my brothers and although Michael isn't as involved as he was but there's no bigger supporter than him. The success has come from genuine hard work with each other, we push each other to be the best we can be" said Walsh.
"The media attention is something that I've got to get used to as it's quite new to me. Last time there was a lot of interest in myself and Liam because of the record but this time it's all about me. I do quite like the attention I have to admit, usually I'm away from all this at the training camp so it's nice to come home to."
Ryan, now ranked 13th by the WBO, has the honour of kicking off a massive year of boxing on BoxNation as he headlines an action-packed show at Bethnal Green's York Hall and is relishing fighting in front of the cameras.
He continued: "I just can't wait. The buzz around this fight has been unreal, we're doing really well on the tickets and I'm sure the Farmy Army are going to be making a hell of a racket come Friday night. Fighting under the Warren name is huge and I'm a big fan of BoxNation so it's great to be starting the year off as top of the bill. Being top of the bill adds a bit of pressure but I'm going to be getting a lot of attention which is what I want."
"I look at the division and it's a very exciting one. I can't look past Darren Traynor but after Friday I'll have a much better idea about what direction I'm heading in. By the end of the year I should have had a good four or five fights. Starting early in January is brilliant because it gives me a chance to be very active this year."
One downside of fighting so early on in the year is being involved in full training over the festive period but Ryan is confident that his sacrifices will be worth it come fight night. The 29 year-old has spent the past five and a half weeks pounding the mountainside roads of Tenerife as prepares to fight over 12 rounds for only the third time in his career.
He added, "Preparation for this fight has been brilliant. Every camp is slightly different and I've taken things from every one that I've ever been involved in. My diet and my exercises have all changed, not dramatically though because I think if it's not broke don't fix it; all I'm trying to do is improve."
Ryder: Khomitsky carries the 'fear factor'
John Ryder says he has the 'fear factor' ahead of his clash with 'Brit Basher' Sergey Khomitsky at the Copper Box Arena in London's Queen Elizabeth Olympic Park on January 30. Ryder is looking to kick 2016 with a big win over the Belarussian banger but the Islington man is fully aware of the threat he carries.
Khomitsky's last outing in the UK saw him poleaxe talented Sheffield starlet Adam Etches with a brutal one-punch KO in March, and the Copper Box was the scene of his clinical assault on popular Londoner Frank Buglioni in April 2014.
Islington man Ryder is gunning to get back into the exciting mix of young Middleweight stars in the UK, but he knows he has to be on his guard against Khomitsky.
"There's a fear factor for me in this fight, 100 per cent," said Ryder. "I'm doing things majorly differently to how I've approached fights before and that element of fear is in me as I know what Khomitsky is capable of. Take no notice of his age, the last thing to go in a fighter is their power, he'll have that until the end, so I know that this is a dangerous fight.
"He's showed power at Super-Middleweight and then shown that he can make Middleweight and keep that power. He takes his opportunities where he can, whether they are at 168lbs or 160lbs, but he's had plenty of time to prepare for this fight so I expect him to be at his best.
"It was over a year since we were meant to fight and it didn't happen for one reason or another. But looking back at the mistakes I've made since then, and you think if that fight had happened a year ago, it could've been a bad night for me, but now I feel that it is a fight that I will definitely win.
"My diet and training has changed a lot since losing to Nick Blackwell. The most important thing in a loss is to learn from it. I don't want to lose any more fights and I know that I have put in hard work and the right type of work to get the win."
Ryder's clash with Khomitsky is part of a huge night of action in east London as Super-Middleweight star George Groves takes on Italian Andrea Di Luisa for the vacant WBC International title.
TRAINER GRAHAM EVERETT: "I'D LOVE TO GET RYAN WALSH BACK INSIDE A RING WITH LEE SELBY."
Liam Walsh might have won the family race to bag British and Commonwealth titles but he can expect a stiff argument from twin brother Ryan as the gruesome twosome chase major international honours in 2016.
In late September, the siblings made history as the first set of twins to simultaneously hold British titles when Ryan nailed the featherweight crown – adding to Liam's super-feather strap- with a gritty 12 round decision over Hull's Samir Mouneimne at Wembley.
And coach Graham Everett who has coached the pair since they were schoolboys insists Ryan possesses all the necessary hardware to join his brother as a leading world contender.
'We'd love a chance to get back inside a ring with Lee Selby,' says Everett who was formerly associated with Herbie Hide, Jon Thaxton, Sam Sexton and the twins' elder brother Michael.
'Ryan showed that he was bordering on world class over two years ago when he gave (reigning IBF king) Selby 12 very close, hard rounds for the British and Commonwealth titles.
'No one else wanted to fight Selby at the time yet it was only experience that beat Ryan that night. It was Selby's seventh 12 rounder on the bounce whereas Ryan was having his first.'
Graham first became acquainted with the twins when, as 14 year olds, they landed at his Norwich gym in search of sparring as they prepared for national junior championships.
He recalls: 'Along with Michael, they arrived as a three and they're different to any group I've ever come across. They all have a position in the dynamic. Michael is definitely the head while Ryan is the quietest, most reserved, very much the dark horse. But if you have an argument with one Walsh, be ready to have an argument with all three. They think as one. They're very, very tight.'
While Ryan (19-1-1) can boast two more pro fights than his twin, he had to endure five frustrating years watching lionhearted Liam enthral inside championship rings, before finally receiving a break of his own.
And Everett acknowledges it wasn't easy: 'Liam came to the fore much quicker, winning the Commonwealth title back in 2010 and receiving massive attention locally.
'But I don't think Ryan was ever jealous. He always served as Liam's chief training partner, no grumblings. They're both 100% sportsman. Everything they do, they view as a challenge. It's the competitiveness that was nurtured in them by their late dad John that makes the Walsh brothers what they are.'
Though Liam's aptitude for war mongering perhaps makes him more marketable than Ryan, coach Everett cautions that it won't necessarily take him further.
'Yes, Liam is naturally more exciting but Ryan's defence is meticulous and that makes him very, very difficult to beat. He gives nothing away and he wastes nothing. Several bigger championship level fighters simply can't touch him in sparring,' he says.
'Like Liam, Ryan's a very natural switch hitter but possibly his biggest attribute is that he's a perfectionist. He's never had a drink in his life and he eats, sleeps, breathes boxing. His preparation is meticulous for every spar, every track session and he studies tapes of opponents in great detail.
'As happens so often, winning a major title has given his confidence a massive boost and he'll definitely be an even better fighter because of it. He'll need to be if he intends remaining British champion.'
Now ranked 13th by the WBO, Ryan kick starts his 2016, campaign with a maiden defence against Aberdeen's Darren 'Trayn Wreck' Traynor on January 22nd and the voluble 'Farmy Army' should ensure that the York Hall, Bethnal Green is rammed and rocking!
'Now he's finally champion I expect Ryan to really build. I'd love to see him win the Lonsdale Belt outright and add the Commonwealth and European belts (both held by Leeds Josh Warrington) over the next 18 months,' says Everett.
'I've seen a few little bits of Traynor on You Tube. He looks decent and apparently was a good amateur. What we do know is that he'll arrive with the confidence of an unbeaten fighter and he'll be treating it as his personal world title fight.
'Ryan is treating him with great respect and I guarantee he'll be 100% ready.
RYAN WALSH: "PRESSURE MAKES DIAMONDS!"
Cromer featherweight Ryan Walsh carved his name into the ring annuls last September when he joined super-feather brother Liam as the first set of twins to simultaneously hold British titles.
And now the slippery 29 year old switcher – already ranked 13th by the WBO – intends replicating Liam as a bonafide world contender by shining in his maiden defence against Aberdeen's unbeaten Darren 'Trayn Wreck' Traynor at The York Hall.
Last Monday, boxing writer Glynn Evans caught up with him at his training base in Tenerife.
Given you'd waited so long for your shot, what were your thoughts at the final bell of your close, cagey vacant title fight with Samir Mouneimne?
I'm an honest man. I knew I'd lost when I fought for the title before against Lee Selby and, similarly, I knew I'd beaten Samir comfortably. Two judges had me up by six and four rounds, Marcus McDonnell, a decent enough fella, just had a boo-boo that night! (Walsh won by split decision).
For me, there was no controversy whatsoever. I'm really not sure what Samir's tactics were. Against me, he showed very little aggression which is not his normal way. He just tried to nick it rather than fight. I'll credit him for taking some really good shots. In time, I'd like to do it again and deliver a 'full stop' finish.
Now you've had time to reflect, what value do you place on your achievement?
I was at best content. Put it this way, when Liam beat (Gary) Sykes to win his British title (November 2014), it was the happiest night of my life and I expected to replicate that. But I was a bit flat after my title win; definitely a lesser buzz. I'm a real perfectionist and the split decision didn't really help my mood. Listening to the critical commentary when I watched the re-run was hard.
What positives did you take from the Mouneimne fight? Why can we expect you be better next time?
I finally did 12 rounds under the lights with the little gloves on. It doesn't matter how many times you do it in the gym, nothing replicates doing it under fight conditions where every tiny mistake can cost ya.
But you learn from every camp you have; little technical things or matters of nutrition that can improve ya. The Traynor fight represents the quickest return to action that I've had between fights for a long time. Hopefully, the sharpness will still be there.
What role do you believe being twins has played in your joint journey to British titles?
I love the equalness of being a twin. I'm a couple of minutes older than Liam but he's definitely wiser. As kids we always shared everything but lately he's become a lot more fashion conscious than me and (older brother and ex unbeaten pro) Mike so won't touch our gear!
Liam has always been same sex, roughly same height and weight, so a perfect sporting rival. Whatever we play, we try to outdo each other. It's probably the competitiveness between us that gets the very best out of both of us.
I can just about do Liam in the sprints but he's a phenomenal runner and bosses anything longer. My big thing is I never quit, never concede. Mike's easily the worst loser. Being elder, he grew too used to being best at everything. But now, as men, Liam and me have caught him up and compete on an equal footing. He hates it, spits his dummy out!
As fighters, we share a good boxing brain and we're both very tough mentally, Liam's probably the toughest I know. He's definitely one of my favourite fighters to watch; smoother than me and a lot more macho. At some stage of every fight, he has to have a 'tear up' even though he doesn't need to. I use my brain more and have better variety…well, different variety.
You have the honour of kickstarting BoxNation's domestic year against Traynor but, on the downside, have been in full training over the festive period. How difficult was that?
Hard. Though Mike and Liam were back in Cromer, me, my partner and daughter spent Christmas over in Tenerife. Christmas is all about putting weight on. Usually I'm cold and fat in Norfolk, this time I was hot and skinny in Spain!
On Christmas Day, I did a mountain run in the morning and a gym session in the evening. Making such sacrifices toughens you mentally. I'm sure it'll be worth it on January 22nd.
What are your goals for 2016?
To win the Lonsdale Belt outright and possibly add the Commonwealth and European (presently held Leeds rival Josh Warrington and Ukraine's Oleg Yefimovych respectively). If any of my fights could be held in Norfolk, as a joint homecoming with Liam, both of us in title fights, that'd be the icing on the cake.
We've not fought together on the same bill for far too long. There's lots of banter as to which of us would top the bill!
How big a threat is Darren Traynor with regard to relieving you of your title?
I believe I've a good boxing eye and, from what I've seen, Darren seems a well schooled fighter who does a lot right. And given his chance to fight for the British title, I expect he'll be even better than he's ever been before.
Thus far, I've fought three Scots and the one common denominator was that they were all extremely tough. All gave me difficult, hard nights and I don't expect this to be any different. There's full respect; no chance of underestimating him.
One thing hopefully in my favour will be that Darren was preparing for an eliminator with James Tennyson, a tall orthodox fighter, whereas I'm a stocky southpaw switcher.
So what can fight fans expect to see at the York Hall on Friday week?
I intend to show the best possible version of Ryan Walsh; a massive improvement on my title winning performance. I definitely feel I'm getting better in the gym. I want to prove I'm a worthy champion.
My fans will take over the York Hall. So many aren't even boxing fans yet they just stump up their hard earned money to support me, as friends. That's very humbling. Pressure makes diamonds. 'The Farmy Army' are among the noisiest supporters in the country and I intend giving them plenty to cheer about.
MANCHESTER HOTSHOT ZELFA BARRETT SIGNS WITH FRANK WARREN
Exciting Manchester super-featherweight prospect Zelfa Barrett, nephew of former British and European champion Pat 'Black Flash' Barrett, is delighted to have signed a promotional deal with Frank Warren.
Barrett, who boasts an impressive record of seven wins from seven fights with two KO's is looking forward to propelling his career to the next level under the Hall of Fame Promoter.
"I'm very excited to have signed with the best promoter in the country, up until now I've been doing my development and education on small hall shows but now I'm ready to move on to a bigger stage and Frank is the man to get me there," said Barrett.
He added: "I'm very hungry and I'll be looking to challenge for titles. My main ambition is to become a world champion and with Frank's guidance I believe this is something I can achieve. Obviously the British and European titles are on the tick list but ever since I was a kid I've wanted to be the best in the world, seeing Manchester lads like Terry Flanagan and Anthony Crolla doing well drives me on even more, that'll be me some day."
The 'Brown Flash' will be looking to follow in the footsteps of his famous uncle, who amassed an impressive total of 37 wins with 28 KO's in a career stretching across the eighties and nineties. He captured the Central Area, British and European titles at Super-Lightweight and attempted to win the WBO World title at Welterweight against Manning Galloway in July 1992 but lost on points.
Naturally, comparisons between the two fighters have been made and Zelfa believes his mind-set will take him to the very top of the sport.
He continued: "My main strength is my mind, I have a sharp fighter's brain and I can out-think any opponent that is put in front of me. Anybody can train themselves to be quick and strong but in the ring it's all about your brain,"
"My eyes are on the prize in the super feather weight division. I bring class and skill to the table and I'll be looking to entertain British boxing fans for many years to come."
Pat, who is now enjoying the challenge of being a promoter and a trainer, is delighted his nephew has teamed up with his former promoter Warren.
He said: "Frank is the top promoter in the country and knows his boxing inside out, he's old-school and knows how to create stars. He was fantastic with my career and I've got all my faith in him delivering for my nephew Zelfa. This kid can fight, he's so talented and I'm proud to have brought Zelfa to an impressive 7 and 0 record. Now Frank will take over the promotional side and deliver him his golden opportunities."
"My era when I was fighting is completely different to the one Zelfa is entering now, we know he has the style and charisma to become a big star and I'm looking forward to working with Frank to achieve this goal."
Warren said, "Zelfa comes from great fighting stock and he takes the famous fighting Barrett name into the next generation. His uncle Pat was a tremendous fighter in his time who achieved British and European title status and just fell short on the world stage, but Zelfa has the belief and determination he can go one step further and win a world title."
SHOULDER INJURY FORCES CONLAN OUT OF NATIONAL STADIUM SHOW WITH CORCORAN V BUTLER HEADLINING AND IRISH ACE KAVANAGH CHALLENGING FOR FIRST TITLE
Jamie Conlan has withdrawn from the Saturday February 6th show at the National Stadium in Dublin because of a shoulder injury.
Belfast star Conlan was due to defend his title on the card, but the show is now headlined with a cracking showdown between Gary Corcoran and Danny Butler – who replaces injured original challenger Joe Selkirk – with the Vacant WBO Intercontinental Junior Middleweight Championship on the line.
Chief support on the card sees exciting Dublin ace Jamie Kavanagh step up to challenge for the first title of his career when he faces Portugal's Antonio Joao Bento for the Vacant WBO European Lightweight Championship.
BUTLER REPLACES INJURED SELKIRK TO FACE CORCORAN FOR VACANT CROWN IN DUBLIN
Bristol's Danny Butler will now challenge for the vacant WBO Intercontinental Junior-Middleweight Championship against London's Gary Corcoran on Saturday February 6th at Dublin's National Stadium. The 28 year-old replaces Liverpool's Joe Selkirk who has been forced to withdraw through injury and is looking forward to boxing in Dublin for the first time in his career. Butler isn't concerned by Corcoran's relentless non-stop punching style and believes he has what it takes to defeat him.
"I've watched a bit of Gary and I know he's a strong come-forward type of fighter but that doesn't faze me at all, I'm happy to stand a trade with him. This is the type of fight I love to take and it's going to be an exciting one for fans that's for sure," said Butler.
He continued: "It doesn't bother me fighting away from home, I've got a job to do and it doesn't matter where it is. I'll fight anyone anywhere, I just need to go over there and get the win which I know I will"
"I'm a strong light-middleweight and quite big for this level, I feel like I can take my power down to this weight and do some damage. It's a fight that I definitely believe I'm going to win, I wouldn't have taken the fight if I didn't think I could win it."
Corcoran, known as the 'Hell Raiser' for ferocious fighting style, fights out of Wembley and holds a perfect record of 14 fights with 6 KO's. Last time out the 25-year-old inflicted the first defeat to Rick Skelton's career and is confident he has the tools to deal with Butler.
He said: "I've got a lot of respect for Danny Butler but there's only going to be one winner and that's me, I'm going to stop him late on. I don't think he does anything spectacularly well but he doesn't do anything badly. He's a good all round fighter and a good pro, he's fought anyone, anywhere and he's taken this fight away from home,"
"The opponent's changed but I'm still 100% focused on fight night. We've been sparring all around the country, lately I've been sparring with Bradley Skeete and Tommy Langford. The camp has been brilliant and I've been ticking over nicely for last past seven months."
A natural-born scrapper with a rich Irish traveller heritage, Corcoran has ripped through his first 14 opponents and promises that he'll give his fans something to cheer about on Saturday 6th February.
He added, "I've got a lot of family over in Ireland that are going to be there and I'm not going to let them down. Once I've dealt with Butler I can start to look onwards and upwards. It's going to be a massive fight that's for sure and only one of us can move on from it."
Eggington defends British belt against Skeete in Birmingham
Sam Eggington defends his British and Commonwealth Welterweight titles against Bradley Skeete at the Genting Arena in Birmingham on March . Eggington defended the titles for the first time in a thrilling contest against Dale Evans in October, with the young Birmingham talent climbing off the canvas in the second round to see off the tough Welshman on points in Birmingham.
The 22 year old makes the second defence of the British title and third of his Commonwealth belt back in the second city, and faces popular Londoner Skeete as he aims to move into touching distance of outright ownership of the Lord Lonsdale belt.
Skeete has boxed for the belts before and against another Birmingham man having challenged Frankie Gavin for the titles in London in November 2014, and the 27 year old enters the clash in good form on the back of four wins in the capital in 2015 since his loss to Gavin.
Eggington's defence against Skeete will top a stacked card in Birmingham where Kal and Gamal Yafai face crucial nights in their blossoming careers.
Gamal will challenge Bobby Jenkinson for the Lincoln man's Commonwealth Super Bantamweight title, British Super Flyweight champion Kal continues his march towards a World title, Birmingham pair Michael Rooney and Marcus Ffrench meet for the Midlands Lightweight title and Cello Renda and Ben Wilkes clash in an eliminator for the English Middleweight title.