Jamie Cox Ready To Take on the Division After Year Layoff
Wiltshire wrecking machine Jamie Cox is smouldering, writes Glynn Evans. Arguably the most explosive 168lb fighter on the planet, the Swindon assassin has been forced to place his trail of carnage at the pit-stop for the past 12 months.
However, back at large, the monster punching southpaw is again ready to be unleashed on the division, starting with a scheduled eight rounder on Frank Warren's mammoth Cardiff bill on 22nd October.
An opponent is yet to be named but fans can expect the outcome to be decided significantly quicker than the 24 minutes for which it is formally billed. Cruncher Cox has rubbed out each of his last three victims in the opening session, with each execution more brief than the previous.
'I just want to fight the best and I'll do anything for an opportunity,' says joltin' Jamie, an ABA champion and Commonwealth Games gold medallist as a teenager who is now unbeaten in 20 as a pro.
Formerly compromised by the worst hand injury that Hall of Fame promoter Frank Warren had ever witnessed, the world rated West Country wonder saw his stampede to global glory derailed earlier this year when he was briefly incarcerated at HMP Highdown. However, the assault rap that put him there was overturned by the Court of Appeal in May.
Already 30, Cox is acutely aware that there is no time to procrastinate and no margin for error if he is to fulfill his obvious talent and nest on a world championship throne.
'It has been a bit annoying but this is boxing. I'm used to it and try not to think about it,' says Cox, a former Commonwealth light-middle king, who has been punching for pay since July 2007.
'I've never had anything given to me and I've been waiting for the big fight to drop for a while now. Still, there's plenty of people in life in far worse positions than Jamie Cox.
'I know I'm not far off. I'm very confident that Frank can deliver the big fights for me and I'm extremely confident that I can win 'em.
'If no openings arise at 168, I'd make middleweight. There's no one at either middle or super-middle that worries me.'
The pool of 12 stone talent is deep on both the domestic and international stages. Nevertheless, Cox, daisy fresh and close to his physical prime, is gunning for all and sundry; location no barrier.
'George Groves? No problem. We sparred regularly when we were amateurs and George was a lot bigger. That would be a perfect chance to show my level. I believe it's been put to him but he didn't step up.
'Callum Smith (the British and European monarch) is quite accurate but if he's Eddie Hearn's best super-middle I will happily oblige him, on all his terms.
'Then you've got Rocky Fielding, (Commonwealth boss) Luke Blackledge, Martin Murray. Provided the money's right, I'll happily take any of them.'
Ultra confident yet without any hint of braggadocio, matter-of-fact Cox gives the impression that the aforementioned would serve as nothing more than rust shedders ahead of the global tests he truly covets. Again, it's a case of anyone, anywhere.
'Nobodies calling my name!' states the John Costello coached terminator who expects to re-enter the world rankings next month, now that his licence has been restored.
'You'd have to say that (IBF czar James) DeGale is the best of them. 'Chunky' and me have sparred regular – hundreds of rounds amateur and pro – and are quite friendly but it's business, nothing personal. Let's just say that, in a proper fight, with the smaller gloves, I'd strongly fancy my chances.
'Gilberto Ramirez, the WBO champ, is also a very good fighter, huge for the weight. But he throws very wide shots which leave him open and with my speed and shorter shots, I'd beat him to the punch and do my damage.
'(WBC boss) Badou Jack's a fair boxer but not the strongest. I got to study him up close when I trained at the Mayweather gym in Las Vegas but he refused to spar me. Instead he insisted on sparring Cecil McCalla who was a welterweight at the time. I'd knock him out, no problem.
(WBA king) Giovanni Di Carolis is definitely the weakest of the champions. I've had a brief look at him on YouTube and he's nothing too special. He'd be another going to the floor.
'But I don't want to say too much. I'm happy to let my actions in the ring do my talking because it's difficult enough making any fights for me as it is. The only way any of the champions will face me is if I can get myself into a mandatory position.'
Away from the battle zone, you'd be hard pressed to find a more courteous or obliging subject than the softly spoken Swindon lad. However, a sinister side clearly simmers within, once the time comes to let his mallet fists fly. There are few more cold or clinical finishers active in the sport today.
'In the changing rooms before a fight, I'm pretty relaxed and joking,' quips Cox.
'But that opponent has the potential to take food off my family's table so they have to be taken out. That's my mind set.
'I'll worry about getting rounds in, in the gymnasium. Come fight night, I always want to take them out as quickly as possible. I owe everything to John Costello and (conditioner) Dessie Winter. I'm their puppet, they pull my strings. I do their training, listen to their plan and it's worked every time.'
Whilst dormant from the public eye, Cox insists he has not been procrastinating.
'Since the public last saw me, I've been stuck in the gym, keeping in practice, working alongside top world level fighters, doing a job on them!' says Jamie who has been sweating alongside ex WBO light-heavy boss Nathan Cleverly ahead of his return.
The Welsh capital, just 70 miles along the M4 corridor, provides an ideal location for his re-launch.
'I'm half Irish, half Welsh. My mum is originally from Pembroke Docks,' disclosed the 5ft 11in one-man demolition gang who featured in Cardiff twice previously.
'I've had family and friends asking for tickets all the time. No opponents been named yet but I intend to deliver my fans another annihilation, get home nice and early.
'After that, it's down to Frank. All I can do is continue to train extremely hard and win my fights in explosive fashion. I expect something big to drop before next spring.'
Bradley Skeete Ticked Off At Lack of Respect
The Penge punch picker is flying up the world ratings – ranked sixth by the WBO and seventh by the IBF – and with seven of his last nine victims failing to finish, the stylish south Londoner has finally added potency to his purity.
Self belief was coursing through the 28 year old champ's veins when he spoke to Glynn Evans about his forthcoming first title defence against Colne's Shayne 'The Pain' Singleton on Frank Warren's monster Cardiff promotion next month.
Last time out, you destroyed France's former European light-welter challenger Alex Lepelley in the seventh of a WBO European title defence. How did you assess your performance?
Overall, I was happy. I got rounds in the bag against a tough opponent with a good record who had only been stopped once before.
The WBO European is a belt I'm proud of but, personally, I'd have preferred to have defended my British. I want to win the Lonsdale outright as quickly as possible.
Going from the high profile title fight against (Sam) Eggington in his back yard, to a routine fight was difficult. I trained just as hard but, mid rounds, Al (Smith, his coach) told me to stop treating it as a spar.
So it was good to prove I could jump on an opponent and go through the gears. I was pleased with the punch variety I used to get Lepelley out of there. Not bad from someone who supposedly can't punch!
Motivation certainly shouldn't be an issue on October 22nd when you make the maiden defence of your British title.
Nah, psychologically I'm right 'on it' with my British title at stake. I desperately want the (Lonsdale) Belt outright so the title defences mean everything. I know every challenger will desperately try to take what's mine so I'll be training really hard.
Now I'm British champion, my confidence is sky high. I've already had some great sparring – I've just done a 12 rounder – and we've still three more weeks to get our tactics 'spot on'.
How do you feel about returning to the Welsh capital?
The Welsh fans clearly love their boxing and I got a great reception – in the town centre as well as in the arena – which put me in high spirits before the fight. I'm really looking forward to going back there. My London fans are also keen to see my first British title defence. The tickets are flying out.
What do you know of challenger Shayne Singleton?
To be honest, I've not seen a great deal of him. I'm aware he got stopped in five by Sam Eggington but that was a while ago. No doubt there'll be pressures to do a quicker number on him than Sam managed but styles make fights.
Shayne's got a good record (23-1) and some good wins like Curtis Woodhouse and Adil Anwar. He's got fast hands, good movement and, given the notice he's had, we expect he'll bring his A game.
But I've seen it all before; those that come to rough me up, those that come to run away. I'm ready for anything. If Shayne gives me the charge, I'll box his ears off. If he picks and pokes, happy days. No domestic welter can outbox me. I should definitely be stopping him.
Everyone seems to view me as a long strip of p*** they can just rough up. Wrong! To get to my 'puny' body you have to get past my jab and it feels like eating a right hand. Once they've munched on a few of them they all quickly change their tune.
You talk about your desire to assume permanent custody of the Lonsdale Belt and, if you come through against Singleton, you would require two more wins. Who might the challengers be?
One thing I have to stress is that all these numpties who slag me off on social media, are slung right to the back of the queue. Shayne hasn't slagged me off at all and I respect him hugely for that. That's why he got his chance.
I'd like to tidy up my record against Frankie Gavin because I still believe that I won our first fight. But I'll not go chasing him. He got knocked out by Kell Brook and now he's got nothing. He needs me more than I need him. I learned from that fight and moved on.
Dale Evans is fighting Mike Towell in an eliminator this weekend so whoever wins that will be in the frame and I'd honour Eggington with a rematch. He took his defeat like a man, no moaning, no excuses. Big respect for that.
So what treats do you intend delivering for the Welsh fans next month?
I'll be hoping to deliver another strong, solid showing. The quality of performance in Cardiff is almost as important as the result if I'm to force myself into the frame against the big names.
In camp, I've been working hard on winning all the rounds convincingly rather than just edging them which is probably where I fell short against Frankie Gavin. I need to prove these domestic level types don't deserve to be in a ring with me. I have to show I can get them out of there.
Shayne Singleton Vows to Have Too Much Craziness for Skeete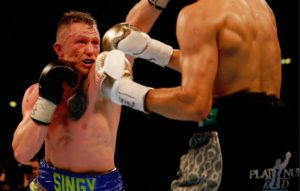 Reigning British welterweight king Bradley Skeete may boast a black belt in awkwardness but challenger Shayne Singleton claims that he's seen it all before, writes Glynn Evans.
Last time out, the stylist from Colne, Lancashire mastered impossibly unconventional Leeds contender Adil Anwar, dropping him twice, slicing him in round six before forcing the referee to terminate in round eight.
That mint performance at the Manchester Arena in May earned the 27 year old the vacant WBC International Silver strap and, more significantly, the right to confront master craftsman Skeete for the domestic title at Cardiff's Motorpoint Arena on October 22nd.
'Just like Anwar, Skeete's very awkward and bounces around….but the outcome is gonna be exactly the same,' predicts skilful Shayne, who has won 23 of 24, with eight stoppages.
'Usually I prefer fighters coming on to me but the Anwar fight proved I can adapt and showed my power's improving.
'Winning a British title would mean everything to me. After winning the Masters, the English and WBC (International) Silver, this is my world title. I couldn't give two monkeys about anything that happens thereafter.
'I'm really looking forward to coming to Cardiff. Staying away for a few nights will be something different and, though it's a far away from Colne, I'm expecting to bring a good 150-200 fans with me.'
Since debuting in August 2009, the Karl Ince coached contender has made steady progress beneath the TV radar, featuring predominantly on manager-promoter Steve Wood's small hall productions in his native north-west.
And speedy Shayne insists that he has improved immeasurably since suffering the solitary stain on his slate 18 months ago – a fifth round stoppage defeat to future British and Commonwealth king Sam Eggington at Hull's Ice Arena.
'It's definitely my time now,' insists Singleton who is indebted to sponsors Nightfox, BounceBack Safety Surfaces, AJ Wood Ltd and Wellock for their support in allowing him to pursue his dreams full-time.
'I actually thought it was 'my time' 18 months back but lost my head and came a cropper with Eggington. I did the weight all wrong and didn't have the mental control back then. Whenever he caught me, I wanted to hit him back ten times harder immediately. Since then, I've developed my 'man strength' and I think about things more.
'I've come through three 10 rounders, including easily my hardest fight against Curtis Woodhouse to win the English title when nobody gave me a chance. I answered a lot of questions to others and myself that night.'
And the Burnley born boxer will step into the British championship ring boasting almost 20 years seasoning on his CV.
He explains: 'I first became interested (in boxing) watching the big fights on TV with me Dad. To be honest, I were a bit of a 'loon' as a kid – way too much energy – so when I was eight he drove me to the Sandygate amateur gym half an hour away.
'It was my school teacher's who first called me 'Shayne the Pain'! The training tired me out and kept me on track, helped straighten me out.
'I stayed at Sandygate for over 10 years and won 28 of 35 amateur fights but never got past the north-west stages of the national competitions because I could never get past Ronnie Heffron who was like a grown man, even when we were young teenagers. I always give him a competitive fight, mind.
'Highlight of my amateur career would be my two wins over (reigning WBO lightweight champion) Terry Flanagan when we were both schoolboys.
'I was also a very good footballer and had trials for Blackburn and Burnley but decided to focus on the boxing.'
His progression away from the TV glare means that he lands in Cardiff as a largely unknown and unseen commodity to both fans and foe….something he believes will serve to his advantage.
'I believe I've everything a fighter needs to have,' states 'The Pain'
'I come on strong in the later rounds but my biggest strength is probably my boxing ability; slipping and popping off the back foot. I like it most when my opponent's 'in my face'. But, being a fiery person, I still like to have a fight and I probably need to lose that.'
Though Singleton harbours a healthy regard for the defending champion, he has profited from 10 week's notice and is adamant that he'll not concede to stage fright on what is easily the biggest test of his seven year career.
'Bradley's quality. They don't give British and Commonwealth titles away. The lad's got everything; fantastic range and he rarely gets hit,' acknowledges Shayne.
'But I also see a way of beating him and that's why I took the fight. Others are expecting a cautious, cagey affair but they'll be in for a shock. Expect the unexpected!
'I believe my speed, accuracy and movement will trouble him, big time. I'll make him answer questions and just believe I'll be too much for him on the night. I'll bring too much evilness and craziness!'
Remaining tickets for 'A Little Less Conversation' priced at £70, £100 and £150 are available from Motorpoint Arena Cardiff; 029 2022 4488 and www.motorpointarenacardiff.co.uk, Eventim; 0844 249 1000 and www.eventim.co.uk, Ticketmaster; 0844 8440 444 and www.ticketmaster.co.uk
BoxNation, the Channel of Champions, will televise this fight on Sky (SD Ch.437 and HD Ch.490), Freeview (Ch.255), Virgin (Ch.546), TalkTalk (Ch.415), online at watch.boxnation.com and via apps (iOS, Android, Amazon).
Go to www.boxnation.com to see how you can watch this fight and more live!
Liam Williams Earns Honors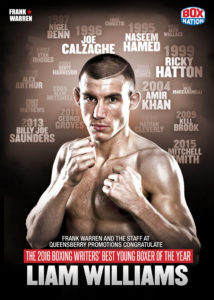 Clydach Vale Super-Welterweight star Liam Williams has been named the 2016 Best Young Boxer of the Year by the prestigious Boxing Writers' Club.
The fast-rising powerhouse is the latest addition to an illustrious roll call of British greats who have previously won the award, including Terry Downes, Howard Winstone, Ken Buchanan, John Conteh, Barry McGuigan, Naseem Hamed, Ricky Hatton and more recently Billy Joe Saunders.
Williams joins fellow Welsh boxing greats Howard Winstone, Joe Calzaghe and Enzo Maccarinelli as the winner of an award that salutes the very best in young British boxing talent.
Dynamite-punching Williams, 24, is fast establishing himself as one of the best young talents coming through the domestic scene with an explosive unbeaten record of 15 fights and ten knockouts and has so far claimed the Commonwealth and British Super-Welterweight titles, both televised on The Channel of Champions, BoxNation.
His last five fights have ended in brutal back-to-back knockout wins and he stopped Wembley's Gary Corcoran in the eleventh round to retain his British belt at the Cardiff Ice Arena in July.
Ranked at number three in the world by the WBO, Williams is moving up the rankings fast and next fights at Cardiff's Motorpoint Arena on Saturday 22nd October when he faces undefeated rival Ahmet Patterson in the second defence of his British title.
"I'm absolutely delighted to have been honoured with this award," said Williams. "The fact that so many knowledgeable boxing writers, who have the whole of the country to choose from, have chosen me, it means a lot to me. Also, to have my name on a trophy alongside so many great fighters such as Ricky Hatton and Joe Calzaghe makes me very proud. It is an exciting time to be involved in Welsh boxing, there is a lot of positivity around at the moment which is helping me in my preparation for my British title defence against Ahmet Patterson."
Trainer Gary Lockett said: "I'm delighted that Liam has won the prestigious Boxing Writers' Young Boxer of the Year award. He has certainly worked hard enough for it. Liam has come through some dark times to take his place on the list of many world class fighters that have won this famous award previously and I am extremely proud of him."
Frank Warren is delighted with Williams' rapid progress. Williams becomes the 20th boxer promoted by the Hall of Famer Promoter to win the award.
"I'm thrilled that Liam has been awarded the Boxing Writers' Young Boxer of the Year of the award and he deserves it for all the hard work he has put in over the past twelve months. In Liam we have a star in the making on our hands. He is an incredibly popular individual and his appeal comes from being a brutal banger who can also box a bit. He punches like Colin Jones, has an engine and determination like Joe Calzaghe. I believe he will emulate them, Enzo Maccarinelli and Steve Robinson in going all the way, he certainly has the attitude and tools to do it," said Warren.
Whyte & Lewison Exchange Words & Shoves at Presser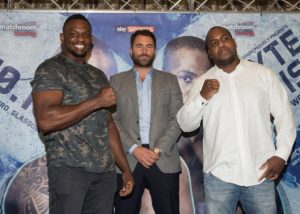 Dillian Whyte and Ian Lewison nearly came to blows at their press conference for their clash for the vacant British Heavyweight title at the SSE Hydro in Glasgow on Friday October 7, live on Sky Sports.
Whyte and Lewison met in central London and sparks flew straight away between the big-hitting Brixton rivals.
After both men confidently predicted devastating KO wins over their local rival, the jibes became personal and security had to separate the pair.
As the tempers cooled and a tense head-to-head pictures were taken without issue, both men stakes they claims to the title.
Whyte fights for the Lord Lonsdale belt in December in a pulsating battle with Anthony Joshua MBE at The O2, while for Lewison, it's a first crack at the coveted strap on the back of his impressive KO win in China in June.
"We're going to go at it – I really want to beat him up because he talks rubbish," said Whyte. "I used to think one of these days I'm going to bash his head in, so it's not long until I tuck him in.
"Ian has been around for years. He could've been someone, people used to talk about him. I beat him up when I was
"He likes eating more than he likes training. His whole team know what time it is – the know what's going to happen on the night when I am all over him and laughing as I finish him off, we're going to need a crane to pick him.
"He's going to run out and try to swing, so it's up to me what happens in the fight – whether I engage or whether I box him."
"It's going to be carnage," said Lewison. "After the fight he's going to look bad, and I'm going to KO him inside four rounds.
"It's a big opportunity for me with a big fight on TV. I thought England wasn't into public executions anymore? I'm not looking for points, they are for supermarkets. I'm going to KO him, that's what I am looking for.
"Whether we're friends or not is irrelevant, we're in there to do a job and that's win the belt. He's got a big profile and that means I can get my name out there and get the big fights with a win."