We have a slew of fight announcements for you, starting from updated schedules for this weekend, and moving into big cards as well as local affairs over the next several months. Find all the latest news here.
Artur Beterbiev Back on Deember 23rd
Ottawa and Outaouais boxing fans in Canada will receive a special Christmas gift when Montreal's adopted son and the most dangerous world title challenger, Artur Beterbiev (10-0, 10 KOs), faces Paraguay slugger and reigning WBC Latino light heavyweight champion Isidro Ranoni Prieto (26-1-3, 22 KOs) in a real power punching affair, December 23 in Gatineau as part of the GYM Boxing Series, presented by the Casino de Lac Leamy in collaboration with Videotron.
Beterbiev is world ranked by all over the major sanctioning bodies: International Boxing Federation (IBF) #2, World Boxing Council (WBC) and World Boxing Association (WBA) #3, World Boxing Organization (WBO) #4, and The Ring magazine #6.
WBO #10 rated contender Prieto has won his last two fights by knockout, since losing by unanimous decision to Eleider Alvarez in a spectacular 12-round fight, in which he refused to give an inch to the WBC # 1 challenger on August 15, 2015 at the Bell Centre in Montreal.
Expect fireworks as the KO ratio for Beterbiev and Prieto is an incredible 80-percent.
"Despite the claims of some promoters and light heavyweight challengers," Groupe Yvon Michel (GYM president Yvon Michel said, "it's a fact that Artur Beterbiev is the most dangerous and biggest threat to all of the world light heavyweight champions All contenders for titles change their minds when it comes to getting in the same ring with him," said the president of GYM, Yvon Michel.
"Isidro Prieto is a fierce fighter who accepted the challenge, also believing he has the style to repel even the most courageous boxer. He is determined to make a name for himself December 23rd. We certainly admire his determination."
Artur Beterbiev
Beterbiev is a bright GYM prospect. A true jewel, the Chechen fighter brutalized the international amateur scene.
The ferocious Beterbiev represented Russia in two Olympic Games in Beijing and London. He also won a gold and silver medals at the prestigious World Amateur Championships, as well as gold medals in numerous amateur tournaments including the Wold Cup and European Championships.
In 2010, the International Boxing Association (AIBA) named him its Boxer of the Year, as the best pound-for-pound amateur fighter in the world. He also defeated current WBO light-heavyweight world champion Sergey Kovalev in the amateurs.
The gladiator from Daghestan left behind family and friends to fulfill his dream of becoming a professional world champion.
"He has all the qualities required to become world champion," highly regarded strength-and-conditioning coach Andre Kulesza said of Beterbiev when he first signed a promotional contract with GYM. "He is healthy and always positive. He is highest level of athlete who I have ever had the chance to work with in Montreal. He has a superior genetically than anybody I ever work with and that's really saying something! Artur is naturally strong, agile and flexible. He will go up very quickly and destroy his rivals. Expect lots of KOs,"
As a professional, Beterbiev has destroyed every opponent he's faced. In only his sixth fight, he crushed former IBF champion Tavoris Cloud in less than two rounds to capture the NABA strap.
In his Showtime debut, Beterbiev stopped previously undefeated Jeff Page Jr. second round. Spaniard southpaw Gabriel Campillo was next in line, in an IBF eliminator bout for the IBF #2 world ranking, which was televised in the first Premier Boxing Champions show, live on CBS. Campillo, a former WBA champion, was dropped and then viciously knocked out in the fourth round.
Beterbiev knocked out American southpaw Alexander Johnson in the seventh round, live on Spike TV, June 12, 2015 in Chicago.
After a one-year absence due to a shoulder injury, Beterbiev climbed back in the ring, his first main PBC main event broadcasted on ESPN this past June 4 at the Bell Centre against Argentine Olympian Ezequiel Maderna, who failed to get through the fourth round.
Highly ranked by all the sanctioning bodies despite having only 10 pro fights, Beterbiev has opened eyes all around the boxing world, and the scariest part is that it is only the beginning for him.
"I'm really happy with the turn of events," Beterbiev remarked. During his time in Montreal Prieto has shown that he is a true warrior and that's the kind of opponent I want to face. "
"With his WBO #10 ranking, "Beterbiev's trainer Marc Ramsay noted, "Prieto is by far the best fighter available to fight Artur. He is very aggressive and his style insures a fight filled with action. "
Isidro "El Guerrero" Prieto
Prieto has dreamed of becoming the first Paraguayan world boxing champion.
After winning his first six pro fights and the Paraguay national title, he resettled in Argentina in 2009 to continue his development. In Buenos Aires, Prieto was taken under the wing of the first coach, Raul Paniagua, mentor and uncle of former world champion Sergio "Maravilla" Martinez.
"We have always encouraged each other, me and Sergio," Prieto said in an interview with a South American website. "He started from the bottom and that is why we have so many things in common."
Currently ranked # 10 by the WBO, "El Guerrero" has wiped out South American competition, knocking out most of his rivals, including Brazilian brawler Jackson Junior.
His lone defeat was to WBC Silver champion Alvarez, and since then Prieto has won two bouts, both by knockout. Slick and freakishly strong with heavy hands, Prieto is a serious threat.
"I've worked in various places but the Casino du Lac Leamy is one of the places I love the most, " added Éric Bélanger, trainer and organizer of events in the Gatineau and Ottawa region "It's beautiful and prestigious; intimate but the atmosphere is amazing. Everyone connects and is part of the show. Gatineau also has a fan base that loves boxing. With Artur Beterbiev, it will be a major league boxing card, and I am sure that the region will be happy to be part of it."
Langford Now Faces Sheedy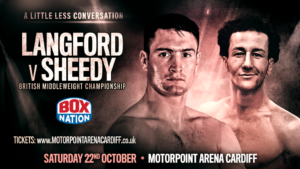 Baggies Bomber Tommy Langford (17-0 6 KOs) will face Sheffield's Sam Sheedy (17-1 4 KOs) for the Vacant British Middleweight Championship on Frank Warren's sensational October 22 Motorpoint Arena Cardiff show.
Langford, who holds the Commonwealth and WBO Inter-Continental Middleweight belts, is determined to win the famous Lonsdale Belt and write his name into the boxing history books. The number two WBO ranked 27 year-old is confident he has the skills to overcome 'Speedy' Sheedy.
"This is a great fight for me," said undefeated Langford. "Sam is a good boxer and has one of those styles that can make life very difficult for anyone so I will have to get it right on the night. He's only lost once in a fight that he should have one. I've watched it back and it was an unlucky decision against Navid Mansouri. He poses a lot of threats but I am very confident I can get in there and get the job done.
"Having the opportunity to fight for the British title is phenomenal for me and it's a great chance to propel myself on to that next level. This is a chance to put my name in the history books and I won't be letting it pass. Cardiff is becoming like a second home for me! I have huge number of fans coming down for this fight again; close to 2,000. It's a massive bill and the fans are in for a treat!".
WBO Middleweight World Champion Billy Joe Saunders joins a sensational five-title fight card that features Welsh hero Liam Williams defending his British Super-Welterweight title against undefeated Londoner Ahmet Patterson; Penge star Bradley 'Super' Skeete making a mandatory defence of his British Welterweight crown against Manchester's Shayne Singleton; Baggies bomber Tommy Langford challenging for the Vacant British Middleweight strap and Liverpool's Tom Stalker making the first defence of his WBO European Lightweight title against Welshman Craig Evans.
Skoglund's fight rescheduled for December 9
Erik Skoglund's (25-0, 11 KOs) WBA International Light Heavyweight title fight with Timy Shala (21-1-1, 8 KOs) will now take place on December 9 at the Rosvalla Arena in Nyköping, Sweden.
''We're delighted to have a new date in place,'' said promoter Nisse Sauerland. ''The application has already been submitted with the Swedish Martial Arts Delegation, and we can now look forward to another great night of boxing on December 9 at the Rosvalla Arena in Nyköping.''
Skoglund, who is back in action following a bloody brawl with Ryno Liebenberg on April 23 at the Hovet in Stockholm, is relishing a return to his hometown arena, which last year, played host to his historic IBF Intercontinental title fight against Oleksandr Cherviak, and a shut-out points win over Derek Edwards.
''I'm very happy to have a new date set,'' said Skoglund. ''This is a really important fight for me against a tough opponent. I've been in training since my fight with Liebenberg and I feel in great shape. The extra time will only make me stronger, and I will be better than ever on December 9.
''It's always a special feeling to fight at home, and I'm looking forward to bringing boxing back to Nyköping. It means everything to have so many people supporting me, and I promise to repay their support with another great victory!''
The 'Swedish Sensation' will face a tough task against the 'Albanian Bomber' Shala, who says he is coming to Sweden to win, and will be bringing his own passionate fans to rival Skoglund's home support.
''Skoglund is a good boxer, but I know I can beat him,'' says Shala. ''He should prepare for a fighter who is willing to do everything to win. I've been training hard and I will not lose this fight! Albanian people are crazy boxing fans, and there will be lots of people coming to support me and making lots of noise.''
Adam Lopez headlines on Nov 12th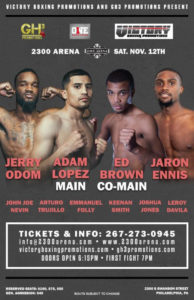 World ranked super bantamweight Adam Lopez will take on Carlos Valcarcel on Saturday, November 12th at the 2300 Arena in Philadelphia. The broadcast is slated to begin at 9:30 PM ET. Lopez of San Antonio, Texas is ranked 4th by the WBA and has a record of 15-0-1 with seven knockouts.
The 25 year-old Lopez is a four year pro and has wins over Pablo Cruz (11-0), Eliecer Aquino (17-0-1), former world champion Erik Aiken & Mario Munoz (16-0-1). In his last bout, Lopez fought to a ten-round split draw with Roman Reynoso (18-1-1) on July 22nd in Mashantucket, Connecticut.
Valcarcel has a record of 14-8-4 with five knockouts. The 34 year-old native of Miami, Florida has wins over Jovanny Soto (15-2-1), Rodolfo Garay (14-2-1) & Leivi Brea (16-4-3).
The 12 year veteran also has fought former world champion Eric Morel and future world title challenger Jessie Magdaleno.
Valcarcel is coming off a 6th round stoppage defeat to undefeated Erick DeLeon on June 25th in Dallas, Texas.
Seeing action in the eight round co-feature will be undefeated welterweight Ed Brown.
The 24 year-old native of Chicago has a record of 18-0 with 15 knockouts, and has established himself as one of the top welterweight prospects in boxing.
Brown is coming off a six-round unanimous decision over Gilbert Venegas on July 30th in Hammond, Indiana.
In an eight-round super middleweight bout, hard-punching Jerry Odom will take on Taneal Goyco.
Odom of Washington, DC has a record of 14-2-1 with 13 knockouts, and is a four-year professional. The 23 year-old Odom won his first twelve bouts, which included a thrilling come from behind stoppage over previously undefeated Vilier Quinonez (9-0) on July 25, 2014 in a nationally televised bout on ShoBox: The New Generation.
Odom avenged a controversial disqualification defeat by destroying previously undefeated Andrew Hernandez (8-0) in one round. In his last bout, Odom stopped Julius Jackson (19-1)in three rounds.
Goyco of Philadelphia has a record of 8-9-1 with three knockouts.
Goyco has upset the apple-cart on several occasions. He has wins over undefeated Dennis Morris (1-0), Jeremy Trussell (8-0) & Devin Butcher (5-0) plus upset victories over Frankie Filippone (14-2-1) and Dennis Hasson (16-1). Goyco is coming off a eight-round unanimous decision defeat to Tony Hirsch on June 11th in Oakland, California.
Opening up the ONE World Sports television broadcast will be talented prospect Jaron Ennis of Philadelphia.
Ennis, 19 years old has a record of 6-0 with five knockouts. In his last bout, he was taken the distance for the first time, but pounded out a four-round unanimous decision over Eddie Diaz on September 15th.
In off-television action and appearing in six-rounds bouts will be super welterweight Arturo Trujillo (8-0, 5 KO's) of Easton, PA, super lightweight Keenan Smith (9-0, 3 KO's) of Philadelhia; junior lightweight John Joe Nevin (8-0, 4 KO's) of Mullinger, Ireland.
Ashley Theophane Back on Oct 8th in Las Vegas
Former title challenger Ashley "Treasure" Theophane (39-7-1, 11 KO's) looks to redeem himself after a tough loss back in April as he headlines the main event of Mayweather Promotions Sin City Showdown, Saturday, October 8th from Sam's Town Live in Las Vegas.
"I have been in the gym training harder than ever and mentally preparing after coming up short against Adrien Broner earlier this year," said Theophane. "I'm excited to get back in the ring on October 8 and be the first to headline the monthly fight series at Sam's Town that Mayweather Promotions has put together. I will not disappoint. This is for my fans right here in Las Vegas to witness live, and my supporters worldwide. You can expect a great performance come fight night!"
The co-main will feature a battle for the NABF Super Middleweight Title featuring Mayweather Promotions' own Ronald "The Thrill" Gavril (16-1, 12 KO's). Also featured on October 8 are Mayweather Promotions' rising stars including undefeated super lightweight Sanjarbek "War" Rakhmanov (5-0-1, 3 KO's), Ladarius "Memphis" Miller (11-1, 2 KO's), who comes off of a win on Sept. 16th, and new members to the stable, Josue Vargas (6-0, 4 KO's), Xavier Martinez (6-0, 4 KO's), and Daniel Gonzalez (12-0, 5 KO's) all in separate bouts!
"It feels good to be back at Sam's Town. I like fighting in front of a full house and having an intimate feel. You don't always get that on the big shows when you have to go so early in the day before fans arrive," said Gavril.
"Last time I fought at this venue I was successful in beating my opponent and I got my fifth consecutive win. I feel confident that I am going to come out victorious again on October 8! I have been training hard and my only goal is to come home as the new NABF Super Middleweight champion. It is an honor to be the co-main on this card, and this is only the beginning of what I want to give back to my fans and the sport of boxing."
David Gonzales faces Samuel Teah on Nov 11th
Philadelphia based junior welterweight's David Gonzales and Samuel Teah will square off in an eight-round bout that will headline an eleven-bout card on Friday, November 11th at Harrahs Philadelphia.
The show is promoted by King's Promotions.
The 26 year-old Gonzales has a record of 8-0-2 with two knockouts and in his last bout he won a six-round majority decision over Carlos Velasquez on June 12th in Lakeland, Florida
Teah has a record of 8-1-1 with two knockouts. He won his first four bouts. The 29 year-old, who was born in Liberia holds a win over previously undefeated O'Shaquie Foster (8-0) in a bout that was nationally televised on ShoBox: The New Generation. In his last bout, Teah won a four-round unanimous decision on Samuel Amoako on August 6th in Bristol, PA.
In the eight-round co-feature, Kyrone Davis will fight Chris Fitzpatrick in a middleweight bout.
Davis of Wilmington, Delaware has a record of 10-1 with four knockouts.
The 21 year-old Davis won his first ten bouts, which was highlighted by a six-round unanimous decision over (now WBA number-five contender) Andrew Hernandez (10-2). The two year-pro will look to get back in the win column after dropping an eight-round unanimous decision to Junior Castillo (9-0) on April 19th in Bethlehem, PA.
Fitzpatrick of Cleveland, Ohio has a record of 15-5 with six knockouts. The 29 year-old is an eight-year professional who has a won his first fourteen bouts, which included a win over Scott Sigmon (16-2). Fitzpatrick has also been in the ring with current WBA Middleweight champion Daniel Jacobs. In his last bout, Fitzpatrick was stopped in three round to world-ranked undefeated contender Rob Brant on August 5th in Temecula, California.
In six-round bouts:
Carlos Rosario ((5-1, 3 KO's) of Pennsauken, NJ will fight Jerome Conquest (6-2,1 KO) of Philadelphia in a lightweight bout.
Tyrone Crawley Jr. (6-0) of Philadelphia battles Victor Vasquez (6-2, 2 KO'sO of Yonkers, NY in a super lightweight bout.
Amir Shabazz (4-0, 1 KO) of Philadelphia squares off with Gabriel Pham (6-1, 2 KO's) of Atlantic City, NJ in a light heavyweight bout.
Nicholas Hernandez (5-1, 1 KO) of Lebanon, PA will fight Anthony Prescott (5-7-2, 2 KO's) of Cherry Hill, NJ in a middleweight bout.
In four-round bouts:
Hafiz Montgomery (2-1, 1 KO) of Toms River, BJ battles Julian Poole (1-1, 1 KO) of Wisconsin in a cruiserweight bout.
Wesley Triplett (4-1, 2 KO's) of Youngstown, OH will battle Randy Easton (3-9-2, 3 KO;s) of Sunbury, PA in a heavyweight tussle.
Luis Aponte of Reading, PA will make his pro debut against Darryl Bunting (2-1-2, 1 KO) of Asbury Park, Nj in a super middleweight fight.
Roberto Irizarry (3-1-1) of Cherry Hill, NJ will take on Jules Blackwell (8-6-2, 3 KO's) of Phoenixville, PA in a featherweight affair.
Lamont McLaughlin & Waleem Felder will square off in a battle of debuting cruiserweights from Philadelphia.
Detroit Brawl Back on Nov 12th
On Saturday, November 12, once again at the iconic Masonic Temple in Downtown Detroit, Dmitriy Salita and Salita Promotions will host the latest installment of the "Detroit Brawl" series of shows.
Already a favorite with Motown's boxing fans, this Detroit Brawl will feature several series alums including James Gordon Smith, Jarico O'Quinn, Serdar Hudayberdiyev, Dorell Van Horn Jr., and Alexey Zubov.
Once again sponsored by Thomas Magee's Sporting House Whiskey Bar, tickets for "Detroit Brawl" will be priced at VIP $123, Balcony $100, Ringside $93, $63, $38, and $28 and available at all Ticketmaster outlets and Tickmaster.com.
26-year-old bantamweight James Gordon Smith (10-0, 6 KOs) of Detroit was last seen at a previous Detroit Brawl, on May 14 of this year, going to electrifying war against Mexico's tough Pablo Cupul. Smith won a unanimous six-round decision and the hearts of the fans with his thrilling back-and-forth victory.
21-year-old bantamweight Jarico O'Quinn (3-0, 2 KOs) of Detroit was last in the ring on August 6 in Temecula, California, winning a unanimous four-round decision over local product Johnathan Quiroz on CBS Sports Network.
29-year-old super welterweight Serdar Hudayberdiyev (3-0, 2 KOs) of Brooklyn, New York via Turkmenabat, Turkmenistan, was last seen on July 16 of this year at yet another Detroit Brawl, winning a four-round unanimous decision over formerly undefeated Steven Andrade.
28-year-old super middleweight Dorell Van Horn Jr. (9-1, 6 KOs) of Detroit will be looking to rebound from suffering his first career loss in August of this year. Fighting on the undercard of a Showtime-televised event, Van Horn dropped an action-packed four-round unanimous decision to New York veteran Henry Beckford at Rhinos Stadium in Rochester, New York.
29-year-old cruiserweight Alexey Zubov (12-1, 7 KOs) of Brooklyn, New York via Magnitogorsk, Russia, last fought in August was well. Zubov won a unanimous six-round decision over Eric George at the same Showtime show at Rhino's Stadium.
"I am proud of The Detroit Brawl and the fighter development and action for the fans the series provides," said Dmitriy Salita. "We have several popular fighters returning from Detroit and around the world and they'll all be in tough fights to further their careers and keep the Detroit fans on the edge of their seats. I'm also proud to announce that this show, like all the Forgotten Harvest, one of the nation's largest food rescue organizations. The last show was able to donate over 3000 meals to worthy families."
Mykal Fox headlines on Nov 5th
Undefeated junior welterweight prospect Mykal "The Professor" Fox will take on Juan Rodriguez in an eight-round bout that will headline nine-bout on Saturday, November 5th at the
Rosecroft Raceway in Fort Washington, Maryland.
The card is promoted by King's Promotions.
Fox of Forestville, Maryland has a record of 11-0 with three knockouts and this will be his fourth bout of 2016.
The 20 year-old Fox turned professional in 2014 and has been kept busy as this will be his 12th contest in 29 months.
In his last bout, Fox stopped Somner Martin in three rounds on August 19th in Washington, DC.
Rodriguez of Haymarket, Virginia has a record of 6-5-1 with five wins coming via stoppage.
The 26 year-old Rodriguez is an eight year professional and he won his first four fights. He has a fifth round stoppage win over previously undefeated Nathaniel Rivas (5-0).
Fox will be Rodriguez' fourth undefeated opponent. Rodriguez is coming off a six-round unanimous decision defeat to Anthony Young (11-2) on April 29th in Atlantic City.
In a six-round bouts:
Cruiserweight Luther Smith (5-1, 4 KO's ) of Bowie, Maryland, super Bantamweight Jordan White (3-0, 3 KO's) of Washington, DC & junior welterweight Kent Cruz (11-0, 6 KO's) of St. Louis, MO will take on an opponents to be named.
Appearing in four-round bouts will be junior welterweight Christopher Warden (2-0, 2 KO'sO of Lusby, Md; middleweight Patrick Rivera (1-0, 1 KO) of Edgewood, Maryland; super bantamweight Marcus Bates (4-0-1, 4 KO's) of Washington, DC; junior middleweight Justin Hurd of Accokeek, Maryland will make his pro debut.
Greg Outlaw of Bowie, Maryland will make his pro debut against Lamont White (0-4) of Washington, DC in a junior welterweight bout.
LaRon Mitchell vs. Scott Alexander on Oct 21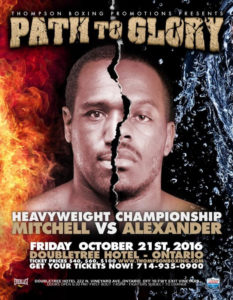 Heavyweights LaRon Mitchell and Scott Alexander are scheduled to fight for a title (TBD) on Thompson Boxing Promotions' "Path to Glory" main event on Friday, Oct. 21.
The 10-round championship fight will take place at the Doubletree Hotel in Ontario, Calif.
Mitchell (14-0, 13 KOs) is a rising talent in the heavyweight division. His first thirteen scores came by knockout and his latest win, a hard fought unanimous decision over Mario Heredia in August, was a solid test for the San Francisco native.
Mitchell faces another tough obstacle in Alexander (12-1-2, 6 KOs), who also fought in August on the same Thompson Boxing card as Mitchell. Alexander used his length and speed to side step Sergio Ramirez by technical decision.
"This fight pits two up-and-coming heavyweights against one another," said Alex Camponovo, matchmaker and general manager at Thompson Boxing. "Mitchell has power in either hand, and Alexander knows how to use his jab to control the fight."
"I'm looking forward to the challenge," said Mitchell, who trains in San Francisco under Jimmy Ford. "He's dangerous in a lot of ways, but so am I. That it's for a championship only adds to the intrigue. Fans are going to get an explosive fight."
"These are the types of fights that we want," said Alexander, who trains with Henry Ramirez in the Los Angeles area. "We are in the gym training non-stop to get ready for Mitchell."
Custio Clayton headlines in Montreal on Oct 20th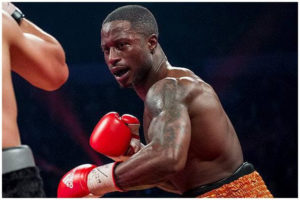 The "GYM 2016-2017 BOXING SERIES", a "Presentation of Casino de Montreal in collaboration with Videotron" will officially begin October 20 and that professional boxing card has been announced today by Groupe Yvon Michel (GYM) president Yvon Michel.
In the 10-round main event, 2012 Canadian Olympian Custio Clayton (9-0, 7 KOs) will face the biggest challenge of his young career in his tenacious Mexican opponent, Ramses "El Faraon" Agaton (17-4-3, 9 KOs).
Clayton, based in Montreal since his professional debut, also headlined the "GYM-CASINO" series last season. In three series bouts held at the Cabaret du Casino in 2016, he stopped Frenchman Stanislas Salmon (25-3-2), American Hector Munoz (23-17-1) and Mexican Jose Emilio Perea (23-6-1).
"I work hard every week and I always feel better when I work out," Clayton said. "I had a solid training camp in Montreal and a few days in Ottawa with my trainer. I'll be ready!"
Agaton is a fast, skilled and aggressive southpaw who lost a tough, majority decision to the North American Boxing Federation (NABF) welterweight champion, Konstantin Ponomarev (28-0), of Russia, last November in Las Vegas. Agaton has notable victories over Ronald Montes (16-0), Alejandro Barrera (25-1) and Alvaro Robles (17-2-2).
Charismatic Marie-Eve Dicaire (4-0, 0 KOs), of St-Eustache, will step into the ring in a 6-round fight for only the second time of her career versus Karla Zamora (3-2-0, 1 KO), of Mexico, in the co-feature.
Dicaire will be fighting at Cabaret du Casino for the fourth time having already defeated Manitoba's Christina Berry (0-2-0), Mexican Martha Patricia Lara (9-4-0) and American Ashleigh Curry (7-9-4) in her previous appearances in her previous fights there
"The Casino is becoming my home, " the 30-year-old southpaw commented. "I cannot wait to box again This is the longest I've been without climbing into the ring and everything is good to the point. I am transformed! I look forward to applying the new details worked on in the gym."
A protégé of world light heavyweight contender and 2-time Russian Olympian, Artur Beterbiev, pro-debuting super bantamweight Vislan Dalkhaev (7-0-0, 2 KOs) will try to continue his demolition work in the pro ranks against Rodrigo Adrian Campos (10-4-0, 5 KOs), of Mexico, in a scheduled 8-round fight.
During his illustrious amateur career, Dalkhaev's major accomplishment was defeating 2-time Olympic gold medalist Robeisy Ramirez, of Cuba, at a 2010 tournament in Kazakhstan. Ramirez recently beat American star Shakur Stevenson championship final of the bantamweight (56 kg) division at the 2016 Olympic Games in Brazil this past summer. Based on his rich amateur pedigree, Dalkhaev has a very promising pro boxing career.
"Vislan is very impressive in training and he is improving with every bout," his trainer
Marc Ramseynoted. "We see consistent development by him,"
Twenty-two-year old Dario Bredicean (9-0, 3 KOs), who is trained by the Grant brothers, will also be in action against tough Frenchman Baptiste Castegnaro (8-9, 4 KOs).
An American of Romanian descent who was discovered by former world champion Lucian Bute, Bredicean fought twice at the Casino last season, winning impressive decisions over Mexican Jaudiel Zepeda (12-14-1) and Quebecer François Miville (7-4).
Patrice Volny (2-0, 1 KOs), of Montreal, will fight for the third time at the Cabaret of the Casino de Montréal. Spectacular in his two previous appearances there, where he delivered a brutal KO overMichel Tsalla (1-11-2) and dominated Charles Hauver (pro debut), he will trade blows this time with pro-debuting Cuban Oscar Masso Cando, who is a veteran of 250 amateur fights and now lives in Lévis, Québec.
Lightweight Dwayne Durel, of nearby Laval (4-0-0, 2 KOs), is a former kickboxer, also trained by the Grant brothers, who also will be on the card against a rival to be determined.
Alexandre Choko against doping
In a special attraction, Montreal's Alexandre Choko will make his pro debut at the age of 42. An activist in boxing's anti-doping, he wants to raise awareness of the dangers of doping products by fighting in the ring himself.
The identity of his rival will be unveiled next week.