Tom Langford delivered an emphatic debut victory in front of his home crowd last Saturday. The Birmingham based boxer won a 40-35 decision at the end of four compelling rounds.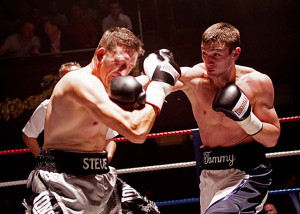 As Tom Langford celebrated his comfortable win, Steve Spence boasted of his durability. Spence has only been stopped three times in his 30 bouts. Through some spells of the fight it looked likely this could be the fourth time he would be KO'd, but the 25-year-old proved too tough.
As Langford's fans expected, he stole the show at the HMV arena. The debutant junior middleweight prospect provided numerous combos, and his relentless work rate kept up throughout the duration of the bout. Langford was busy working the body with powerful shots, using his effective jab and even leading with a right hand from time to time.
It was nearly a complete professional debut for the 23-year-old, with only a knockout missing. He floored Spence with a left hook as he side-stepped his man in the last stanza. Spence stumbled to the canvas and was given an eight count, but was able to survive until the final bell.
Langford looked sharp throughout his fight and will most definitely be one to watch in the British boxing scene over the coming months and years. He seems to have already begun making a comfortable evolution to the pro ranks and is ready to embark on what has been projected to be a busy first year as a prizefighter.
The former highly regarded English amateur fighter is already looking towards his second fight on October 19th, where he will hope to make a statement once again and continue the long ascension up the ranks.