First, a disclaimer: I'm rooting for Sergio Martinez and have picked him to defeat Julio Cesar Chavez, Jr. this weekend. Unless Martinez suddenly gets old, my boxing smarts say he has most of the advantages going into this fight, and besides, I have never been able to get past the way JC, Jr. got his WBC belt in the first place.
Even so, as a boxing pundit, I sometimes think of the game beyond the facts and my own personal preferences, and in that vein I began thinking of what might happen for both fighters after Saturday night, win or lose. That train of thought began making me wonder if a Chavez win wouldn't be better for the sport, at least in the short term.
Marvelous, But Aging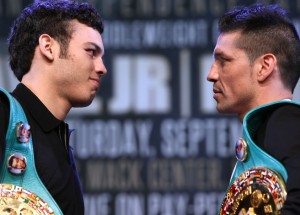 Given that Sergio Gabriel Martinez only entered the world class boxing scene in 2009, it is odd to think of him as a fighter who is reaching the end of his career, but that he undeniably is. Martinez is 37 years old, and while boxers seem to age better in this modern era of longer lifespans and fewer fights, it is hard to see him outrunning Father Time for more than another year or two.
An axiom of boxing as a business is that when two promotable commodities meet, the much younger guy is always a better business prospect. A big win for Chavez puts rocket fuel into a career that will go on for at least another decade. A big win for Martinez cements the legacy of a career that won't reach beyond the middle of this decade.
What Next?
Martinez's course after a win over Chavez is pretty clear. The Argentine is a natural junior middleweight, so going up in weight to challenge the titans of the super middleweight division is out of the question for him. Those guys are all P4P contenders or entrants in their own right, and would enjoy a size advantage as big or bigger than Chavez's.
Instead, it is likely Martinez would remain at middleweight, keep himself busy by chopping out the rising lions, and angle for a PPV fight with either Manny Pacquiao or Miguel Cotto. The odds of either match-up happening are pretty low, however.
Chavez is a whole different kettle of fish. The Mexican would continue chopping down rising lions while angling for a mega-fight with some of those super middleweight titans I just referred to, or at least someone with a belt on the second-tier of the red hot 168-pound division.
In my mind, Abraham vs. Chavez or Froch vs. Chavez is a much bigger fight than Martinez vs. anyone else in the middleweight Top 10. Even Martinez vs. the winner of Geale vs. Golovkin, which is the biggest potential fight for the Argentine on the horizon, doesn't really compare with Chavez vs. a Super Six veteran.
Better For Boxing? NO
The thing about these musings is that win or lose, Chavez's career arc takes him to super middleweight sooner or later anyway. Defeating Martinez might actually cause him to stay at 160 lbs longer, whereas a defeat might send him off to super middleweight in search of better opportunities.
Ultimately, this entire question comes back to a point I made at the beginning: JCC, Jr. got his belt in an underhanded, dirty little bit of WBC nepotism and cronyism. Martinez has remained the middleweight champion in the hearts and minds of boxing fans everywhere, but it doesn't change the simple fact that the WBC bent and broke its own rules to take the belt away from him and give it to Chavez. If Martinez whips Chavez and reclaims what was rightfully his all along, it's justice, and boxing is always in need of a little justice.