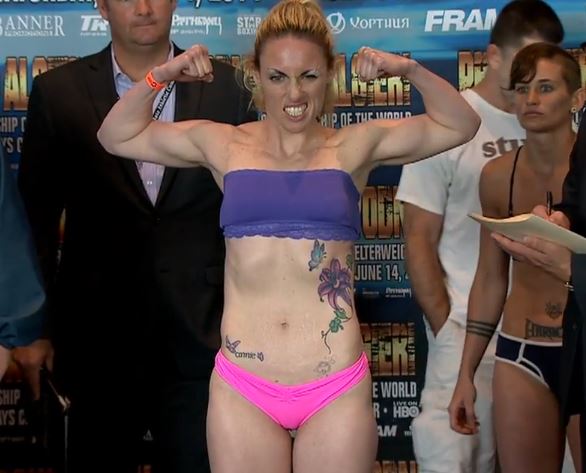 On Wednesday, DiBella Entertainment returns to NYC's B.B. King Blues Club & Grill for a six-bout card headlined by the always-exciting Heather "The Heat" Hardy, known as the "First Lady of DBE" and often referred to as "a female Arturo Gatti".
The weigh-in for the event was held today, and you can find the complete weights for the card right here.
Heather Hardy vs. Elizabeth Anderson
Brooklyn, NY Salt Lake City, UT
11-0, 2 KO's 3-5
122½ lbs. 121¼ lbs.
6 ROUNDS – JUNIOR WELTERWEIGHTS
Louis Cruz vs. Rogelio Casarez
Bronx, NY Batesville, AR
9-0, 4 KO's 7-2, 3 KO's
137¾ lbs. 137¾ lbs.
6 ROUNDS – MIDDLEWEIGHTS
Ivan Golub vs. Josh Williams
Brooklyn, NY Sheridan, AR
3-0, 2 KO's 9-6, 5 KO's
158¼ lbs. 158½ lbs.
6 ROUNDS – SUPER MIDDLEWEIGHTS
Paul Littleton vs. Lamarr Harris
Miami, FL St. Louis, MO
9-0-2, 5 KO's 8-10-4, 4 KO's
165¾ lbs. 159¾ lbs.
4 ROUNDS – JUNIOR WELTERWEIGHTS
Ivan Baranchyk vs. Alfonso Olvera
Brooklyn, NY Tucson, AZ
1-0, 1 KO 1-0, 1 KO
140¼ lbs. 140½ lbs.
4 ROUNDS – LIGHT HEAVYWEIGHTS
Dauren Yeleussinov vs. Anthony Madden
Brooklyn, NY Biloxi, MS
Pro Debut 1-5-1, 1 KO
170¾ lbs. 167¾ lbs.
The card will also feature three up-and-coming prospects and former amateur stars hailing from the former Eastern Bloc, in Ivan Golub, Ivan Baranchyk and Dauren Yeleussinov, all of whom are now living and training in Brooklyn, NY, and co-promoted by DiBella Entertainment and Fight Promotions Inc.
Following her WBC International super bantamweight title victory on October 15 and the premiere of a documentary based on her boxing career, titled "HARDY", that was executive produced by Lou DiBella, the popular Hardy, from Brooklyn, NY, will step into the ring for the fifth time this year when she squares off against Salt Lake City's Elizabeth Anderson, 3-5, in an eight-round junior featherweight contest. In her last bout, Hardy, 11-0 (2 KOs), expertly outboxed her opponent over 10 frames, throwing in combination, counterpunching and showing adept footwork, in what was her most impressive performance to date.
DBE-promoted New York Golden Gloves champion Louis Cruz, 9-0 (4 KOs), will see action in a six-round junior welterweight contest. Following a second-place finish at the 2011 National Golden Gloves, the 23-year-old Cruz competed in the 2012 US Olympic Trials before turning pro later that same year. The Bronx-native has already picked up four victories this year and will be determined to stay on course. Facing off against Cruz will be Rogelio Casarez, 7-2 (3 KOs), of Batesville, AR.