Previewing Potential Super Fights – Rigondeaux vs. Lomachenko:
In the first installment of an exciting new series here at ProBoxing-Fans.com, we take a look at one of the best potential super fights looming on the horizon, Guillermo Rigondeaux vs. Vasyl Lomachenko.
In the Future Super Fight Series, we cast aside the ridiculousness of failed super fights such as Floyd Mayweather vs. Manny Pacquiao, and instead, focus on fantastic fights which could — and hopefully actually would — come together not necessarily in the next six months, but in some cases, a year or two down the road. There's no better place to start than with Rigondeaux vs. Lomachenko.
Rigondeaux vs. Lomachenko – The Background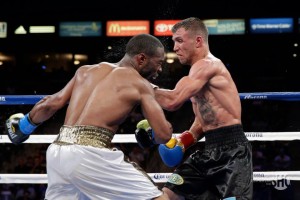 Rigondeaux and Lomachenko are unanimously regarded as two of the very best amateur boxers in the long history of the sport. Few boxers ever had more frighteningly successful and impressive amateur campaigns than these two.
Rigondeaux, fighting in Cuba's legendary amateur system, compiled a record somewhere in the range of perhaps 400 or 450 wins to 12 losses. Competing at Bantamweight, he won two gold medals, and two additional world championships.
Lomachenko, fighting out of Ukraine, itself a former Soviet Bloc country, has a purported record of 396 wins to one loss. Competing at Featherweight and Lightweight, he won two gold medals, and two additional world championships.
Today, as a professional, Rigondeaux is 14-0 with 9 KOs, and is the reigning Super Bantamweight Champion. His best win was a dominant effort over then top-3 pound for pound fighter Nonito Donaire.
Lomachenko is 3-1 with 1 KO, and after just four fights he has established himself as the number 1 contender in the Featherweight division. His best win was a thumping over the highly touted Gary Russell Jr.
How Will Their Paths Cross?
Rigondeaux and Lomachenko currently campaign just a division apart from each other. Four pounds separate them.
Despite Rigondeaux's one-sided win over superstar Donaire, he has failed to continue landing big fights. It's no secret he craves them though, and a move up to Featherweight to track them down seems inevitable.
Both fighters call the Top Rank family home, a convenient fact for a potential pairing of the two. Not only that, but Top Rank owns the Featherweight division right now, with division champion Nicholas Walters, Donaire and Evgeny Gradovich all in the stable.
Each man has shown a willingness to fight absolutely anybody, and with a shared promoter, it couldn't be easier to make a fight between them. With all of those other big names in the division, it's also easy to build the fight up by pairing, say, Lomachenko vs. Gradovich, and Rigondeaux vs. Walters, and having the winners square off.
How Would Rigondeaux vs. Lomachenko Play Out?
Rigondeaux vs. Lomachenko has all the makings of the type of absolutely legendary rumble that fans will one day regale their grandchildren with tales of having witnessed. The combined skill level will be nearly unparalleled, a rare match of supreme talents which comes along perhaps once every few decades.
Nobody out-waits Rigondeaux, so Lomachenko would be forced into the role of aggressor. The cat and mouse game would likely take several rounds to develop, but once it does, each man would be called upon to dig deeper into his bag of tricks than ever before.
It would be high-stakes, high-level chess, but fireworks would develop as the physically stronger Lomachenko began turning up his aggression. Can Rigondeaux rely on his reflexes and defense against a fighter of Lomacheko's caliber? Would Lomachenko throw caution to the wind to out-work and out-muscle the rare counterpart who could actually out-box and out-fox him?
Perhaps it seems silly given Rigondeaux's status and superior professional accomplishments, but at this point, I don't bet against Vasyl Lomachenko. I think in this pairing he may be able to call upon an extra gear which Rigondeaux doesn't have, because he's never needed it and his style isn't suited to it.
With size and strength at his side, Lomachenko makes up an early-round deficit, coming on late, wearing The Jackal down a bit, and winning a Split Decision. Rematch? Sure!
Stay tuned over the next few weeks as we continue our Future Super Fight series, and take a look and at the very best of what fight fans can hope to see in 2015, 2016 and beyond.