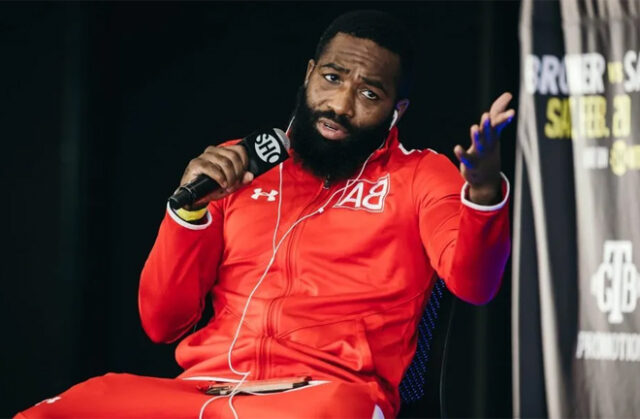 Adrien Broner has issued an apology after storming out of a virtual press conference on Tuesday to promote his fight against Omar Figueroa on August 20.
Broner, who makes his return on SHOWTIME after 18 months out, launched a scathing rant on long-time advisor Al Haymon and SHOWTIME Sports' President, Stephen Espinoza for not hosting an in-person press conference, before leaving the call which was hosted by Brian Custer.
"I'm gonna be a 100% honest with you, Brian," Broner said. 
"I ain't wit none of this s*** they got going on.
"I feel like Al Haymon and Stephen Espinoza is bulls******* because why is we doing a press conference on the computer?
"When you got guys like – they don't do Floyd's s*** on no f****** computer, when he fight a YouTuber.
Adrien Broner is not happy and quickly quits the virtual press conference for his comeback fight vs Omar Figueroa Jr on Aug 20th…

[📽️ @ShowtimeBoxing] pic.twitter.com/9zUO3lVGqQ

— Michael Benson (@MichaelBensonn) July 19, 2022
"They don't do nobody else s*** on the computer, but they wanna do my s*** on a computer.
"So, that's telling me they don't give a f*** about me. So, when you say it's f*** me, it's f*** y'all.
"And at the end of the day, that's what I really just came here to let y'all know."
The four-division world champion proceeded to vent his frustration over what he felt were delays to his fight date and sent a final message to Figueroa before leaving the call from his training base in Colorado.
"I see anybody can see it. At this point, y'all bulls*******.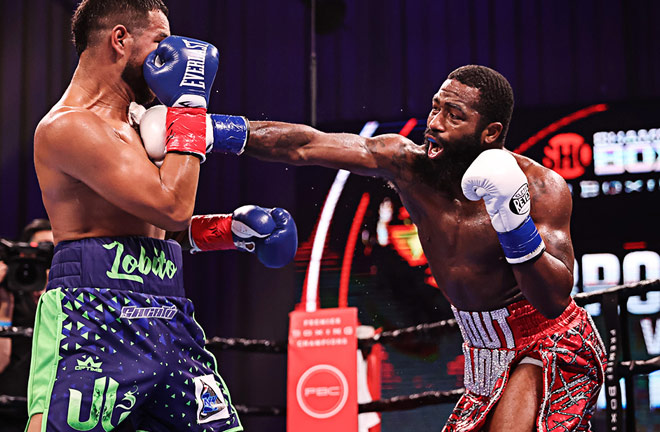 "At this point, y'all bulls*******'. Y'all been supposed to make this fight. Y'all giving us dates, y'all keep pushing our dates back.
"Y'all, c'mon man, who the f*** do a six-month camp? Y'all tripping, so what I'm gonna do, you know, Brian, I'm gonna talk to you at a 11 on Thursday.
"So, what I'm gonna do is tell Omar keep training yo a** off. I'm training my a** off, too.
"Let's go in there and put on a great performance. But I'm gonna get the f*** up on up outta here and go back to sleep, y'all.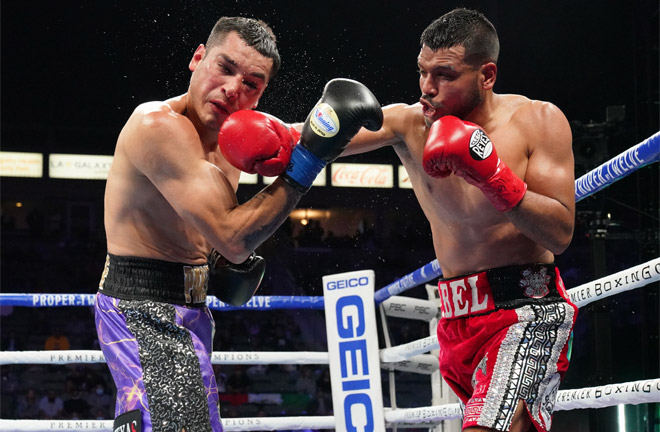 "Hey Brian, I'll see you on Thursday, aight?"
Custer then explained how Zoom press conferences had become customary since boxing returned following the COVID-19 pandemic and that a press conference would be hosted in-person on fight week ahead of their 140lb showdown at the Seminole Hard Rock Hotel and Casino in Hollywood.
Later on Tuesday, 'The Problem', who was last seen outpointing Jovanie Santiago last February, took to Instagram to apologise for his outburst, insisting he had no issue with either Haymon or Espinoza.
The 32-year-old's post read: "Listen man I was just frustrated with a lot of s*** that's going on in my life.
"Me and @showtimeboxing and Al Haymon have no problems what so ever."
Despite his apology, the Ohio man said he was still disappointed at having to do a Zoom press conference call.
View this post on Instagram
The text in the post read: "Playas f*** up and stand up men can own up to a mistake. @showtimeboxing @shosports and AL Haymon we locked in for life I love y'all see ya in some weeks let's go!!!!!! #August20th #AboutBillions …….
"P.S I meant everything I said doe that press conference on a zoom call blew me like a women in the MGM trying to get picked up for $250."
Former WBC lightweight world champion, remained on the call for questions and is looking to end a two-fight losing streak which came against Yordenis Ugas and more recently to Abel Ramos in his last fight in May 2021.