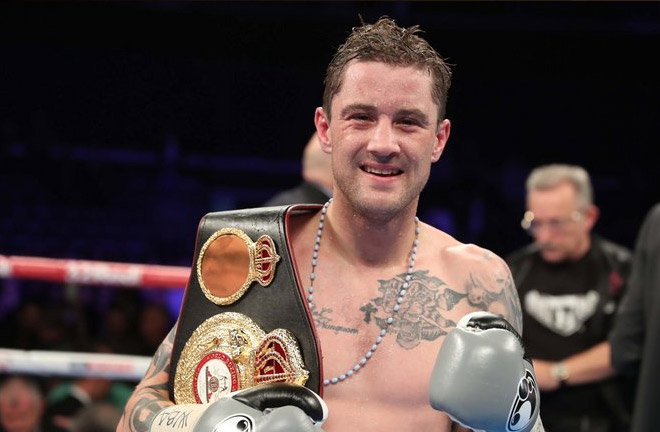 Ricky Burns laces them up for the 50th time on Saturday night at the Metro Radio Arena in Newcastle, live on Sky Sports – and the Scottish boxing hero says that there are plenty more great nights left in the tank.
Burns created history by becoming Scotland's first three-weight World champion in May 2016 when he added Super-Lightweight glory to his Super-Featherweight and Lightweight titles by stopping Michele Di Rocco for the WBA title in Glasgow.
The 'Rickster' still harbours dreams of fighting for World titles again and as he prepares to fight in the North East, a rematch with Anthony Crolla is top of a list of fights he wants as he writes new chapters in his fantastic journey.
"The Ricky Burns story is not finished just yet," said Burns. "I've got no regrets in my career, I've lived it. I'm proud to say I'm a three weight World Champion and still think there's a couple of big fights in me.
"That being said, I have a job to do on Saturday night for those to come to fruition. I've never boxed in Newcastle before so am looking forward to the atmosphere. Lewis Ritson is doing wonderfully well, I've enjoyed watching his recent rise. We had him in for sparring a while ago and I remember telling Eddie he should sign him.
"If I had to pick one fight to have next it would be the Crolla rematch. I've watched it back a couple of times and think it was a draw in all honesty. Whether it can be made or not is another matter. He needs to get his finger out."
BURNS ON THE EARLY YEARS:
When I started off I didn't really have any burning desires, it was just taking things one fight at a time. I remember the blonde hair on my debut in particular and waiting by the entrance ready to walk to fight Woody Greenway. I just wanted to establish my jab and get the first one out of the way. Audley Harrison just turned over from the Olympics and was on the card so there was quite a bit of media attention.
I boxed on quite a few Scott Harrison and Alex Arthur undercards from there, then I got a late call to fight Graham Earl in my 10th fight, I was originally down to fight someone called Stevie Murray I think it was and didn't bat an eye lid when they offered me that fight on two weeks' notice. I was there as a bit of a stepping stone for Earl but I was confident in my own ability and showed I can box off the back foot effectively. He was the reigning British Champion at the time and despite it only being an eight rounder it catapulted me to that next level.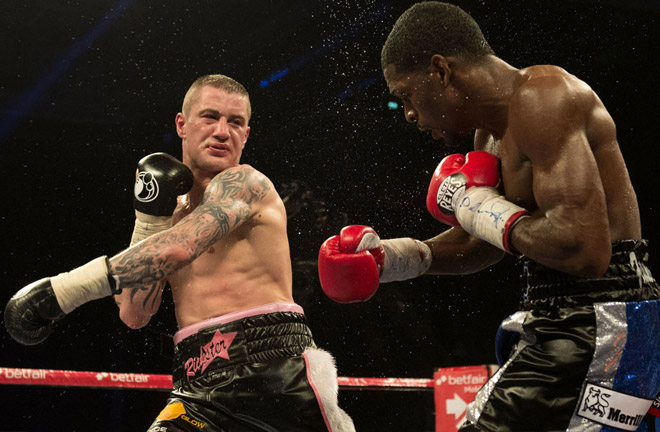 The Arthur fight was brewing by this point. I had sparred with Alex before, so sort of knew what to expect. Did it come too soon? Perhaps, but on the bigger picture it was a good learning fight for me. It was my first twelve rounder for starters and my first title fight, it was all experience. There was some talk of a rematch but we never got around to agreeing it with the weight.
The Carl Johanneson fight was a bit of a nightmare all round. I had ate something that didn't agree with me in the 24 hours or so leading up to the fight, that's not an excuse but it had a huge bearing on the fight. I remember someone from the board suggesting I shouldn't take the fight, but there was too much riding on it and I had large support. He obviously got to me with some body shots, I was struggling in there and it was just one to forget all together.
After that I switched trainers from Rab Bannen to Billy Nelson. I had some time off in between then was quite busy, boxing on the small halls to get back into contention and build some momentum.
We won and defended the Commonwealth title then it was the Michael Gomez fight. He was the first fight I had where my opponent really played up with some pre-fight antics. He was in my face at the weigh-in and said some unsavoury things so I really, really wanted to do a number on him. If the ref hadn't have jumped in to stop the fight when he did, I'd have still been there drilling him on the ropes. That one meant a lot, it was a great atmosphere in there.
BURNS ON THE FIRST WORLD TITLE:
The Roman Martinez fight was one that had been in the pipeline for some time. There was talks and it didn't get over the line, but then it was on so we had studied him quite a bit knowing it was likely to eventually happen. We knew Martinez was a bit of a banger and it showed in the first round, but I got back to the gameplan, the longer it went I got into my grove and it was truly a night to remember. I was the underdog going in and was overwhelmed after.
There was a bit of talk before the Nicky Cook fight that he was struggling with some form of injury, so the game plan was to test him to the body early. It was a strange one how it all unfolded and I felt a bit bad for the fans who had paid their hard earned cash to see a proper fight but what can you do?
BURNS ON BECOMING TWO-WEIGHT KING:
I was done at the weight after the Cook fight, I said to Billy I wanted to move up. The Michael Katsidis fight was a war of attrition. I proved a lot of people wrong that night. Marquez I think was the full Champion and I ended up getting elevated after winning the Interim title in that fight. That one did not disappoint, Michael is a true warrior.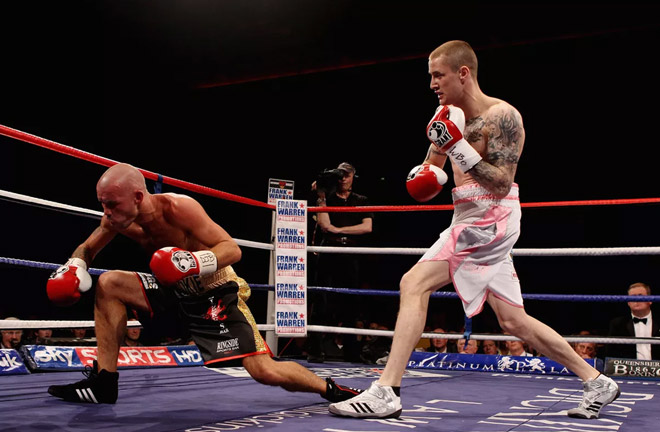 The Kevin Mitchell fight was talked about for a long time. We had sparred and got on and since obviously become pals in Tony Sims' gym but at the time I really wanted to do a number on him. I was almost dismissed in the fight and felt like I had a real point to prove. It was another top night in Glasgow and a conclusive victory for me.
I switched promoters and had some issues outside the ring that definitely affected me mentally and that showed in the next couple of fights because I was below par. I still get reminded of the broken jaw in the Ray Beltran fight to this day, I can't believe looking back how I got through that. I'd say my toughness is one of my biggest traits and it showed there. It's a cliché you've got to bite down on your gumshield at times and grit it out, that was one of those moments.
BURNS ON LOSING THE BELT:
Terence Crawford is a class act, he was confident all week and now you can see why. He's just gone on to win his third World title after becoming the first undisputed Champion in a long while. The angles, his timing, his footwork, you've just got to take your hat off to him and say he's a real talent. I'd love to see him fight Spence, that's one of the best fights out there to be made.
The Dejan Zlaticanin defeat probably hurt more than losing my World title. We had a lot going on out of the ring, Amanda went into labour just before the fight, we were just moving house and everything else that was well publicised. I got caught cold in the first round and totally went against my trainer's instructions. It just slipped away in the end and I remember being really upset in the changing room after.
BURNS ON HIS AMERICAN REVIVAL:
The Omar Figueroa fight in Texas was an experience, it's my only fight out in the States to date and with Matchroom's new U.S venture I'd like to get back out there if the right fight came up. Figueroa obviously failed the weight and I remember being in the hotel afterwards and some bloke came up to me, I thought it was his brother at first but it was Omar – He looked like a different bloke after he rehydrated, I've never seen anyone transform as much as that. He apologised for missing the weight and we agreed to carry on, it was a remarkable turnaround because he looked dead at the weight. He really hurt me in the 11th but I had some success in the last round, he said after the fight another minute or two and he would have struggled to see the fight out but there you go.
BURNS ON MAKING HISTORY:
We made history with the Di Rocco win, that was a proud moment. I wasn't to be denied on that night. People were writing me off, saying I should retire but again I showed people otherwise. I think he was struggling at the weight to be honest and I got to him eventually. The scenes that followed will stay with me for a while and it was a proud moment.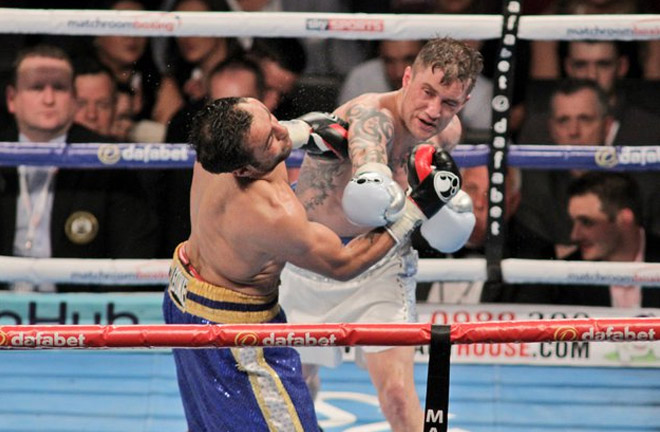 Burns' 50th fight is part of a huge night of action in Newcastle as Lewis Ritson defends his British Lightweight title against Paul Hyland Jnr and Josh Kelly challenges Kris George for the Commonwealth Welterweight title.
Gavin McDonnell defends his WBC International Super-Bantamweight title against Stuart Hall in a must-win clash for both men, Charlie Edwards and Anthony Nelson meet for the vacant WBA Continental Super-Flyweight title and Arfan Iqbal defends his English Cruiserweight belt against Simon Vallily.