Bute Smashes Miranda in the Third!
The Lucian Bute vs. Edison Miranda bout took place this Saturday evening and was televised as a part of the HBO card that aired on television. Bute, coming off his dominant showing in a rematch against Librado Andrade was eager to continue his winning ways, while the hard punching Miranda looked to make a surprising statement win.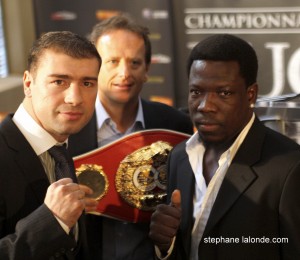 Lucian Bute knocked Edison Miranda out in the third round to retain his IBF Super Middleweight Title. The bout opened actively with Miranda fighting in a more measured fashion than normal, showing better form and not as wild. Through 2 rounds, Bute appeared to have a slight edge with his quickness and greater volume. However, Miranda appeared to be menacing, moving forward with his heavy-hitting attack. He even appeared to reach Bute with a few right hands that seemed to slightly worry the champion.
In the third, Bute was running off a few combinations. After one offering, Miranda stood there defiantly with his hands at his waist as if to say "is that all you have?" A second later, Bute lashed in with a wicked left uppercut that caused Miranda to lurch forward and fall flat on his face. Miranda rose, but was rescued by the ref. The second consecutive fight that Bute has ended by sudden one-punch knockout.
Thanks for checking in with ProBoxing-Fans.com for the Bute vs. Miranda results. Keep checking in for more of the latest boxing news, previews, results and all of the complete fight coverage you need.