Shawn Porter & Fernando Guerrero Dominate Overmatched Foes on Shobox Friday Night
Two of the sport's rising undefeated prospects were featured in Friday's Shobox card, and both of them continued their winning ways. It was a quick telecast for the folks at Showtime, with the two bouts in the co-feature lasting less than three rounds. Both Shawn Porter and Fernando Guerrero were able to punish their opponents and make quick work of them.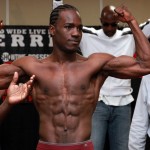 In the headline bout of the evening, Maryland middleweight prospect Fernando Guerrero disposed of Michael Walker, winning by TKO in the second round. The quick bout was entirely one-sided, with Guerrero keeping Walker against the ropes and launching dozens of punches that were for the most part completely unanswered. Walker was bloodied by the end of the first, and in the second things got worse for him very quickly.
Guerrero poured on the pressure, mixing in uppercuts, hooks and body shots, and launched a relentless assault against his man. With Walker unwilling or unable to throw back or hold, the bout looked like it should have been stopped much sooner than it was. The referee for some reason let the beating continue until finally the ringside doctor ran in to end the affair. Guerrero improves to 18-0 with 15 knockouts, and now should be looking for tougher opponents in a shallow middleweight division where he could be able to make an immediate impact.
In the first bout of the night, Manny Pacquiao sparring partner Shawn Porter met Raul Pinzon, and knocked him out in just one round. Pinzon had failed to make weight and was rumored to weigh as much as 170 lbs during the action. Paricularly compared to the dynamic speed of Porter, Pinzon was moving at a glacial speed. Porter opened into him early and often, and with about 30 seconds left in the first round he nailed him with an overhand right, a looping, half hook of a shot, that nailed Pinzon on the top of his head and sent him straight to the canvas.
He would not beat the count of 10, and Porter improved to 14-0 with 11 KOs. It was a step in the career of Porter towards moving down to the welterweight ranks, where he will have more power and be at less of a size disadvantage. Coming off a less than impressive victory, this was a great showing.
Stay tuned for more boxing news and results from all of the weekend's fights, right here at ProBoxing-Fans.com