Paul Butler defeated Stuart Hall via unanimous decision in the WBA World Bantamweight Eliminator at the Battle on the Mersey at the Echo Arena on Saturday night.
Butler will now be first in line to take on Jamie McDonnell for the WBA Bantamweight title.
Butler began the bout aggressively, taking it to Hall and looked to have got the better of his opponent in the opening round. Round two saw Hall land more shots than in the first but Butler was able to connect with more combinations than Hall in the third. Hall though showed good speed and ring work and caught Butler with a right hand, unbalancing the man from Ellesmere Port.
The following rounds showed why Butler was the eventual winner. Hall was predictable and was counter punched by Butler in the fifth and the sixth and showed that Hall was struggling to get his punches in.
Butler eyed up a finish even though he was clearly ahead on points but Hall remained strong and fought back, but it would not be enough as the Darlington man was showing signs of wearing down. Butler showed great focus and kept at his opponent, upping the tempo and countering well.
In the tenth, Butler ducked from a straight shot from Hall and landed a great left uppercut. Points were in the 29 year old's favour and when the bell rung, there was only going to be one victor, as Butler had shown his class over Hall. Scorecard – 117 -111, 118- 110 and 118 – 110 – Stuart Hall Wins via Unanimous Decision.
On the same night, Ohara Davies took on Tom Farrell and claimed the WBA International title, stoppng the Liverpudlian in the sixth round with a big right hand.
Davies spoke after the fight and said, "It was redemption, I'm not happy with my performance, there is still a lot to improve on and I'm looking forward to continuing my journey.
"There was a lot of negativity after my last fight, I had a lot of issues before that defeat, since then I've knuckled down, listened to my coach and I'm glad to be back to winning ways.
"Farrell is still a champion in my eyes."
Heavyweight, Dereck Chisora, was also in action and took on Robert Filipovic as part of his European Heavyweight title warm up when he faces Agit Kabayel in Monte Carlo on 4th November. Chisora defeated Filipovic with a fifth round stoppage in what looked to be an easy and one sided fight for 'Del Boy'.
Sean Dodd was successful in defending his Commonwealth Lightweight title against Tom Stalker with a Unanimous Decision victory, scoring 118-111 by all three judges.
Rocky Fielding impressed with a first round victory over David Brophy in their British and Commonwealth title fight, destroying his opponent with defining shots.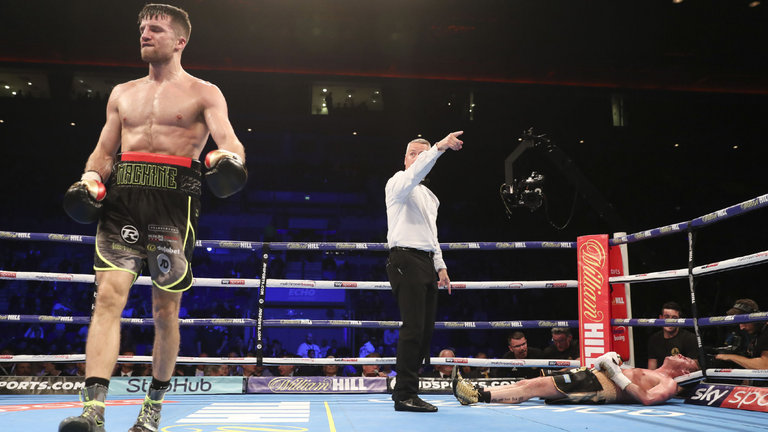 Anthony Fowler took on Jay Byrne and was successful in defeating his opponent in four rounds. Two hooks in the fourth had Byrne unable to continue after a flurry of shots from Fowler throughout the rounds.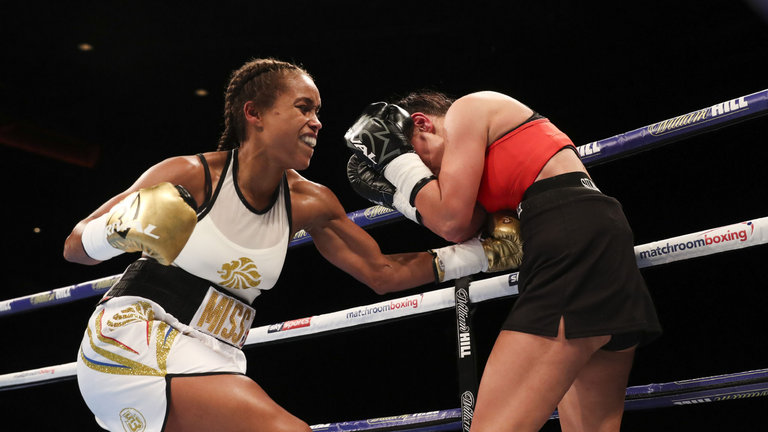 Natasha Jonas came home to Liverpool in her 2nd pro fight as she took on Bojana Libiszewska. Jonas won the fight with a fourth round stoppage, impressing with her combinations. Jonas is now 2-0 – 2 KO's.
Scott Fitzgerald continued his unbeaten run with a 5th round win over Bradley Price, extending Fitzgerald's run to 8 unbeaten fights.
Cruiserweight Craig Glover defeated Ferenc Zsalek in a first round stoppage for a victory over the Hungarian.