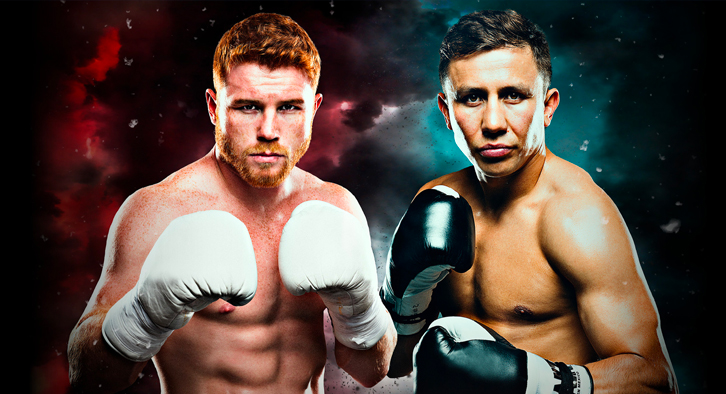 The Time for Talk is Over! Finally, the time to fight is near and it's the time we've all been waiting for! Many times in boxing we let the hype overwhelm us, and as a result the action doesn't live up to it leaving a bad taste in fans mouths.
There are times like on September 16th where the hype is ok, because we are guaranteed a good pay out. Hagler vs Hearns, Ali vs Frasier, Pacquiao vs Marquez etc. In a year where we've seen many great fights, this fight on paper has the potential to be the biggest of them all.
Canelo Alvarez is positioned to take over as boxing's star attraction for the post Mayweather and Pacquiao era. At 27 years old, Alvarez has given us highlight reel action in the ring and has been open to take on all challengers. Canelo's only loss came to Mayweather when he was 22 years old, and since that loss Canelo has shown massive improvement in his defence, head movement, and discipline in the ring.
With Gennady Golovkin at 35 years old he's been searching for this big fight, due to many in the middleweight division avoiding him. Golovkin is undefeated at 37-0 with 33 KOs, including 23 straight. Golovkin has rare power that is among the top 5 in the history of the sport, but his footwork and ability to cut the ring off is what sets him apart from the competition. Golovkin holds 3 of the 4 middleweight belts, and is recognized as a top 5 pound for pound fighter.
Only a few times in boxing do we have a fight that is a tossup and when we get a fight like this one, history has shown we are in for a treat. We've seen the dominance of GGG in the ring; we've never seen him put to the test, and how he responds. We've seen Canelo destroy fighters with a mix of his power and accumulation of punches, however, we've never seen him in the ring with a bigger puncher than him.
We have seen fights receive hype, and the action doesn't live up to it. However, when the bell rings and Canelo Alvarez and GGG approach each other, expect a top level, action packed fight. So continue the hype, don't let it overwhelm you, because next weekend the hype will become a reality.
Pre-Fight Report Card 
Speed:  Canelo – A- /Golovkin – B+
Alvarez throws more combination punches and is the faster counter puncher, while GGG is great at cutting the ring off. Canelo is the faster fighter coming in.
Power: Canelo – A- / Golovkin – A+
Canelo doesn't have one punch knockout power; his knockouts come at a result of an accumulation of punches. However, he does have effective power especially with his hooks to the body. Golovkin's record speaks for itself, 30 KOs, 23 straight. He is naturally a heavy handed fighter, and will pack the harder punch on fight night.
Intangibles (training, weight, corner, experience): Canelo -B+ / Golovkin – B+
Canelo has a history of tiring in the championship rounds in his fights, while Golovkin has only been 12 rounds once and he didn't tire. Canelo has been here before in a big fight of this magnitude, Golovkin has fought in front of huge crowds, but no fight of this magnitude. Both fighters are experienced, Golovkin with a deeper amateur background, Canelo with more pro fights. Seeing how both fighters respond to adversity will be key.
Fight Prediction coming Next Week