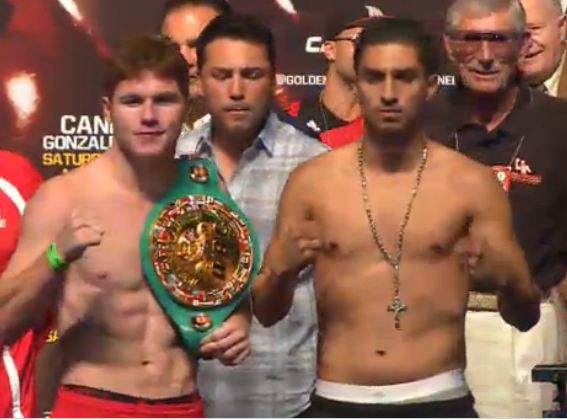 The official Saul "Canelo" Alvarez vs. Josesito Lopez weigh-ins were held on Friday afternoon in Las Vegas. Right here, you can find the complete Canelo vs. Lopez weigh-in results, including the complete weights for the Knockout Kings card, a collection of photos and notes from the event, and much more.
Canelo Alvarez-Josesito Lopez Weigh-In Pictures
Official Weights
Canelo vs. Lopez
Canelo Alvarez: 154 lbs
Josesito Lopez: 153 lbs
Of course, it's no surprise that Canelo is the thicker, more muscular guy. It's Josesito's first fight here, after only a brief stint at welterweight. But what is interesting is that Josesito is eye level with Canelo, and maybe even a hair taller. Josesito certainly doesn't look to be out of shape, but the difference in how toned they are is clear from the start.
Gonzalez vs. Ponce De Leon
Jhonny Gonzalez: 125 lbs
Daniel Ponce De Leon: 125.5 lbs
Gonzalez vs. Ponce de Leon could be the fight of the night on any of Saturday's cards. Both guys look to be in great shape, with Ponce looking more muscular, and Gonzalez of course taller and leaner.
Maidana vs. Soto-Karass
Marcos Maidana: 147 lbs
Jesus Soto-Karass: 147 lbs
Soto-Karass looking a bit leaner here at welterweight than he has in the past at junior middleweight.
Santa Cruz vs. Morel
Leo Santa Cruz: 117 lbs
Eric Morel: 118 lbs
If nothing else, Morel certainly came to the fight in great shape, but this is a showcase for Santa Cruz, really.
Canelo-Lopez Weigh-In Video
Thanks for checking out our coverage of the Canelo Alvarez vs. Josesito Lopez weigh-in, and be sure to chime in with your own thoughts on our brand new boxing message board, and check us out on Saturday night for live Canelo vs. Lopez results and post-fight coverage.
Comments
comments