Saul "Canelo" Alvarez will defend his WBC Super Welterweight Title against former world champion Kermit "the Killer" Cintron Saturday, November 26, over Thanksgiving weekend.  The bout will take place at the Expo Bancomer Santa Fe in Mexico City, Mexico and will air live on HBO's Boxing After Dark.  The fight could be an exciting one as it pits together one of the sport's hottest sensations with a very experienced  former  champion.
Saul Canelo Alvarez (38-0-1, 28 KOs)
5'9'' tall, 71'' reach, 21 years old
Mexican
Current WBC Super Welterweight Champion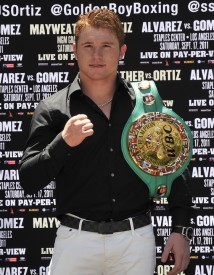 At only 21 years old, the Mexican phenom has already earned himself a spot on the storied list of beloved Mexican fighters.  Almost undoubtedly a future superstar in the sport, Canelo is looking to legitimize himself as the real deal by wiping out a once elite warrior in Cintron.
With the vast majority of his fights being in his homeland of Mexico, some critics believe that Alvarez's impressive record is merely a result of him being carefully matched up against mediocre opponents.  Even so, Alvarez has looked impressive in his most recent bouts against tested veterans.
In the last two years Alvarez has dismantled the likes of tough veterans like Carlos Baldomir (48-13-6) and Lovemore Ndou (48-13-2) .  Canelo earned the WBC  Super Welterweight title in a decisive victory over Matthew Hatton (42-5-2) and defended the title twice with knockouts over Ryan Rhodes (45-5) in June, and Alfonso Gomez  (23-5-2) in September.
Kermit Cintron (33-4-1, 28 KOs)
5'11'' tall, 74'' reach, 32 years old
Puerto Rican
Former Welterweight Champion
A short time ago, Cintron was revered as one of the most dangerous punchers in the Welterweight division.  He started his career off on a tear, as he won 22 of his first 24 fights by stoppage. In his 25th fight Cintron ran into a then unshakable Antonio Margarito and suffered his first defeat due to a brutal TKO stoppage in the 5th.
Cintron would bounce back with  5 consecutive knockout victories before squaring off with Margarito once again in 2008. The fight would ultimately produce the same results as the first one, ending this time in the 6th round.  Since then, Cintron has gone 4-2-1 in his last 7 fights.  His recent stretch includes a unanimous decision victory over a then undefeated Alfredo Angulo, and a draw with current middleweight champion Sergio Martinez, although that outcome was highly controversial, to say the least.
He suffered his last defeat in an upset loss to Carlos Molina via unanimous decision in July, but bounced back in August with a unanimous decision win over Antwone Smith.  It is worth mentioning that he was coming off a 14 month layoff when he entered the fight with Molina.
Alvarez vs. Cintron Preview & Analysis
Alvarez  combines good technical boxing skill with an ability to mix it up and brawl.  The young star is very explosive and seems to have good power in both hands.  His style is well suited for close range fighting and he is often busy,  but not careless.  He will likely look to close in on the longer Cintron and pressure him with punches in bunches, a tactic that worked well for Carlos Molina in June.
Cintron definitely has the experience and the skill set to give Alvarez trouble.  If Cintron is on the top of his game, this may not be what Alvarez fans are expecting.  Cintron will look to work behind his long jab as he has a 3 inch reach advantage and answer any flurries with counters. He has good power in his right hand and will no doubt look to counter with it when he can.  He will need to stay on the outside of Alvarez but he has to be active. With that said, this matchup could be a perfect storm for great boxing action.
Alvarez vs. Cintron Prediction
Alvarez is young, confident and riding tremendous momentum into this bout, and Cintron will surely be his most proven opponent.  The outcome of this fight will hinge on where Cintron is mentally and physically. If he can get back to his old form, he could be a very tough test for Alvarez.  His reach and ability to counter with aggressive punchers gives him a chance.
He shouldn't expect to win a close decision on Mexican soil, so he will have to be active and sharp.  Canelo will look to prove that he can handle the step up in talent and will need to be very aggressive, but careful, against the experienced fighter.  Look for Canelo to pressure Cintron and try to ultimately break his will.  If he gets Cintron hurt, he has shown that he knows how to finish when he smells blood.  This will be an interesting one, but I think Canelo's aggression and ability to put together well placed punches will ultimately win him the fight.
Prediction: Alvarez via Unanimous Decision
Comments
comments