Saul Canelo Alvarez absolutely cruised against Sugar Shane Mosley as the co-feature on the Floyd Mayweather vs. Miguel Cotto Ring Kings PPV. He took home a lopsided unanimous decision by official scores of 119-109, 118-110 and 119-109. ProBoxing-Fans.com also scored it 118-110 for Canelo, giving Shane the first round, and then the 11th, as he made a late rally to leave on more of a positive note than had been the case.
—-> Check out our complete Mayweather-Cotto ppv round by round coverage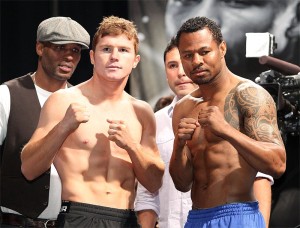 Canelo started the fight slowly, basically not throwing in the first round, as Mosley came out aggressive and took control. Things changed instantly, and permanently, in the second, as Canelo began to turn up the heat. While Mosley was competitive for a few rounds, Alvarez soon was in complete control.
By the middle sessions, he was battering Mosley. Big body shots were coming in, and flush straight rights became his go-to weapon. Mosley looked gassed, weary and beaten up, as Canelo began to pour it on and look for a stoppage.
It became apparent that Mosley wasn't going to let that happen at least, and with some encouragement from his corner, he turned thing up over the final 2 or 3 rounds and was more competitive. As mentioned, we gave him the 11th round in the fight.
Ultimately, Canelo did what he had to do, and what he was supposed to do. Not necessarily an overly-impressive win, but a strong showing. Mosley should now, finally, be headed towards retirement, and he said as much after the bout, telling Larry Merchant, "These kids are beating me up, huh?" and then going on to say that when a fight goes like that he should move into promoting. Yes, Sugar Shane Mosley, it's time to close the book on your professional boxing career, thanks for all the memories.
Nothing unexpected from the Canelo Alvarez vs. Mosley results, but a fairly exciting fight nonetheless. We're providing our live Mayweather-Cotto round by round all night along, and you can find more detailed accounts of the action there.