It wasn't to be the fairytale of New York for Britain's WBA Super Middleweight Champion, Rocky Fielding, as he was dethroned in the first defence of his Title against the elite level fighter that is Saul "Canelo" Alvarez. Mexican hero Alvarez captured a version of the World Title in his third different weight class, with an emphatic third round stoppage victory at Madison Square Garden on Saturday night.
Rocky started off with a decent jab, but Alvarez invested to the body early, reddening Fielding's ribs early on. The investment paid off just after halfway in the first round, as Canelo whipped in a spiteful left to the body that felled the Liverpudlian. Fielding survived the count, and on the resumption, the Mexican again landed the left to the midsection that made Fielding wince in pain. He managed to see out the opening round however.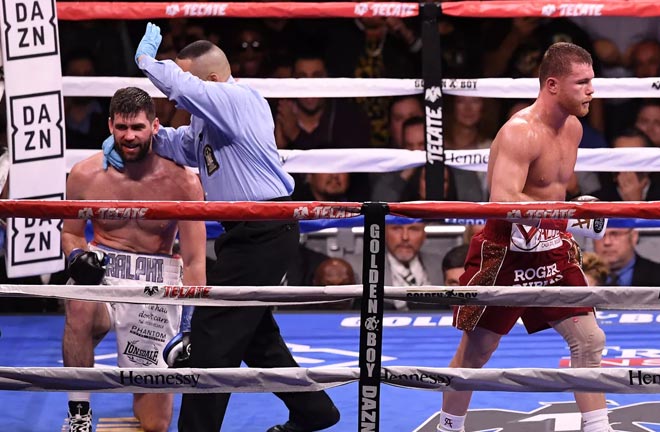 Alvarez knew the body work was key, and this assault continued in the second, although Fielding matched fire with fire, and worked well close in the pocket. This counted for nothing unfortunately, as another left to the body dropped Fielding for the second time at the end of the second frame. Rocky simply couldn't close the distance quickly enough, and his shots were not carrying half as much power as his opponent. A sledgehammer of a right hook to the head scored a third knockdown for Alvarez in round three, before the signature punch of the evening, the left hook to the body, ended matters, with the referee dispensing with a count to stop the fight immediately.
Post fight, through an interpreter, Alvarez didn't really elaborate on what the future holds for him, weather at Middleweight or Super Middleweight. You would hope that he would attempt to unify the Super Middleweight division, but a Cinco de Mayo date with IBF Middleweight Champion, Danny Jacobs, has been mooted, and both are under the DAZN banner. You also hope that 2019 is the year of 50/50 bouts for Canelo, but it could just as easily be a year full of easy touches. I'd very much like it to be the former rather than the latter.