In a fight billed as the 'Fight of the year', the action while not as explosive as we expected was there, the drama was there, but the decision took away from the overall impact from the fight, and as a result disrupted the action.
In the early rounds Canelo looked more comfortable and was busier, while giving GGG a difficult target to find. In rounds four through nine, GGG became more comfortable and began to out box Canelo. Dictating the pace with his jab, cutting the ring off and landing his power shots against the ropes, it looked as if Golovkin's pressure was wearing on Canelo.
As the crowd went wild in round five, Golovkin hammered Alvarez with a hard right hand that snapped his head, but Alvarez came right back, getting a smile from GGG. They continued to go at each other hard for the rest of the round, back and forth.
GGG landed a hard right uppercut early in the eighth round that buzzed Alvarez, who seemed to be fading. Canelo got in a stinging uppercut late in the round even if Golovkin didn't budge.
In the Championship rounds while Canelo landed his combinations early in the rounds, he seemed to tire as the rounds progressed. GGG continued to stalk Canelo, land his jab, and land his power shots on Canelo.
Bob Bennett, the executive director of the Nevada State Athletic Commission, came to ringside after the fight to address the controversy of Byrd's scorecard.
"Adalaide, in my estimation, is an outstanding judge," Bennett said. "She's done over 115 title fights and/or elimination bouts. She does a great deal of our training, takes a lot of our judges under her wing. I think being a judge is a very challenging position."
According to CompuBox punch statistics, Golovkin landed 218 of 703 shots (31 percent), and Alvarez landed 169 of 505 (34 percent). Golovkin landed more punches in 10 of the 12 rounds.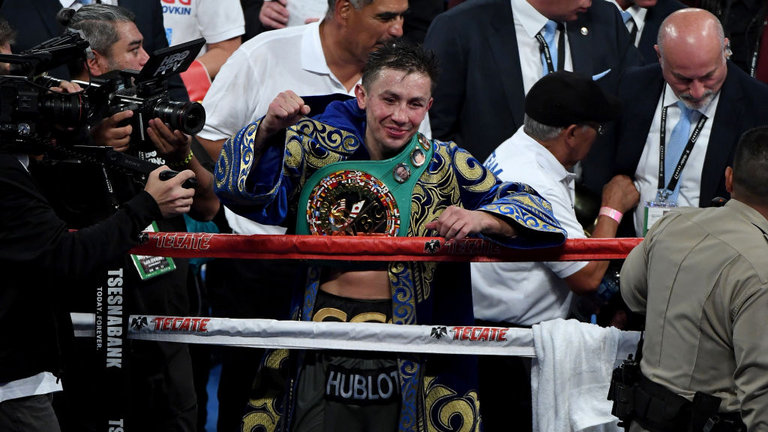 There's no surprise I believe GGG won the fight, I believe he deserved to win 116-112. Canelo fought valiantly in the championship rounds, but GGG outboxed him skill wise, threw more, landed more, was the aggressor, and dictated the pace. The fight was entertaining, high drama and not a disappointing affair, it was a disappointing decision.
Unlike other boxers known for their thunderous knockout power, GGG has the unique ability to box, use his jab, cut the ring out etc. Against Alvarez, his amateur background was on display, he outboxed Canelo, and while it was a competitive fight, he deserved to win. This was an injustice in Vegas, but in the end we were treated to a good fight, and we are in position for another great rematch for the history books. Hopefully in a rematch the decision won't outweigh the action.