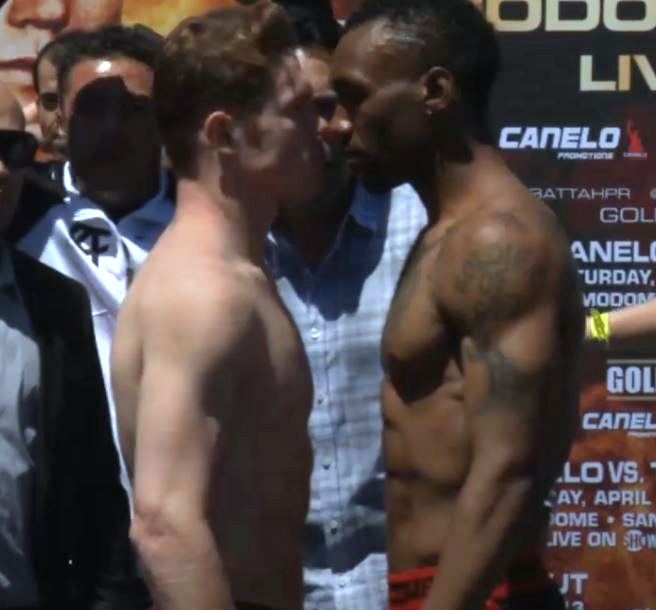 On Friday afternoon, the Saul "Canelo" Alvarez vs. Austin "No Doubt" Trout weigh-ins were held in San Antonio, Texas, with the fight finally coming our way tomorrow evening. Right here, you'll find a collection of the Canelo vs. Trout weigh-in results, including a series of weigh-in pictures, the official weights for the fighters, and more. Take a look!
Be sure to check out our live Canelo Alvarez vs. Austin Trout round by round results on Saturday night!
 Canelo vs. Trout Weigh-in Photos
Canelo Alvarez vs. Austin Trout Weights:
Saul Alvarez: 153.5 lbs
Austin Trout: 153.25 lbs
Both of these guys look absolutely cut for the bout, in great condition. Canelo had a perma-smirk across his face, and Trout was enjoying the scene as well. Each man is not only in great shape, but is extremely confident heading into their showdown. They had an intense stare down, but nothing too eventful.
The crowd absolutely went nuts when the fighters were announced, and of course, were going nuts for everything involving Canelo. But Trout got a ton of positive support too, so he had a lot of his fans in attendance, it was a fun scene.
Abner Cotto: 133.5 lbs
Omar Figueroa: 134.5 lbs
Cotto vs. Figueroa is actually a really nice match-up of unbeaten prospects. This should be a great fight, and it's one that will launch the winner into top-level contender status. Both men looked to be fit and in shape for the bout.
So be sure to come back and check out our live results tomorrow night, and thanks for viewing all of our coverage of the weigh-ins, including the official Canelo vs. Trout weigh-in results and photos.
Comments
comments