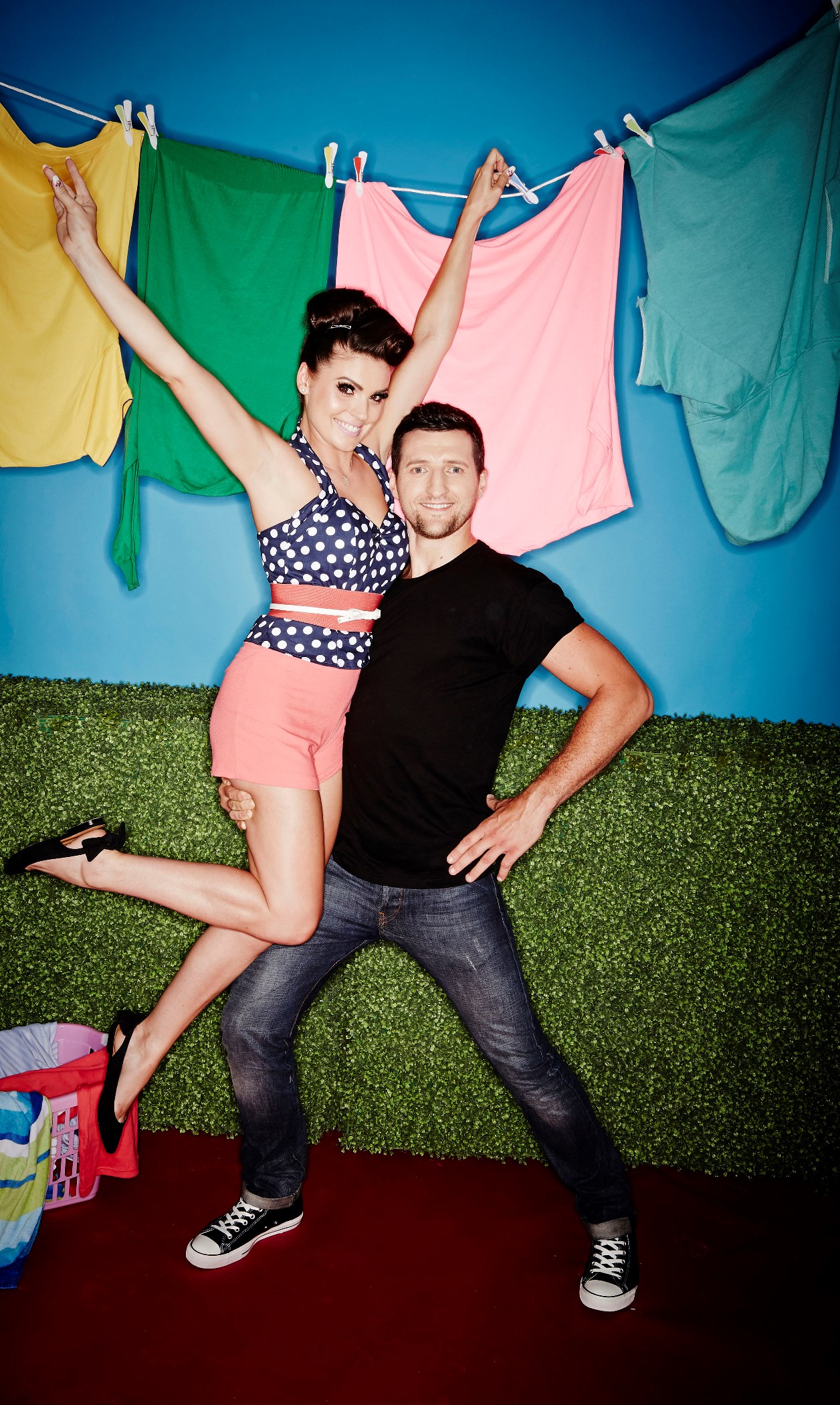 Carl Froch swaps the boxing ring for the dance-floor tomorrow night on ITV1's 'Stepping Out' at 6.30pm. The Cobra and his girlfriend Rachael Cordingley battle five other celebrities and their partners in the five-week show presented by Davina McCall.
Froch and Cordingley are up against former Westlife star Brian McFadden and his girlfriend Vogue Williams, actress and Loose Women presenter Denise Welch and her husband Lincoln Townley, JLS pop group member Ortise Williams and his girlfriend A.J Azari, TV makeover expert Laurence Llewelyn Bowen and his wife Jackie and Dempsey and Makepeace stars Glynis Barber and Michael Brandon.
Viewers will see their journey from home to dance-floor as each couple tries to master a new dance genre each week. The couples will soon learn that the tango, doing a ballet step, cha cha cha or moving the rumba is not easy and cameras will be following their every move. The show will capture the progression, the joys and the passion of two people learning a new dance routine within a week who just happen to be a real life couple!
Froch defends his WBA and IBF super middleweight titles against George Groves at the Phones 4U Arena Manchester on November 23, and he could be the Stepping Out king before that date.
"This isn't my area of expertise as first and foremost I am a professional athlete," said Froch. "I have been boxing for 25 years. But I fancied a bit of fun and I reckon the worst that can happen is I could drop Rachael on the head!
"Seriously though, we are trying to do the steps and we are going to clear the garage and make a conscious effort to get it right. We definitely want to do well and I am even finding myself walking around the supermarket doing the Cha Cha Cha!
For Carl, doing something completely out of his comfort zone is part of the reason why he is taking part on the new Saturday night entertainment show.
"This will enable the housewife to get to look at me rather than blokes all the time," said Froch. "I want people to see a different side to me. And yes I will wear sequins and spandex! When in Rome, you have to do it!
"But it is also nice to not only get to know me, but also my beautiful partner, Rachael. I think she is wonderful. She has a lovely personality and it will be great to share her with the rest of the country. I am proud of Rachael and I want to show her off.
"I am normally a man's person and I don't get on with women that well as they wind me up but with Rachael, I got on with her from the first day we met and we get on in everything we do. Even when it is hard with the dancing, we just laugh."
"We are both very family orientated and we do spend lots of time together when Carl isn't training," adds Rachael.
The couple have been together for four years and they have two young children, who are being looked after by Carl's mum whilst they train.
"I don't really like leaving them but Carl's mum has been fabulous," admits Rachael. "I love being a mum so much but doing this is a great challenge for me."
To make life tougher for Carl, he is also preparing to face Groves and so he will be taking up his boxing training again during the Stepping Out series.
But Carl is adamant that the dancing will not be a distraction and he insists he definitely will not be taking his eye off the ball when it comes to his top priority – boxing.
"I also am starting full-time boxing training soon as my next fight has been pulled forward to November," he stresses. "It is going to be hard with the dancing and defending my two world titles. But I am embracing both."
But is he worried Groves will think he isn't committed enough to boxing? Shaking his head as he points to his fist, Carl declares: "George might think I am not training but as soon as I hit him on the chin, it's game over. This (fist) is a big hard rock and when it hits his glass jaw, it is going to shatter him."
It's this forceful personality, which is one of the reasons why Rachael, who has modelled in the past, thinks Carl will be so strong on the dance floor. "I love the fact he is confident," she says adoringly. "He faces things head on. He is a perfectionist."
Both don't mind the cameras following them around. "We never argue," says Carl. "Rachael is so sympathetic and she lets me do what I want boxing wise. She will always look after the kids and she is a brilliant friend to me. I am used to the cameras following me because of the boxing and so it will be alright doing this show."
Incredibly happy together, both Carl and Rachael reveal they do want to spend the rest of their life together. So is Carl planning on popping the question soon? It would appear ITV's new Saturday night series could be the perfect romantic spot for Carl to ask Rachael to marry him.
"I am waiting for the right moment," he replies, grinning broadly. "I know, maybe I will do it on the final of Stepping Out…!"
Comments
comments