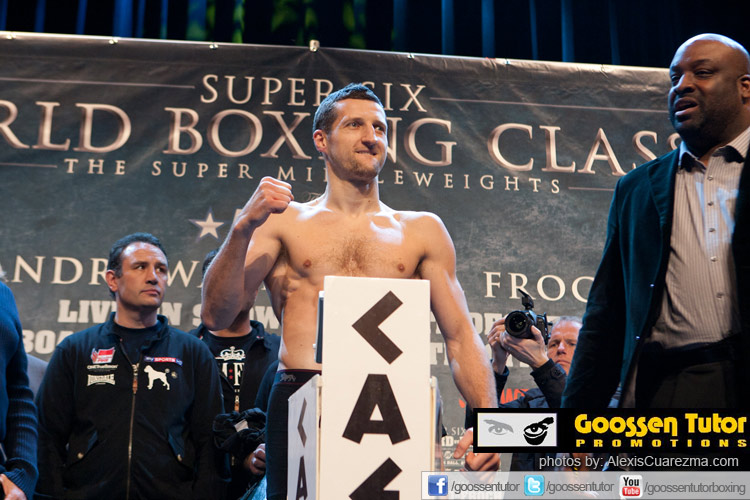 With his gritty determination to fight the very best in the division, Carl Froch has established himself as a fan favorite and the sport's reigning ironman. In this way, Froch is carrying the torch for the British super middleweight tradition, but like the Welsh great Joe Calzaghe, he is carrying that torch alone. The British reputation in the 168 lbs weight class was set in the 1990s, when a handful of English boxers fought for world titles, national bragging rights, and to settle personal scores. To seek challenges, Froch has had to look outside the UK, a situation likely to continue for at least another year or two.
But what if Nigel Benn were visited by the Doctor while preparing for his 1993 rematch with Chris Eubank, and recruited to combat some cosmic menace. Pumped up and finding himself in modern day London, he learns of Carl Froch and immediately charges to Nottingham for a showdown, 10 round gym war…
Carl Froch vs. Nigel Benn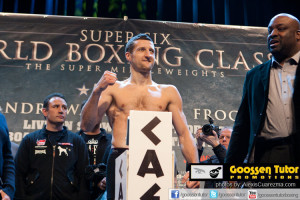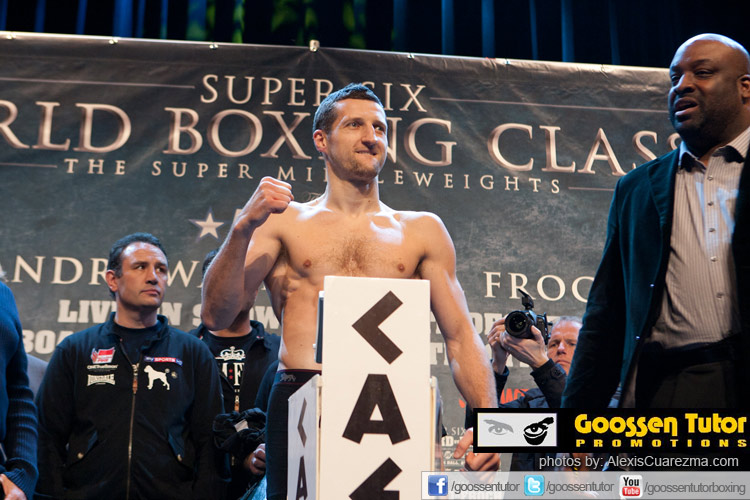 Recognizing a tough banger when he sees one, Benn decides to tackle Froch the same way he went after Iran Barkley: head on. Stalled briefly by Froch's stiff jab, the Dark Destroyer came in and threw a whirlwind of hooks and uppercuts at the Cobra, each launched with bad intentions by the hardest puncher Froch has yet faced. Benn bounced a hard left hook off the top of Froch's head, followed by a thudding right uppercut that snaps his head back. Hurt badly for the first time in his career, Froch covered up and retreated back to the ropes. Benn followed and threw everything at Froch but the stool, pushing hard for a 1st Round knockout.
He didn't get it. Froch survived, came off the ropes, and managed to stay away from Benn for the remaining minute of the round. Abandoning his customary low guard, Froch spent the 2nd Round relying on a tight guard and doubling up on his stiff jab to hold Benn's furious assault at bay. Benn looked to be clobbering Froch, until the East Londoner stepped straight into a hard jab from the man from Nottingham. Froch doubled it up, smashing Benn's nose. The injury prompted Benn to throw caution to the wind, but with his legs stronger, Froch decided to stand his ground. The two Britons traded shots at medium range, winging hook after hook at each other. Benn lands more blows, but Froch walks away more confident.
Froch opened the 3rd with more mobility and plying the jab, determined to use his height and reach to nail Benn from a distance. For his part, Benn was equally determined to make the fight a phone booth war and break Froch down from the inside. Neither man quite got what he wanted, resulting in a succession of short, sharp exchanges from more or less middle range. Unable to get as close as he wanted, Benn fired away at what he could hit, leaving himself open for counters from Froch, who in turn was unable to put maximum power down on blows that were shorter than he prefers. Benn worked the head and body, while Froch concentrated on the head. Froch landed more punches, but Benn more power shots.
Although neither man was hurt in the center-ring warfare, Benn's face was progressively busted up as he eats jab after jab, and Froch's jabs were as hard or harder than any he has ever taken. His nose was already smashed, but by the close of the 5th his eyes were mousing up as well.
Early in the 5th, Benn saw an opening, comes in under Froch's jab and shoots a left hook that almost cuts Froch in half. Unable to breath, Froch fell back under the pressure, but recovers quickly. Rolling off the ropes, he caught Benn coming in with a right cross, landing squarely on the cheek. The blow hurt the Dark Destroyer, which in turn gave Froch time to recover. It was a close call for both men. The round ended with a vicious exchange, Froch getting the best of it.
At the start of the 8th, the toll of taking so many of Froch's stiff jabs was visible on more than Benn's face. Coupled with the furious pace, he was tiring. Froch's exceptional durability stood him in better stead. So long as he kept Benn from landing squarely at full power, he could shrug part of the damage off. The Nottingham man started the round by stepping up the pressure in a bid to put Benn on his back heel. It was risky, but after swallowing a painful rib shot, Froch drove Benn back with a succession of power shots.
Benn rallied and came back for more. Froch stepped aside and fired another hard counter right down onto Benn's cheek, staggering Benn. This time Froch followed up with another right and a left hook. The hook caught Benn on the chin, flattening him. Benn struggled to his feet, only to find it was Froch's turn to throw everything at him but the stool. Benn collapsed under the weight of Froch's heavy attack, prompting the gym staff to step in and stop the fight in the 8th.