We have an exciting new contest here on ProBoxing-Fans.com, where you can sign up to win a free professional quality sauna suit, made by Fighting Sports (retail value: $60). It's really simple to sign up for your chance to win. All you need to do is visit our Facebook page, and the "Giveaway Contest" tab. Enter your information to sign up for your chance to win. It's that quick and easy!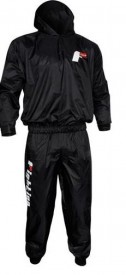 Then, for even more entries, simply get 3 of your friends to sign up as well. For every 3 friends that sign up from your referral, you'll gain an additional chance at winning the prize.
The contest will run until midnight on July 1st, so act now to claim your spot for this awesome giveaway!
We're running this promotion thanks to our sponsors at BoxingDepot.com. You can view the sauna suit for sale on their website here.
You'll train like a pro with this high quality gear. Made from 100% rubberized nylon, it's heavy-duty and sturdy, and works like a charm — you'll be sweating bullets in no time at all. It will make for a great addition to your workouts and your training gear, whether you're pushing yourself to get into great shape, or you're training for real competitions and need to make weight.
So what are you waiting for?
Like us & sign up to win

Get your friends to sign up, and receive more entries to win!
Good luck everyone and we hope you enjoy our special free boxing equipment giveaway contest with this Fighting Sports sauna sweat suit for MMA & boxing training.
Comments
comments