Promoter Bob Arum's plans for a spring 2013 rematch between middleweight champ Sergio Martinez (50-2-2, 28 KOs) andJulio Cesar Chavez Jr. (46-1-1, 32 KOs) may be put on the back burner because of a recent report that Chavez tested positive for marijuana use in the aftermath of his loss to Martinez this past Saturday nights.  Keith Kizer, executive director of the Nevada State Athletic Commission, is awaiting the final test results, which he expects to have no later than early this coming week.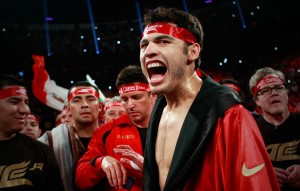 If suspicion of drug use is confirmed, Chavez risks a great deal, including forfeiture of part or all of his $3 million purse.  He can also be suspended from the ring for up to a year.  And this wouldn't be the first time Chavez has found himself in just this kind of hot water.
He tested positive for an illegal substance following his 2009 defeat of Troy Rowland.  As a result, the win was changed to a no decision.  In addition, Chavez was fined $100,000 and suspended by the Nevada Commission for more than half a year.  In early 2012, the fighter was arrested for drunk driving.  He copped a plea, which resulted in three-years probation.  He was also ordered to attend 30 Alcoholics Anonymous meetings.  Still, to his credit, Chavez was successful against Marco Antonio Rubio in February and Andy Lee in June.
Considering the revelations that Chavez Jr. made about his father and his alcoholism, and forcing him to go into rehab, it's at the same time less surprising, given the family history, and more surprising, with that same history, that Chavez Jr. finds himself in this position.
If the gods deign to smile on Arum and Top Rank, Chavez will be cleared of all suspicion and Martinez-Chavez II would still be possible. Of course, either way for Chavez, while he may be fined and benched, at least he won't find himself following in the footsteps of Floyd Mayweather Jr and landing himself in jail for 90 days.
As far as Chavez's future is concerned, we should know by Monday, the 24th, perhaps sooner.  One wonders who's sweating more bullets — Chavez…or Arum.