This Friday Thompson Boxing Promotions' super bantamweight Jonathan "Lil' Thund'r" Arellano (13-0-1, 3 KOs) will make his ShoBox debut when he engages undefeated fellow Californian Roman Morales (12-0, 6 KOs) in an 8-round battle for the vacant WBC Latino Super Bantamweight title.
The Arellano vs. Morales super bantamweight co-main event promises to be fueled with excitement as each boxer wants to steal the spot light from the main event Junior Featherweight clash between Jonathan "Momo" Romero vs. Efrain Esquivias.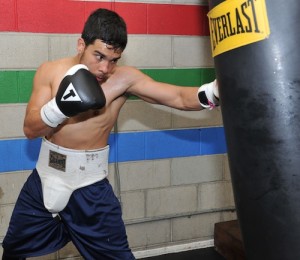 We caught up with Jonathan Arellano to find out just how ready he is for Friday's battle!
Q: Have you seen any video on Roman Morales?
A: My trainer Henry Ramirez and I have watched a few of his fights.
Q: What did you learn about Roman Morales after watching his fights?
A: Roman is a good fighter with an aggressive style. He has the ability to switch his stance from orthodox to southpaw.
Q: What kind of threat can he pose to you?
A: He's a big threat. He's undefeated just like me and we are both trying to get to the next level. We're both hungry to be the best and that is a dangerous situation.
Q: What kind of gym work have you been doing to prepare yourself for Morales?
A: I'm a boxer and a counter puncher so we have been focusing on being really sharp with that and at times being more aggressive when it calls for it. I have been working on being more active in the ring by throwing more punches. This is going to be a very competitive fight.
Q: What's your training regiment like?
A: I have put endless hours of work in the gym to look sharp for this great opportunity. Nothing in the gym is routine to me. I have had great sparring partners in preparation for this fight and we have had a training camp that has been tough and it's never the same. Everyday is different.
Q: Who are your sparring partners?
A: I have been sparring against Jonathan Romero, who is headlining the show on Friday night, and I have also been sparring against Joet Gonzalez.
Q: Any final comments prior to this fight?
A: I hope Morales comes 100% ready. I hope Morales is as hungry as I have been reading on some reports, because the last undefeated guy that I faced did not feel that way to me. There will be no excuses at the end of the day.
The action will take place this Friday, September 21 live on SHOWTIME's award winning ShoBox: The New Generation (11 p.m. ET/PT, delayed on the West Coast) from Chumash Casino Resort in Santa Ynez, Calif. Tickets for the LIVE boxing show at Chumash Casino Resort are priced at $35, $45, $55, $70 and $85 are available now and may be purchased by calling 800-585-3737 or visiting http://www.startickets.com/event.php?event=3147. Doors open at 5:00pm and the first fight begins at 5:30pm. Televised portion begins at 8:00pm PT.