After 8 years as an unbeaten, highly touted boxing prospect, Julio Cesar Chavez Jr. will finally get his shot at the title. On June 4 in Los Angeles, Chavez Jr. will face off against Sebastian Zbik in a battle of the undefeated Middleweights for the WBC title, which was recently removed from Sergio Martinez and handed down to Zbik. This fight will take place at the Staples Center and will be televised on HBO.
Julio Cesar Chavez Jr.
Culiacan, Sinaloa, Mexico
42-0-1 (30 KO's)
Height: 6'0"
Reach: 73"
Last 5 Fights: Chavez has been quite dominant in all his recent fights, but they were all against relatively low level fighters. This upcoming fight against Zbik will be the first time Chavez will fight for a belt and the first time he will fight against someone who is lingering at the top of the division.
Sebastian Zbik
Mecklenburg-Vorpommem, Germany
30-0 (10 KO's)
Height: 5'11 ½"
Last 5 Fights: Zbik has had a few tough fights recently, including a split decision victory over Emanuele Della Rosa, but has remained victorious in all of them. None of his recent opponents are quite as versatile and talented as Chavez, so it will be interesting to see how he handles this upcoming fight.
Chavez Jr. vs. Zbik Preview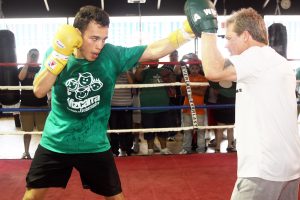 Throughout his career, Julio Cesar Chavez Jr. has been gradually climbing up the rankings of the Middleweight division. However, he has done so by earning lots of wins over lower level opponents, building up a lofty record without often facing real competition. This is his first shot at the big time, and it's a great opportunity for him. It couldn't come at a better time, although many would have said it should have happened years ago.
The WBC Belt Controversy: After Sergio Martinez opted not to fight Zbik, the WBC stripped Martinez of the title and handed it to Zbik in a very controversial move which many feel was done in order to increase Chavez's chances of winning a title.
Martinez is a dominant force in the middleweight division and at this point in their careers, would have been far too tough of an opponent for Chavez. Zbik, however, is a very beatable fighter, and now that the belt is his, it's the perfect opportunity for Chavez Jr. to step in and face a beatable "paper" champion.
Zbik may not be as strong of a fighter as Sergio Martinez, but he will certainly be no walk in the park for Chavez. He will have to earn it against the unbeaten Zbik and this will definitely be the biggest test of his 8-year career.
This fight will be very close. Both Chavez and Zbik are solid fighters who are skilled enough to linger around the top of the division, but not quite good enough to dominate or hold a title for a long period of time.
All Part of a Master Plan: It seems as if this is working out quite well for Chavez. The talented and always dangerous Martinez is stripped of his title, it's given to a tough, but beatable Sebastian Zbik and now Chavez steps in to earn his first belt. So what's next? If Chavez emerges victorious, I don't see him fighting Sergio Martinez right away as much as Martinez wants him to. I see him holding onto this belt, and with careful management, beating up on more B, C and D level fighters and making the most of his time at the top as opposed to going right for the risky fight against a top guy like Martinez or even Dmitiry Pirog. However, if Zbik wins, I see him as the fighter who would be more willing to take on one of these top guys in a meaningful bout.
Chavez Jr. vs. Zbik Prediction
Expect to see Zbik working his jab steadily throughout this fight and finding holes in Chavez's defense. However, Chavez will work his way in and win a few rounds himself with some well-timed attacks. I see this as the type of fight that will be evenly scored by many accounts, but by fight's end, the judges will score unanimously in favor of a bloody, beaten, but yet victorious Julio Cesar Chavez Jr.
Prediction: Chavez by Controversial 12th Round Unanimous Decision
Comments
comments