By announcing that he was stripping Sergio Martinez of the WBC Middleweight Title, Jose Sulaiman pulled yet another outrageous move in a long series of farces and frauds. Rubbing salt into the wound and highlighting just how ridiculous the WBC has become under Suleiman, technically Sergio Martinez is now the organization's "Emeritus Champion," while Sebastian Zbik of Germany steps up from "Interim Champion" to regular champion. I suppose it is only a matter of time before the WBC names a new Interim Champion for the middleweight division as well.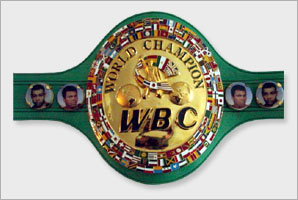 The recent history of the WBC Middleweight Title only highlights just how scandalous this move really is. WBC Rules specify that a champion must defend his title twice a year, and unless an exemption is granted, that must be against a fighter ranked in the WBC's Top 10. Martinez won the title by beating Kelly Pavlik in April 2010. The slugger from Youngstown, Ohio made only one defense in 2008. His 2009 defenses were against Marco Antonio Rubio and Miguel Angel Espinosa, two fighters who arguably should never have been on any Top 10 ranking.
In other words, the WBC gave Pavlik pass after pass for two whole years. Pavlik's lack of activity was, in fact, the justification for giving Sebastian Zbik the "interim title," a fiction that allows the WBC to keep on collecting sanctioning fees while letting a well-connected title-holder off the hook.
Martinez won the title from Pavilk and promptly defended it against a real world class contender, Paul Williams, later that same year. While Martinez signed to fight Sergiy Dzinziruk in March, who is not ranked in the WBC Top 10, this should never have resulted in Martinez losing his title if the organization's rules were faithfully applied. Martinez must defend his title twice during the 2011 calender year, and the WBC wanted one of those defenses to be against Zbik. "Maravilla" could have met Dzinziruk in a non-title bout and gone on to fight twice more later in 2011, easily meeting his obligation.
While the timing of this announcement follows that of Martinez vs. Dzinziruk, more seriously it also follows that of Pacquiao vs. Mosley. The notion that Jose Sulaiman would have stripped away the WBC middleweight title if there were even the remotest possibility that Manny Pacquiao wanted to fight Martinez for it is laughable. Sulaiman and his rubber-stamp board would have been falling all over themselves to make whatever exemptions were necessary to make that happen, and poor Zbik would have been forced to languish in the interim.
More sinister is the very real possibility (albeit speculative) that Bob Arum had a word with Sulaiman, and the two colluded to move Martinez out of the way, paving the road to a much easier bout for Pacquiao against Zbik later this year. Of course, Top Rank's influence with the organization is felt here in another way as well. With the move, Julio Cesar Chavez Jr. becomes the mandatory challenger for the belt. Wouldn't it be great if Top Rank star Manny Pacquiao faces Top Rank son-of-a-star Julio Cesar Chavez Jr. for the WBC middleweight title of the world?
This incident underscores everything wrong with modern boxing. The Interim Championship and other equally ludicrous creations dilute the value of the WBC's green belt, as do rankings that name journeymen as world-class contenders and a rule book that allows one champion to skate free and clear for years while another sees the rules flagrantly twisted and ignored. Yet somehow the WBC remains the most "prestigious" of the alphabet sanctioning bodies. According to who? Jose Sulaiman, Don King and Bob Arum?