Mexican-American heavyweight knockout artist Chris "The Nightmare" Arreola (33-2, 28 KO's) will be heading south to Leon, Guanajuato to make his highly anticipated Mexican debut at the grand arena "El Domo" on November 5, 2011 headlining an event promoted by Goossen Tutor Promotions and Promociones Del Pueblo and broadcast on Televisa.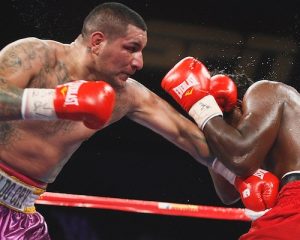 In his last fight this past July in Atlantic City, Arreola scored a unanimous decision over Friday Ahunanya, in one of only four fights to go the distance in his 35-fight career. Currently riding a five-fight winning streak, Arreola has noticed a big payoff from his newfound dedication to training, having competed recently more than thirty pounds lighter than his showings in 2009 and 2010.
For Arreola, his Mexican debut is very special, as the thirty-year-old Riverside resident's mother was born in Sinaloa, Mexico, and his father in Durango, Mexico.
"Its hard to explain my feelings about fighting in Mexico," said Arreola. "Its like I'm thrilled because of their love for real fighters, but at the same time, it is important for me to put on a great show and live up to those expectations.  It truly is a great honor to fight in Mexico and to box in a true Mexican environment.  It's such a beautiful country, there's nothing like it as a fighter."
"I just need to go out there and win convincingly, and keep winning convincingly. It's a great feeling for Televisa's interest of having me fight in Mexico, in front of the many fans that I want to see that I'm a true Mexican warrior."
"As for my opponent, Alonzo Butler (28-2-21 KOs), I know he's got 21 knockouts in his 28 wins, and I have 28 KOs in my 33 victories, so you can bet it will be a wild swinging fight."
Goossen Tutor and Promociones Del Pueblo last teamed up September 15 in El Paso, Texas on a card that featured 2008 Olympian Javier Molina and WBC Featherweight World Champion Jhonny Gonzalez. "We have enjoyed a great relationship with the Goossen Tutor team for many years, and it is always a pleasure to do boxing shows together," says Oswaldo Kuchle.  "November 5 at "El Domo" in Leon, Guanajuato we are bringing one of the hottest Mexican boxers today to Mexico for the first time."
Kuchle went on to say "It's a very exciting time for our company to have secured Cristobal Arreola to fight in Mexico.  Arreola is a true Mexican boxer and has the hope and support from the Mexican community of being the first Mexican to capture a Heavyweight World Championship.  Televisa, our broadcast partner, is also very excited to be showcasing his debut in Mexico."
Not to get lost in the hype of Arreola going to Mexico, Butler said this is the opportunity he needed to jump up into the higher echelon of heavyweights, "I understand one thing, I hit him on the chin clean, he will go down and out, and it changes everything in my life."
With a total of 49 knockouts between them, and close to 500 pounds in the ring, these are two big punching heavyweights and chances are it ends dramatically.
"I participated in the biggest boxing event ever held in Mexico when our fighter Greg Haugen challenged Julio Cesar Chavez," said promoter Dan Goossen, and it was one of the greatest experiences in my life with the fans and the media in Mexico."  There is nothing like it anywhere else in the world and having Chris being showcased on Televisa and in front of a packed house, will be the next step in the growth and recognition of the exciting fighting style of Arreola.  The fans will love him."
Also appearing in his first fight south of the border, will be hard-hitting world-rated lightweight John Molina, Jr. (23-1, 19 KO's) in a 10-round fight.  Molina,  a Mexican-American fighting out of Covina, CA, had agreed to fight Top Rank's Brandon Rios in December until Rios' camp declined the bout.  Instead, Molina travels to Mexico in pursuit of his world championship goal.
Molina has put together a 5-fight winning streak knocking out all five along the way. "Obviously I was very disappointed Rios refused to fight me in Los Angeles; that was his choice," said Molina. "I'm on the path to fight and beat whoever is put in front of me, no matter who it is."
Other undercard bouts will be announced shortly.
The fights from El Domo, which is a short 45-minute flight from Mexico City, will begin at 7:30 p.m.  CT and the Televisa broadcast will start at 10:30 p.m. CT/8:30 p.m. PT/11:30pm ET.  Tickets are priced at 600, 500, 400, 300, 200 & 100 Pesos and are available at the El Domo box office.