According to an official statement from Miguel Cotto, released by Top Rank, the Puerto Rican superstar will not be working with legendary trainer Emanuel Steward for his upcoming December 3rd rematch against Antonio Margarito. This is big news for Cotto, as having Steward in his corner was perceived to be one of his major advantages heading into the Margarito fight.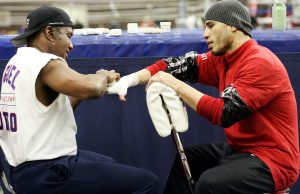 After all, it was largely Cotto's game plan which led to his demise against Margarito in their first match. Cotto was controlling the fight early, however, he tired himself out by constantly being on the move, and he didn't do enough to hold off the late attack of Margarito. Eventually he succumbed to the pressure and Margarito's potentially plaster-laden hands, and he was stopped.
Steward is a master game planner, and a master of making the most out of a particular boxer's physical assets and skills. His loss from Cotto's corner is therefore a major development.
In Cotto's statement, he says that he will instead be working with Pedro Luis Díaz Benítez, a Cuban trainer with a wide breadth of experience.
There's no animosity between Cotto and Steward, and instead a scheduling conflict seems to be at the root of the split. In Cotto's words:
I want to take this opportunity to express my wholehearted gratitude to Emanuel Steward, who I consider a friend and mentor. Because of calendar conflicts and other matters, we were unable to work together for this next fight. He is one of the best trainers I have ever met in boxing, and I will be forever appreciative for the two fights we worked together. We have both kept the doors open to maybe join forces in the future if the circumstances and timing are adequate.
It will be very interesting to see how this plays out and see what effect it has on Cotto, if any, in the Margarito fight. In one of the biggest fights of his career, he'll be deploying a brand new trainer, while departing from a trainer who is largely above reproach in the boxing community, and who would have clearly been an asset.