Fight Preview & Pick: Chris Arreola vs. Bermane Stiverne
On March 9, Chris "The Nightmare" Arreola and Bermane "B-Ware" Stiverne tangle in a WBC title-elimination scheduled for 12 rounds. The bout will be held in Costa Mesa in Orange County–close to Arreola's stomping grounds. The winner is line for shot at WBC champion Vitali Klitchko.
Arreola is a significant favorite, based on the fact that he is proven at this level, while Stiverne is making a pronounced jump in class. Arreola will turn 32 two days before the fight and stands 6'3" with a 76-inch reach. Stiverne, already 34, is an inch shorter at 6'2", but has a 4-inch reach advantage. Both men can weigh anywhere from 235-255, but will hopefully be closer to the low end of that range.
Date: March 9, 2013
Site: The Hangar, Costa Mesa, California
Weight Class: WBC Heavyweight Title Eliminator: 12 Rounds
Chris Arreola, 35-2 (30 KOs), Riverside, California
vs.
Bermane Stiverne, 22-1-1 (20 KOs), Las Vegas via Canada and Haiti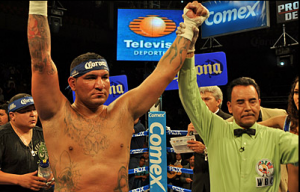 Fans are familiar with the exploits of Arreola, both good and bad. The relatively-unknown Stiverne is more of an X-factor heavyweight whose true abilities are not easy to gauge. He holds wins over Robert Helenius and David Price in the amateurs, but his 8-year pro career has been tepid. You have to wonder if he's another Don King WBC special or if he really has genuine upside.
Stiverne's 22-1-1 (20 KOs) record is filled with a long line of stiffs and low-end journeymen. When your best wins are against Robert Hawkins and Ray Austin, it's not the best sign. Neither is getting knocked out by the 11-15 Demetrice King. Against the ancient Austin, another Don King-fighter with a seemingly endless WBC ranking, he was actually behind before stopping Austin in the 10th round. That was in June 2011 and he's fought once since–a decision win over 13-10-3 Willie Herring, where one judge had it only 77-75 for Stiverne.
That might all send up red flags, but that doesn't mean he doesn't have a chance by any means. Some of those Don King specials actually come through from time to time. Stiverne can punch and that is a good wild card to have in your arsenal. With a couple well-placed swats, he can render this whole analysis moot. You just have to wonder if he's going to be prepared for a guy like Arreola, who is a real mack truck of a fighter. He represents an exponentially higher level of menace than any of the guys Stiverne is used to fighting.
This is not to imply Stiverne isn't a motivated professional with dreams of making it with his big punch. His knockout of Austin showed he has late power. His punching power is thudding and true. Arreola can't afford to sleep on this guy or get out of position. It's not hard to envision Stiverne being able to hurt or even floor Arreola.
Arreola has a long-running problem with weight, but to his credit, he has gotten it under control in recent performances. In his two biggest fights, against Vitaly Klitschko and Tomasz Adamek, he weighed in at an unsightly 251 and 250. He had gotten it down in the 230's and was busy in the ring. Then he took over a year off after beating Eric Molina in February 2012. A 13-month layoff seems like a strange course of action for a heavyweight trying to get on the right track. Still, at a recent press event, he appeared to be in reasonable shape, so hopefully he comes into the ring in good form.
Even in his losses, we saw what is required to beat Arreola. Losing to the elder Klitschko brother is no disgrace, though not getting in shape is. And it took an almost-perfect performance from Adamek to edge Arreola. The Californian contender is not invulnerable, though. Klitschko got him and hard-hitting Travis Walker had Arreola shook up during their 3-round war. Stiverne might be able to duplicate Walker's effort or even do him one better. We'll see.
Arreola vs. Stiverne Prediction
I think Stiverne has at least a slightly better chance than his +450 odds would suggest. He truly has heavy hands. It's not impossible that he can catch Arreola, perhaps out of position, with a heavy clunker on the side of the head and scramble his brains. But there are plenty of reasons why Arreola is a -700 favorite. Stiverne has struggled against far easier opposition and is now taking several jumps in class. Arreola can be enigmatic and inconsistent, but he should be too much for Stiverne. Look for his heavy-handed and more-dependable attack to get Stiverne out of there in the middle of the fight.
Prediction: Chris Arreola wins by 7th-round knockout.
Comments
comments