Adamek vs. Arreola in Likely Action Packed Heavyweight Battle
April 24th is sure to see big heavyweight action as two of the most exciting, action-oriented names in the division square off. Rebounding from his crushing defeat at the hands of Vitali Klitchsko, Chris Arreola will travel to Ontario and meet tough Tomasz Adamek, a former light heavyweight and cruiserweight champion. The fight will be broadcast live by HBO. Can the good little man (Adamek) top the good big guy?

Tomasz Adamek (40-1 with 27 KOs)
6'1 1/2″ tall with 75″ reach, 217 lbs, 33 years old
Former Light Heavyweight and Cruiserweight Champion
Polish, fighting out of New Jersey
Tomasz Adamek has completed his comeback from the lopsided defeat he suffered at the hands of Chad Dawson in 2007. Since then he knocked out O'Neil Bell, a guy who was briefly the Undisputed World Cruiserweight Champion, took the IBF Cruiserweight strap off Steve Cunningham, and showed he has some big guy pop by knocking out the shopworn Foul Pole, Andrew Golota. In his most recent fight, he out-worked and out-manuevered 2004 Olympian Jason Estrada. He has an all-action style with punches in bunches, and has moved up to heavyweight in the time-tested tradition of cruiserweights in search of bigger paychecks.
Chris Arreola (28-1 with 25 KOs)
6'4″ with 77″ reach, 258 lbs., 29 years old
American, fighting out of Los Angeles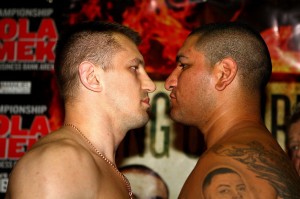 After a promising amateur career and becoming a hot prospect after knocking out a then-undefeated Chazz Witherspoon in the summer of 2008, Arreola has reached something a career crossroads. He has an exciting, combative style, good power and showed tons of heart in his fight with Klitschko, but the guy loves sneaking out to Taco Bell too much and doesn't train like a professional boxer should. 25 or 30 lbs. of his standing weight is not muscle, and people whisper about that. Also, after Witherspoon his best win was stopping Jameel McCline, who was always just a fringe contender and came out of retirement for the bout. A bad loss to Adamek will send Arreola out into the wilderness for a while, and maybe force an early retirement.
Adamek vs. Arreola Fight Preview & Analysis
Stamina is a big factor in this fight. Both guys like to throw a lot of punches, and to top that off Adamek likes to move a lot too. Conditioning will be a big factor in this fight, and it is suspect with both guys. Adamek has never been in a truly big fight carrying around more than 200 lbs. before, while Arreola's conditioning is always suspect because of the spare tire he has to haul around. However, Adamek is always in great shape, so while he may tire more quickly than he is used to, he will certainly come better prepared for a long haul in the trenches than Arreola.
Also, Adamek has the skills to defuse the action and slow the pace down if he needs to. Against Estrada, he shifted from being his usual swarmer to being a pot-shotting boxer.
Another big factor is that Adamek has never been in the ring with a guy who can hit like Arreola. "The Nightmare" can punch, and he punches like a big man. Estrada and an old, broken-down Golota are no preparation for that, so what happens when one of Arreola's bombs connects is anyone's guess. Adamek's punching power, on the other hand, did not follow him up northwards. He had enough pop to knock out Golota, but at this point all that takes is not being a feather-fist.
Quality of opposition is about the same. Both men lost their test against the top world-class fighter (Dawson and Klitschko), they faced, however Adamek does hold wins over Steve Cunningham and O'Neil Bell. Arreola's best wins are over used-up "name" fighters and fringe contenders.
Arreola vs. Adamek Prediction
Adamek is a slow starter, and I think once he gets a taste of Arreola's power in Round 2 or 3, he will give up any thought of pressing the action and shift to the stick-and-move style he employed against Estrada. At that point, it boils down to whether Arreola has the stuff to plow forward and press his attack home, round after round. The only time Arreola has ever fought past eight rounds was against Klitschko, and I don't think he will get Adamek out of there early unless he gets very lucky in the opening couple of rounds or unless Adamek stands his ground and trades with him. Arreola will win big on four of the first six rounds, maybe even with a knockdown, but after that he will slow down and it will be mostly Adamek.
Adamek beats Arreola UD12.
Comments
comments