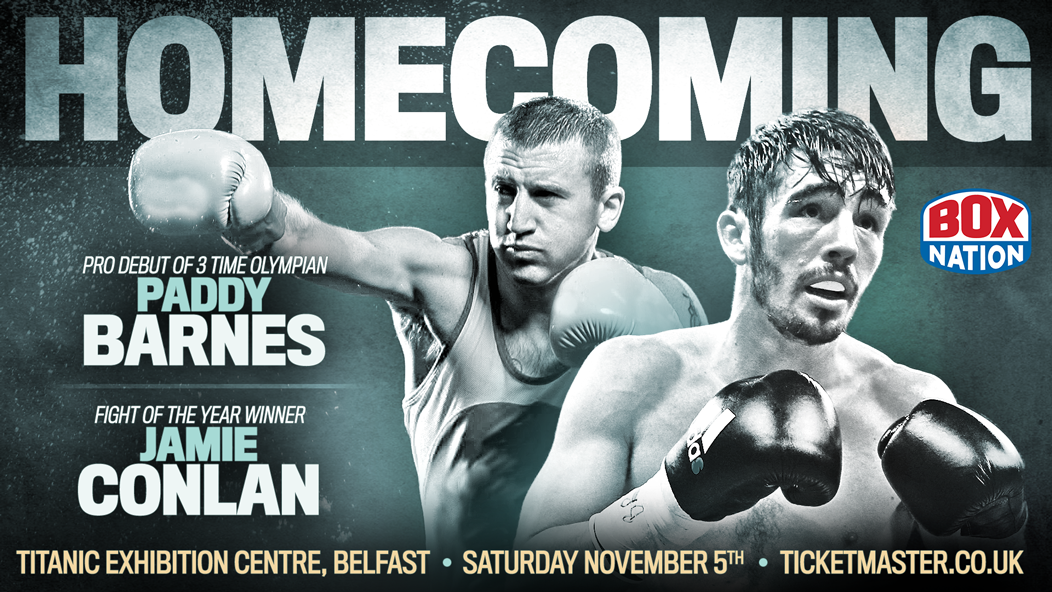 Commonwealth super-fly champ Jamie Conlan and debuting double Olympic light-fly medallist Paddy Barnes might front the bill posters when they headline at the Titanic Exhibition Centre in their home city of Belfast this Saturday but gifted Welsh super-lightweight Chris Jenkins is determined to elope with the headlines once the dust has settled, writes Glynn Evans.
After a frustrating 12 month hiatus, the two-time British title challenger dives straight into a Celtic collision with Dublin's big hitting former amateur star Phil Sutcliffe Jnr in what appears the best match-up on a star studded bill.
'I think that together we're gonna steal the show,' states the 28 year old they call 'Rok 'n' Rolla', who has lost just once in 18 (one draw).
'Phil's obviously a good kid who likes to put pressure on and seems to have a good whack on him –he'll be the puncher in this fight – but I believe I've the better skills and better brain.
'But I think that, because of my inactivity, his team are underestimating me. I've been 12 rounds twice and 10 rounds once – he's not been past eight – so a long hard fight will suit me more.'
After falling tantalisingly short in a brace of GB title dust-ups with Huddersfield's Tyrone Nurse (one draw, one points loss) in the latter half of 2015, the 5ft 9in West Walian is eager to navigate his way back into the densely talented domestic 10st mix that also includes the likes of Ricky Burns, Josh Taylor, Lenny Daws, Ashley Theophane and Jack Catterall.
And he has no qualms about crossing the Irish Sea to accommodate Sutcliffe in his homeland to prove that he belongs.
'I boxed in Dublin as an amateur but never up the north,' says 'Jenko', a former British and three time Welsh Senior ABA champion who boxed in two Commonwealth Games plus the European and World senior championships.
'We know it's going to be a bit hostile and lively but all the Irish people I've met are really fair and nice. You can't criticise them for passionately getting behind their man. Besides, the adrenaline will provide a welcome kick up the bum, rather than hinder me. I'm just buzzing to go, can't wait.'
A former Prizefighter winner and WBC International titlist, the father of twin boys won his first 16 straight under uncle and amateur mentor Ronnie Morris but recently shifted to Gary Lockett's fast rising Cardiff camp, in an effort to redeem himself after the Nurse reverse.
'I got my tactics wrong that night. I've a good boxing brain on me I should've roughed him up a bit but Tyrone is one of the neatest boys around, very underrated,' recalls Jenkins.
He concedes that hard times followed.
'I switched gyms at the end of January and I've basically been waiting for an opponent since. I've had to maintain a real positive mental attitude over the last 12 months. Thankfully I've got a good sponsor who pays me a weekly wage. From a young age I was brought up to budget.
'I'm not gonna lie, I was down for a while, put on a bit of weight and contemplated whether I'd fight again. But my wife (Helen) is a very strong woman, the rock behind me. She kicked my arse back to the gym. I can see the top of the hill but I have to keep climbing.
'At Gary's gym, I get to train alongside pros and get good 'in house' sparring. Gary drills me to capitalise on my natural attributes – my height, my jab, my boxing brain -rather than what I'm not good at. He's got me relaxing on my shots and we've worked on not overreaching.'
In an ideal world, this sharp shooting stylist would have welcomed a rust shedder against moderate opposition to experiment with some of the fresh methods that Lockett has been embedding. But, trust me, boxing is far from an ideal world and he finds himself thrust into a genuine cross roads collision against one of boxing's most feted and ferocious prospects on alien terrain.
Not a problem, he insists.
'I've never ducked an opponent amateur or pro so when Sutcliffe was offered we jumped at it. I just need a fight and I'm very excited,' he says.
'It's a huge pressure fight regarding my career and future. But I'm only looking at winning and moving on. Besides, though I'm 28 now, I'm relatively fresh and have plenty of mileage left.
'I'm no good with my hands and messed around in school so I have to earn my money as a fighter. I've always been prepared to fight any of the top kids and any of the big ticket sellers on their patch. If promoters put the money on the table, let's 'rock 'n' roll!'
Though he enters the Emerald Isle as a marginal 11-8 underdog with the odds setters, Jenkins is steadfast in the belief that he owns both the experience and skill set to wipe the smile from those Irish eyes.
'All the hard work's been done and I'm itching to get at him,' he concludes.
'We expect Sutcliffe will march forward and be prepared to take a few to land his bombs so, where I can, I'll get on my toes, keep it long and box him. No doubt, there'll be parts when I'll have to fight him inside. Not a problem.
'Some people view me as the forgotten man, even a 'has been' so it's important I come back with a bang, make a big statement.
Also on the card…
A war of words erupted between bitter Irish Welterweight rivals Tyrone McKenna (11-0-1 3 KOs) and Sean Creagh (4-0 2 KOs) at today's heated press conference at Belfast's Malone Lodge Hotel. The undefeated foes meet face-to-face in the ring this Saturday.
McKenna has been a busy boxer lately. Three fights in just over four months have kept the Belfast man extremely active at a pivotal stage of his career. On Saturday McKenna faces the toughest test of his career against the supremely confident Creagh. Both men are putting their undefeated records on the line in what promises to be an explosive contest.
"He hasn't tasted defeat yet so he's very confident going into this fight," said McKenna. "He's been running his mouth on Twitter in the build-up to Saturday's fight but he knows deep down that he's scared of me. He can't beat me; not a chance.
"After I knock out Sean Creagh I'll be pushing for domestic titles. This fight isn't going past four rounds. I'm too good for him and we both know it. I can deal with anything he throws at me; there's only going to be one winner come Saturday night."
"I'm really looking forward to this one," said Creagh. "He says that I'm a White-Collar pro so he better back that up on Saturday. All I can say to Tyrone is you better leave your ASICS at home, you can't knock me out if your're on the back foot.
"If you look through his record, who has he fought? He's only had three stoppage wins in twelve fights. He goes on like he's Gennady Golovkin but he doesn't have any power. I can't wait to show everyone what I'm all about in front of the BoxNation cameras. I'm going to knock Tyrone out."