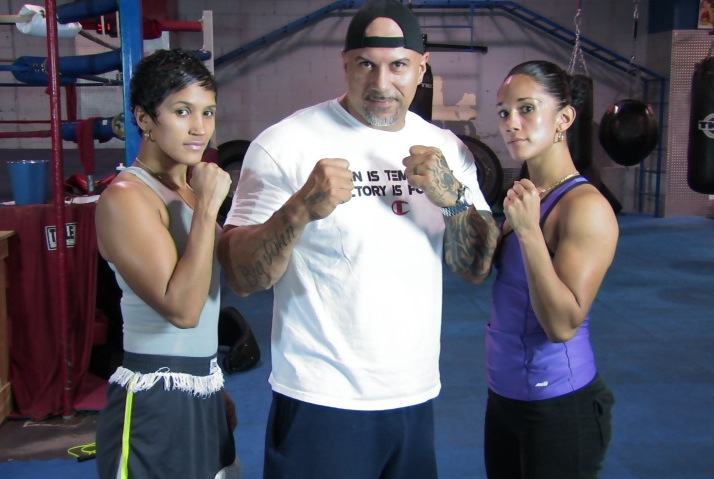 Champion boxing sisters Cindy & Amanda Serrano from Brooklyn, NY via Puerto Rico are receiving more exposure through the world of entertainment media than through their own sport with a range of photo shoots for magazines TV & radio interviews, & an upcoming reality show.
"With the state of women's boxing today we can't depend solely on it. There's no room for excuses, and laid back crying, we need to provide food for our families on a daily basis" stated Amanda Serrano, who is currently ranked #1 by the World Boxing Council ( WBC ) in the super featherweight division (130lbs).
"Now that we are part owners of our own company named Body N' Style Management, we have the opportunity to bring to light some of those artist that big companies don't want to deal with and just fade away, like us when we started in boxing," pointed out Cindy Serrano.
Body N' Style Management just launched their first bi monthly magazine with The Serrano Sisters on the cover.
"We are also shooting for the Cover of One2Quatro magazine, owned by Puerto Rican entrepreneur/comedian Kenny Ortega, and just got a call that our feature in Muscle & Fitness Hers magazine is schedule to be out next month", stated Jordan Maldonado, manager of The Serrano Sisters.
In the music industry, rapper Loaded Lux, will launch his new music video titled "you'll Neva Win", that featured The Serrano Sisters preparing to fight each other in a outstanding boxing related video.
Also, Meetinghouse Productions, the producers of 'truTV Presents: World's Dumbest', will start shooting at the end of January a reality show based on the life of the Serrano Sisters.
"Boxing has helped us achieve more outside, than inside the ring, but still, boxing fans can expect us back in the ring very soon. We love our sport," said Amanda Serrano.
Amanda ( 20-1-1, 15 KO's ) is also ranked #2 in the International Boxing Federation (IBF) and # 3 in the World Boxing Association (WBA). Her older sister, Cindy ( 20-5-2, 9 KO's ) is ranked #5 by the IBF and WBA, and #8 in the WBC at 130 lbs.
On September 10, 2011, Amanda became the first female boxer in IBF history to win a super featherweight world title by defeating Kimberly Connor (10-2-2, 4 KO's ) by way of knockout in the first round. Later, on February 16, 2013, Amanda captured the featherweight Universal Boxing Federation ( UBF ) and Women's International Boxing Association (WIBA) world titles by defeating Dominican local, Wanda Pena Ozuna ( 8-5, 2 KO ) by TKO in the first round.
On May, 2013, Cindy captured the vacant Universal Boxing Federation (UBF) World title at the super featherweight division by defeating Dominican, Grecia Nova by TKO in the first round. In 2012, Cindy defeated Kerri Hill by unanimous decision and won the vacant WIBA Women's International Boxing Association lightweight title (135lbs)
Both are scheduled to do battle this February. Be on the lookout for these two Boricua sisters who are not taking no for an answer! If you don't catch them in the ring battling you will definitely catch them in magazines, in local newsstands or see them on your television sets.