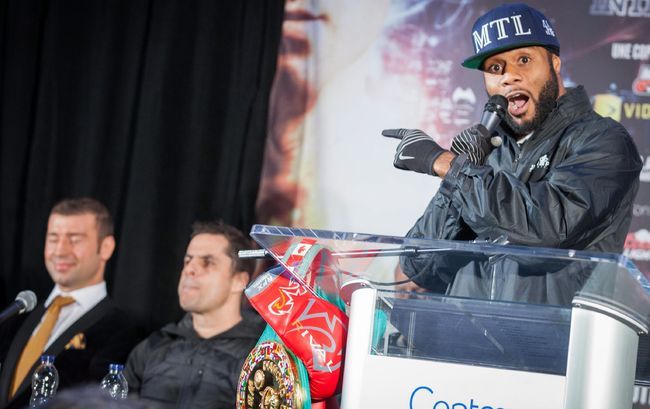 It's fight week in Montreal, and the final press conference for Saturday night's Jean Pascal vs. Lucian Bute bout was held earlier in the week, along with other activities such as fighter workout sessions, and more. Right here, you can find a collection of quotes, photos and videos of all the Pascal vs. Bute action.
"Lucian Bute has disrespected me. I am a human being, not an animal," commented Pascal . "It's easy to say that through the media or his coach. I invite Bute, if he has balls to stand up and tell me. "
The tirade was obviously not welcome by the fans and some have let it be known by booing Pascal . Unsurprisingly, Bute refused the offer , but these remarks, while incredibly childish, proved effective .
Bute's face was contorted and his smile seemed forced during shooting that followed. He then assured, however, he saw very clear in the intentions of his opponent.
"He wants to play in my head, but it does not interest me," said Bute. "We were supposed to be here for a press conference. We have unfinished business and we will settle it Saturday night."
"In every battle, there are emotions. And this battle is as important to me than the others. As I have said many times, I am confident and I know how it will happen. Let him come shut me up."
Pascal has meanwhile not seem satisfied when he answered questions from reporters . He even added fuel to the fire, saying he wanted to bring the truth to light.
"I want people to get an idea rather than be fooled by InterBox," explained Pascal. "Bute is the puppet Stephan Larouche . I do not care what he says. If Bute was a man, he would have stood."
Pascal's trainer Ramsay however, was the first to launch hostilities in condemning the attitude of his counterpart in the last month. According to him, the coaches do not have to interfere in the war of words that can deliver both boxers before a duel.
"Stephan, you are worth more than that," Ramsay arrested . "This kind of place where graze the lack of professionalism and class. We should let the boxers give a good show. "
"I think mixing business," replied Larouche . "I have never spoken to an individual personally. I'm talking about the boxer and performance. I do not think it is disrespectful. We are preparing for war "
It will be interesting to see if this attack will bear fruit in the evening of the fight. Meanwhile, the two pugilists will meet to weigh on Friday when they will need to make the limit of 175 pounds.