Boxing Phenom Claressa Shields continues to make history at breakneck speed in adding the IBF and WBA middleweight titles in Friday night's main event to her growing list of accomplishments.
Shields (6-0, 2 KOs) tasted the canvas for the first time in her pro career in the first round but dominated thereafter to soundly defeat challenger Hanna Gabriels (18-2-1, 10 Kos) at the Masonic Temple in Detroit.
"Once I went down, I took a deep breath and I remember thinking to myself, I'm about to whip this girl," Shields said. "I just remember thinking let's use the jab and be smart."
That adjustment propelled her to victory with scores of 97-92, 97-92, and 98-91 and brings Shields one-step closer to winning world titles in at least three weight divisions by moving down in weight instead of up.
The knockdown occurred during a fierce exchange in the first round. Gabriels caught Shields with a right uppercut that dislodged her mouthpiece and sent the Olympian skidding backwards on her rear end. However, Shields did not appear hurt and easily beat the count.
Shields used her superior size and quickness to dominate most of the exchanges, landing the cleaner shots and displaying creative combinations. Gabriels slowed down considerably in the fourth round perhaps from expending too much energy in the opening frame.
A pair of hard right hands rocked Gabriels in the sixth round. Shields continued to control the action behind a strong jab and showed remarkable zip on her punches throughout the championship rounds despite having fought hard for much of the fight.
Last year @Claressashields made me a fan of boxing & last night she reminded me why. Congrats on the win! 2x division world champ 6-0. @ShowtimeBoxing @SalitaProm pic.twitter.com/ijSs8S6J7W

— Amber M. Lewis (@SocialNTheCity) June 23, 2018
Gabriels, of Costa Rica, was fighting for the first time within the United States and moved up in weight to challenge Shields for the vacant titles. She certainly gave the young star her toughest test yet.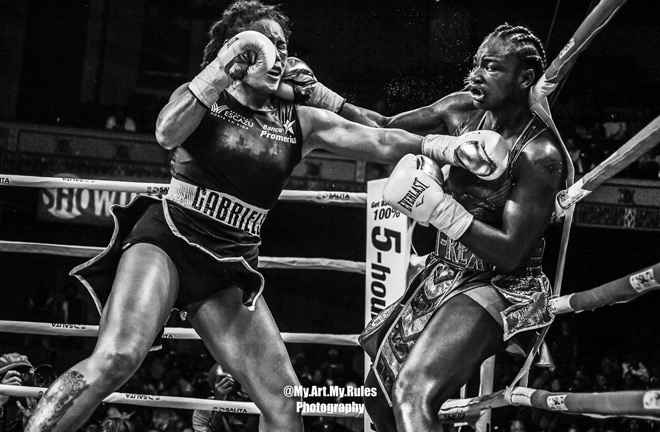 The difference in talent level became noticeably apparent in the latter stages of the fight as Shields proved to be the far more skilled fighter of the two.
On the undercard, rival Christina Hammer (23-0, 10 KOs) rolled with a one-sided unanimous decision win over Tori Nelson (17-2-3, 2 Kos) to retain her WBC and WBO middleweight titles.
The two champions are now poised to meet this fall on Showtime for the undisputed middleweight championship.
Like Shields, Hammer experienced early title success and has been a women's boxing star in Germany for several years.
The pair have been vocal about their desire to face one another in a unification bout. Hammer has attended Shields' prior bouts and sounded off again about facing the American champion during their post-fight confrontation.
"I'm really looking forward to fighting Claressa," Hammer said. She will try and fight me on the inside but my footwork and reach will make the difference. The fight with Claressa will be a game-changer. It will be the biggest women's fight ever. I would like to fight her at a neutral site.
Shields wasted no time in responding.
"I'm just tired of Hammer disrespecting me all the time," Shields said. "She comes into the ring after all my fights, talks trash, and then she goes in there and looks like sh!t against Nelson. I'm sick of it. But I let her know I'm more than ready for a fight against her. She wanted me to lose tonight, but I wanted her to win because I want to fight her. We have to unify now."
Animosity like that sales fights and we can't wait to see these great champions settle their differences in the ring.
Comments
comments