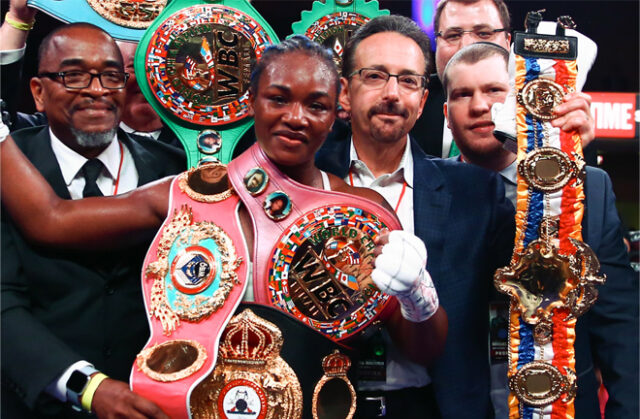 History was made at the Dort Federal Centre in Flint, Michigan as Claressa Shields became undisputed world champion at a second weight class in her hometown with a landslide points win against Canada's Marie Eve Dicaire.
Shields (11-0, 2 KOs) had already served as undisputed Middleweight queen, and added the same lofty achievement at Super Welterweight with victory over the previously unbeaten Dicaire (17-1) to further cement her legacy and become the first fighter male or female to win the undisputed championship in two-weight classes in the four-belt era.
Dicaire came into the contest as the defending IBF champion, but by the end of the night it was Shields that added that strap to her WBC and WBO belts, as well as the vacant WBA 'Super' title.
Both women were like coiled springs ahead of the opening bell, and Shields stalked her opponent early on, landing a big looping right hand in the opening minute of the contest.
Shields' movement was causing Dicaire no end of problems, and 'T-Rex' was finding plenty of angles to make room for her power shots to score success.
Dicaire was getting tagged on the counter almost whenever she threw, and the third saw Shields find the mark with two-fisted attacks.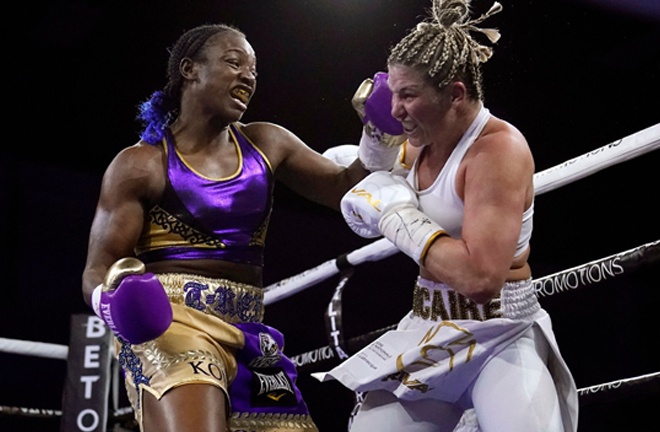 The 34-year-old simply couldn't find the angles to trouble the favourite and she was rocked by a body shot in the fourth that she did well to recover from.
Whenever Dicaire was able to trap Shields on the ropes, the self-proclaimed 'GWOAT' was able to use her excellent footwork to get herself out of trouble.
The sixth saw the 25-year-old grow in confidence, walking Dicaire down and landing with power shots at will as the Canadian began to slow her output, and the seventh was more one-way traffic.
View this post on Instagram
It was pretty much seeing the job out until the final bell in the final few rounds for Dicaire, as Shields was in complete control of proceedings, constantly tagging her fe every time the IBF champion would walk into range.
The bout ended as it started, and Shields cruised to the finish line with more two-handed assaults, and the result was a mere formality as the contest went to the scorecards.
Three scores of 100-90 reflected the dominance of Shields, who has a wealth of options in both boxing and MMA in her future, with boxing assignments against Katie Taylor and her old amateur rival, Savannah Marshall mooted.
That is some serious gold she just won.

Congrats to @Claressashields on her victory tonight!#ShieldsDicaire pic.twitter.com/jtD6RyRihY

— FITE (@FiteTV) March 6, 2021
"She kept headbutting and elbowing me, and it's hard with two minute rounds to get a KO win. I'm happy that I'm a two weight undisputed champion," Shields said post-fight.
"I believe the middle of June (will be my MMA debut) in Las Vegas, on a card with Anthony Pettis I believe, I'm super happy about that. I'm ready to show the world that I am the GWOAT.
"Katie Taylor isn't the worry, the 147 pound weight is the worry. They'd have to pay me a lot of money to get down to 147.
"Savannah Marshall can't f**k with me. You won a lucky decision as kids in London in 2012, wherever she wants to fight me, I will f**k her up."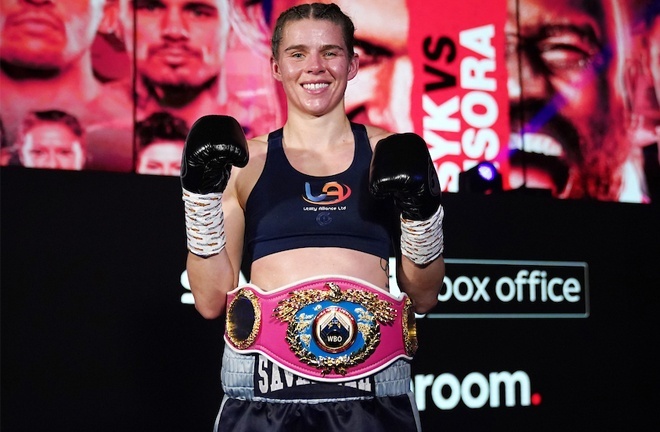 It was an all female portion of the pay-per-view element of the card, and at Heavyweight, Danielle Perkins claimed the vacant WBC Silver title with an eight round points win against Monika Harrison (2-2-1, 1 KO).
It was a rematch of an August 2020 match won by Perkins (3-0, 1 KO) over four, and this time she dominated again in an 80-72 win on all three cards.
At Bantamweight, Marlen Esparza (9-1, 1 KO) took all six rounds in a decision win against Shelly Barnett (4-4-2), while Jamie Mitchell (6-0-2, 4 KOs) scored a fifth round stoppage of Noemi Bosques (12-16-3, 2 KOs).
There were two male off pay-per-view bouts, and at Middleweight, Timur Kerefov (11-0, 6 KOs) stopped Manny Woods (16-11-1, 6 KOs) in three, and at Heavyweight, Robert Simms (11-3, 3 KOs) outscored Demetrius Banks (8-2-1, 5 KOs) over six.