For this classic fight revisited, I look at an early contest for Tyson Fury, one that could have majorly altered history, and may have set the Gypsy King on a very different path. Fury's first real step up against Hornchurch's emotional and brave John McDermott is the offering here.
John McDermott v Tyson Fury I – 11th Septenber 2009, Brentwood Centre, Essex – English Heavyweight Title
Tyson Fury has done some amazing things in the sport of boxing, not least when becoming WBC Heavyweight champion in devastating fashion in February this year with a stunning stoppage win over Deontay Wilder.
Fury had also of course held all other versions of the Heavyweight crown with his famous win over Wladimir Klitschko in 2015.
But, it could have been so different for the Manchester man had the result of his September 2009 clash with John McDermott not gone his way, which, for all intents and purposes, shouldn't have.
Fury had turned professional in December 2008 after a solid amateur career, and as a 6 foot 9 giant, he was much sought after in the paid ranks, with Mick Hennessey securing his signature.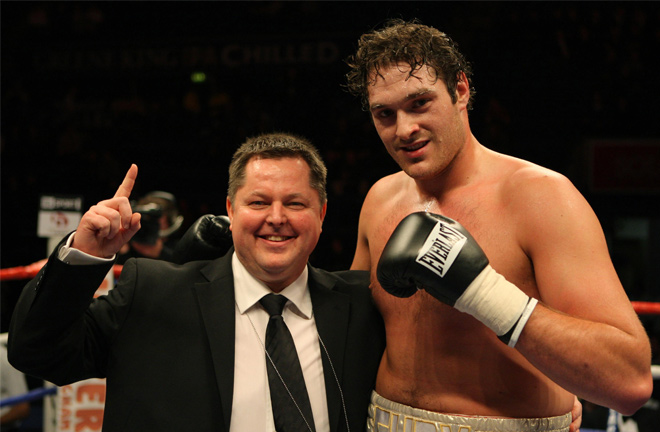 Big things were expected from the man from Wilmslow and he took little time to get going, dispatching Bela Gyongyosi inside a round in Nottingham on debut. In just nine months as a professional, Fury moved to 7-0, with all of his wins coming inside the distance and only the wily veteran, Lee Swaby able to take Tyson past three rounds.
This flying start led to Fury and his handlers wanting to fast track his progress to the top.
In Fury's cross hair was the experienced domestic campaigner John McDermott. This was a bold move by Team Fury as "Big Bad" John had been mixing in very good company, and was coming off back to back controversial defeats on the cards in challenges for the British Heavyweight title against, Mike Tyson conqueror, Danny Williams.
McDermott had won his first 16 paid contests before the unheralded and then unbeaten Nikolay Popov stopped him in two rounds in September 2003. McDermott had injured his ankle following a knockdown.
John had bounced back with two straight wins but was then outscored by a single point by Mark Krence in a challenge for the vacant English belt.
A quick comeback win gained McDermott a shot at the British title in December 2005, but John would be dropped three times and stopped in under 80 seconds by Matt Skelton in a devastating defeat.
He wouldn't be deterred though, and stormed back with six wins on the bounce, including an impressive points win over former British champion, Scott Gammer and an English title triumph over Pele Reid via second round stoppage in April 2008.
This form earned McDermott a second shot at the British belt, but he came up short in Dagenham in July of the same year as, despite having three points deducted for various infringements, Danny Williams took a disputed majority decision win.
A rematch was a natural move in May 2009, but Williams would again get his hand raised, this time in Sunderland with a split decision verdict returned.
McDermott remained English champion, and he was ordered to defend against Fury with the bout set for Brentwood in September 2009.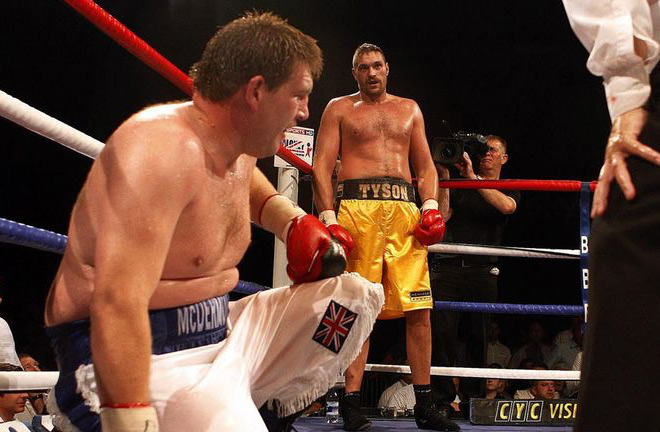 The build up was dominated by the brash Fury, who labelled his opponent "McMuffin" and "Big Mac" in a dig at McDermott's podgy exterior. Fury did acknowledge that the champion represented a big step up compared to the level of opposition he had faced up to that point.
McDermott was angered by Fury's name calling, and was using this as fuel to fire him up come fight night. "McDermott is British class, and I'm world class and that's the difference" said Fury pre-fight.
What followed became one of the most controversial domestic title matches in history, with a result that forced future English title matches to be scored by three ringside judges rather than just a referee, and left McDermott's promoter Frank [now Kellie] Maloney to suffer a heart attack as the result was read out.