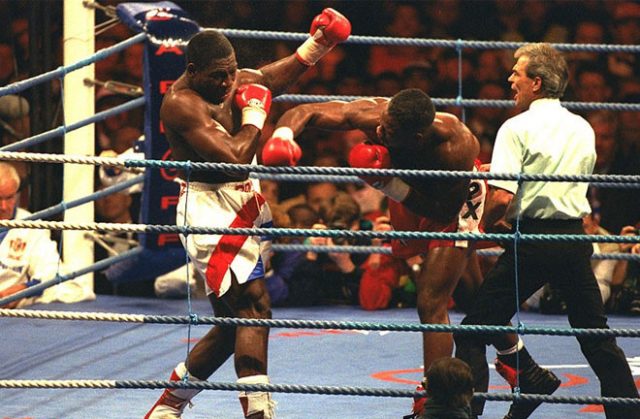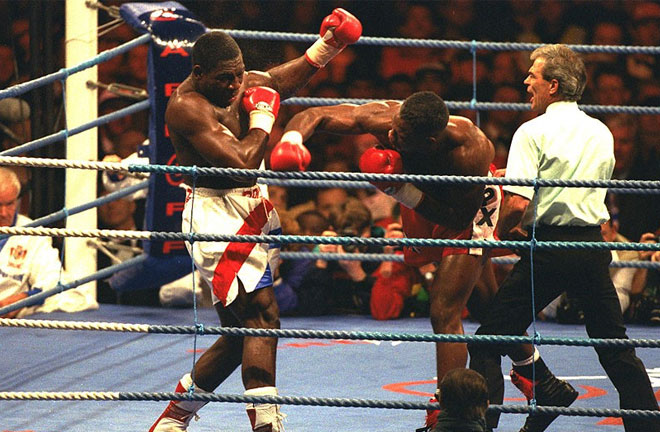 In the next part of our series looking at thrilling fights from years gone by, we look at an all British Heavyweight showdown from 1993.
The famous Green Belt was on the line as Lennox Lewis and Frank Bruno did battle on Welsh Soil at Cardiff Arms Park.
Lennox Lewis v Frank Bruno – 1st October 1993, Cardiff Arms Park – WBC Heavyweight Title
It was a landmark occasion on a rain threatened night in South Wales that brought together two of the finest Heavyweights Britain has ever produced.
It would be the very first time that two British born boxers had fought for a version of the Heavyweight crown. How they got there was another story.
Lennox Lewis was born and raised in West Ham, London in 1965. At the age of 12, he moved to Canada, and took up the sport of boxing approximately a year later. It wasn't too long before he became a dominant amateur. A Gold medal in the Junior World Championships gave him a spot on the Canadian team for the 1984 Olympics.
At age 18, the chance came too soon, and Lewis would be defeated in the last eight by eventual champion Tyrell Biggs. Rather than turn professional, Lennox elected to commit to four more years in the unpaid code. Winning Gold at the 1986 Commonwealth Games in Edinburgh, as well as first place at the 1987 Pan American Games setting him up nicely for a crack at Olympic Gold in Seoul in 1988. Lewis reached the final, and struck Gold with a second round stoppage of Riddick Bowe.
The pro game was the natural next step, and Lewis moved back to his native England, declaring he had always considered himself British. However, many fans would struggle to take to him as a Briton. Lewis signed with promoter Frank (now Kellie) Maloney and turned over in June 1989 with a second round knockout of Al Malcolm at the Royal Albert Hall.
Thirteen fights in under a year against knock over opposition followed, before Lewis claimed the European belt with a sixth session stoppage of Jean-Maurice Chanet in October 1990.
Next would come the 35-0 Gary Mason in a domestic dust up, and Lewis added the British title with a seventh round win.
Knockout wins over former World champions, Mike Weaver and Glenn McCrory, as well as a revenge third round win over Tyrell Biggs rounded off 1991.
April 1992 saw the Commonwealth crown added, and the Lonsdale Belt won outright, in a third round win against Derek Williams. After a rust shaking win against Mike Dixon, Lewis would box an eliminator for the WBC belt held by Riddick Bowe against Donovan 'Razor' Ruddock.
Lennox Lewis demolished 'Razor' Ruddock. Photo Credit: Boxing News
Ruddock started as favourite, but was knocked down three times in a second round hammering. Lewis wouldn't get to face Bowe, as the American infamously threw the belt in the bin rather than facing his mandatory challenger.
The WBC declared Lennox Lewis as their champion.
Lennox would make a first defence in Las Vegas in May 1993, dropping Tony Tucker twice en route to a unanimous points win.
His second defence would come at Cardiff Arms Park, as he prepared for a domestic dust up with crowd favourite, and World title nearly man, Frank Bruno.
Standing 6 foot 3 inches tall, Frank Bruno was a specimen surely destined to become World champion. The Wandsworth native, for all of his attributes, would suffer heartbreak in his quest to reach the pinnacle of the sport time and again.
Bruno turned professional in 1982, and enjoyed a series of knockout wins in his early outings. He won his first 21 contests by knockout, and had beaten decent operators in Scott LeDoux, Mike Jameson and Floyd 'Jumbo' Cummings.
Frailties had shown however in the contest with Cummings, with Bruno badly shaken in the opener, before stopping his foe in seven.
Bruno's first taste of disappointment came in May 1984, when he took on James "Bonecrusher" Smith at Wembley Arena. Frank was heading for a dull points win, working almost exclusively off of his jab. But, with two minutes remaining in the tenth and final round, Smith went for broke. Unleashing a frenzied attack that Bruno couldn't evade, and with his back arched over the ropes, Smith's lefts and rights couldn't miss, eventually knocking Bruno out.
Seven wins later, including six by knockout and a European title win against Anders Eklund, got Frank back on track, and a World title shot came calling in July 1986.
Wembley Stadium and 40,000 awaited Bruno's coronation, but it wasn't to be, as Tim Witherspoon retained his WBA Heavyweight title with an eleventh round stoppage victory.
Bruno would go again though, four straight wins, including a win at Tottenham Hotspur's White Hart Lane against Joe Bugner via eighth round stoppage.
Bruno was now WBC number one, but would be forced to wait over a year for a shot at the title. Due to legal wrangles on the part of the champion, Mike Tyson, as well as a broken hand suffered in a street fight the Brit was waiting patiently.
When the two finally got together at the Las Vegas Hilton in February 1989 for the WBC, WBA and IBF belts, Bruno was like a rabbit in headlights as a brutal Tyson bludgeoned him to a fifth round stoppage defeat.
Mike Tyson was too much for Frank Bruno. Photo Credit: TalkSport.
Another rebuild was in order, and four wins saw him climb the rankings once again, and he was nominated to take on Lennox Lewis for the WBC title.
Their meeting quickly became a grudge match, with Bruno questioning Lewis' nationality, he described his opponent as "not British" and remarked "It's about boxing. I'm sick and tired of his pretences. He calls himself champion. He acts like he's Sugar Ray Leonard, or a Willie Pep or Joe Louis. Nobody cares about Lennox Lewis in Britain".
Lewis would counter with remarks that would leave Bruno seething, calling Bruno an "Uncle Tom" and referring to Bruno's appearances in pantomime; "He makes a fool of himself, dressing up in girls' clothing on television. What was I supposed to do? Not follow my mother to Canada? I've fought more British fighters than that guy has".
Over 25,000 packed out the Welsh National stadium in what turned out to be a thrilling contest.
The fight was set for 1am UK time to accommodate US audiences, and if rain had fallen at that time, the fight would have been postponed for 24 hours.
The black clouds lingered, but the action commenced, and Bruno would give Lewis all he could handle, ahead on one card and level on two at the finish, where heartbreak would reign once again.