Our latest classic fight sees us go back to 1995, and a contest that was as absorbing as it was tragic. Nigel Benn's clash with Gerald McClellan was brutality at it's apex, with both men's lives changed forever.
Nigel Benn v Gerald McClellan – 25th February 1995, London Arena – 12 Rounds, WBC Super Middleweight Title
February 2020 marked 25 years since a contest that shook the sport of boxing to it's core.
From January 1987 to March 1989, Nigel Benn knocked out everything that stood in his way. Racking up 22 straight knockout wins. Most came in two rounds or under, and were ruthless and chilling knockouts at times.
Ilford born and bred, Benn picked up the Commonwealth Middleweight belt, after stopping Abdul Umaru Sanda in two rounds in April 1988.
He had defended the crown three times in under four rounds against Anthony Logan, David Noel and Michael Chilambe, and, after another highlight reel knockout, this time in the second round against Mbayo Wa Mbayo.
The stage was set for Benn to meet domestic rival, Michael Watson in May of 1989. The fight took place in a huge tent at Finsbury Park, with Benn starting as warm favourite.
He simply overlooked the challenge of Watson, even getting his hair braided on the day of the fight in a procedure that took some time. Come fight night, Benn thought he could just wing in his hooks and walk right through Watson.
In the end Benn gradually tired and Watson wore him down, knocking the lifeless Benn out with a jab in the sixth round.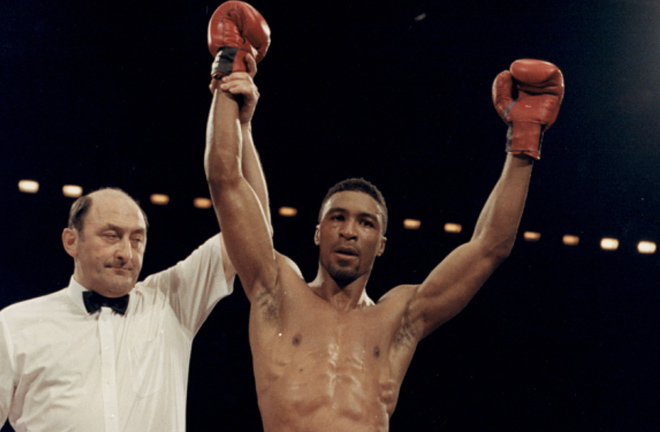 The myth was seemingly exposed, and Benn rebuilt with three straight wins, having to go ten rounds in two of those outings. He won the newly created WBO Middleweight title in 1990, stopping Doug DeWitt in eight rounds, and sensationally defended it inside a round against Iran Barkley four months later to lead him into a grudge match with Chris Eubank.
The pair formed a hatred filled rivalry, with Benn the working class hero, and Eubank the pompous upstart. In their first meeting in November 1990 saw Eubank stop Benn in nine rounds, again exposing Benn's stamina issue.
Again, there was a rethink, and after six wins in succession, Benn stopped Mauro Galvano in four rounds to capture the WBC Super-Middleweight belt in October 1992.
Three defences later led Benn back to Eubank, with the Brightonian now WBO champion at 168lbs. Their unification fight at Old Trafford in 1993 couldn't produce a winner, with a split draw the verdict.
Two more routine defences against Henry Wharton and Juan Carlos Giminez Ferreyra on the cards teed up an extremely dangerous defence in London against the much feared puncher, Gerald McClellan.
Freeport, Illinois' McClellan had turned professional in 1988, under the tutelage of the legendary Emanuel Steward, after a stellar amateur career.
McClellan was, like Benn, a puncher, and he moved to 10-0 without going past two rounds. His progress was checked though with back to back points defeats to Dennis Milton and Ralph Ward in 1989.
These defeats proved to be minor setbacks, as 'The G Man' racked up 12 straight wins to move into a match with John 'The Beast' Mugabi for the vacant WBO Middleweight belt. McClellan ruthlessly stopped Mugabi inside a round at The Albert Hall to announce himself as a major threat pound-for-pound.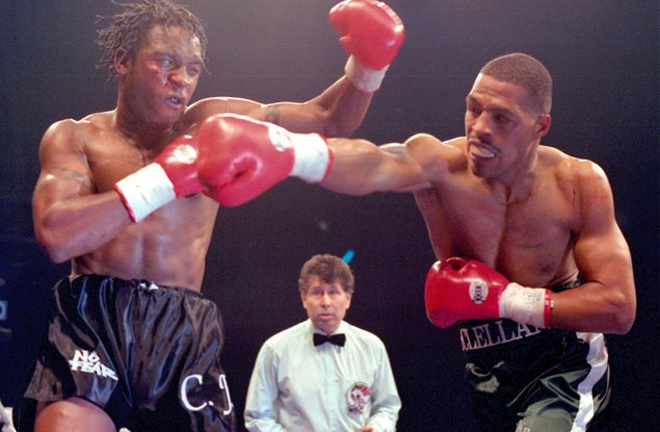 Five fights later, he was WBC champion, with another statement stoppage win. This time against the dynamite fisted Julian Jackson inside five rounds. Three one-round defences followed, with all finishing inside a round, including a rematch body shot knockout of Jackson.
The natural progression for McClellan was to move up in weight, with Nigel Benn firmly in his sights. In a highly anticipated meeting of two knockout specialists, Benn and McClellan met in February 1995, in a much hyped fight labelled 'Sudden Impact'.
McClellan started a strong odds on 1/3 favourite, and many expected him to chop Benn down with his dynamite fists. McClellan himself said in the build up that he expected "nothing less than a vicious knockout".
The two came together inside the London Arena, and Benn was knocked out of the ring with barely 35 seconds gone of the fight.
What unfolded throughout the ten rounds was pure sporting drama, and the tragedy of the aftermath would reverberate through sport, and leave McClellan a shell of the person he once was.
Be sure to check this fight out on YouTube, as it's a thriller.