"It's funny because when we talk about street life and things like that, I (Lerrone Richards) always believed that it was a choice. It's a choice that everyone needs to make in their life. And obviously, in everyone's life, there may possibly be a chance where there was some kind of temptation where you thought, oh, you know what maybe you can do this, and maybe do it this way because it's the easier way.
"But for me, I was never tempted and always felt if I continue to do me, and continue to do things the honest way, I'll succeed. So that's the reason why I can say to you that I had a good life, because of the choices that I made."
Lerrone Richards is one of four children and a product of good parenting. The Super-Middleweight contender is the current British and Commonwealth champion but wouldn't be in this position if it wasn't for the influence of his parents.
"My dad used to do Thai boxing when he was younger and he always loved boxing, always loved it. And then he got me into it because he thought it would be good for my self-confidence. I had a lot of energy as well as a kid, so just to burn me out really and for me to learn a bit of self-defence. So my dad used to be in the gym with me, we went together, he took me there. And from when I was in that gym he used to work with me on technique, and alongside Freddie Barr.
"I started boxing at Kingston Amateur Boxing Club at the age of five and a half. And it was a gym in the estate, and my dad used to take me there Monday, Wednesday, Friday where I was trained, by my dad by himself, and a man called Freddie Barr. So I started boxing there, and that's where I learned and I got schooled from when I was young by Freddie Barr and my dad. I got schooled into my boxing and the technical side of things as well, so the way I box now it's all down to my father and Freddie Barr from when I was young."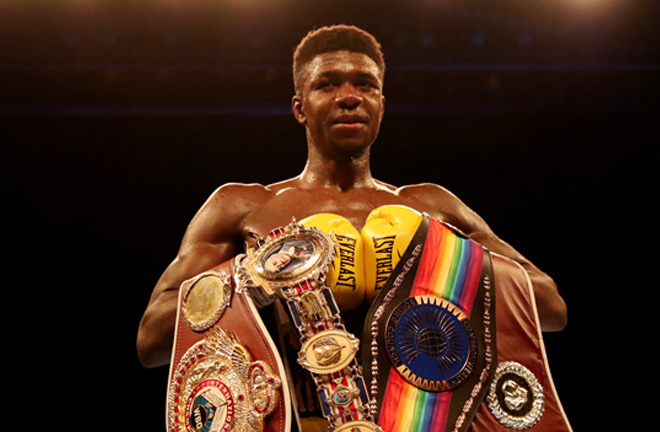 Richards would spend the next five years. To begin with, it was more like a hobby, just staying fit, self-defence, staying disciplined. That's what it was. But then over the years, you take something more seriously and Lerrone started to fall in love with boxing.
"So my dad took me down to Repton Amateur Boxing Club so I can take it more seriously. And when I was there it was a completely different level. You're getting kids of all different sizes, all different weights, fighting at a higher level. They're all national champions sparring, and it took a while for me to adjust really. And I feel like, once I went to Repton that's when the level of my boxing went up.
"I was at Repton until I was 17, 18. And then I started to work and I needed to get a gym nearby, close by. So I spent my last year as an amateur at Earlsfield Amateur Boxing Club, which was a 20-minute drive from my mum and dad's [house]."
Turning professional at 21-years-old Richards was soon signed to a promotional deal with Frank Warren and Queensbury Promotions after four professional victories. However, hindsight is a wonderful thing. Lerrone looks back and feels he may have turned professional a little too early, not that it has affected his progression thus far.
"I turned pro at the time because I felt there was nothing for me to achieve domestically. I didn't feel I was getting a fair shake fighting for my country, Great Britain, where I was born. And I thought you know what, it's about time now I turn over.
"And I did, and reflecting back on it now, I feel like I did turn over a little bit too early. Maybe just due to maturity. I was still young, I still had a lot of growing to do physically and also mentally as well, which I find that now. That's the reason why I turned professional."
Richards had experienced spars with World champions in the moulds of James DeGale, Billy Joe Saunders and George Groves. No secrets about his successful gyms battles. Unordinary of him, turning heel, Lerrone was now vocal on social media and in interviews. Callouts were made to Chris Eubank Jr after their sparring sessions.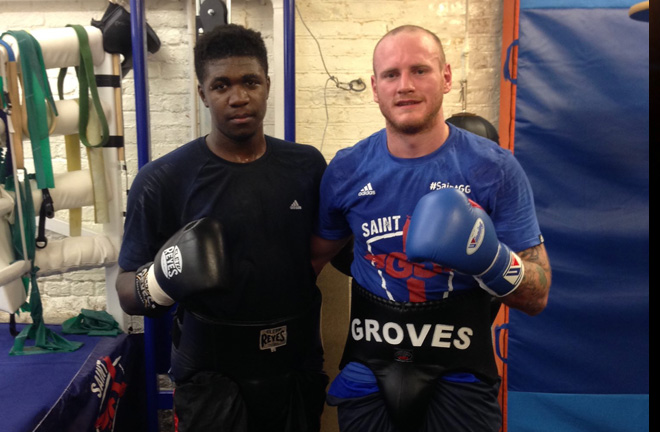 "At the time I was very, very frustrated because I was thinking, look, I want these fights. These fights are not happening. And I was just sitting there and I was thinking, you know what? I can only control what is in my control. And if I can't get these big fights and if these guys don't want to fight me, then so be it. But as long as I keep winning and I keep looking good and keep being me, I just hoped that I would get the opportunity. And in the end, I did, and when I did I took it with both hands.
"I've always just believed in my own ability, I've never thought that if I sparred this guy and I did well then I would be able to make it at this level. Because I've always known. And you can just go back to people's amateur pedigree, I think people dismiss and tend to forget that I was a good amateur. And because I don't talk about it much, maybe people probably just assume that I just came into boxing just on a random. But that wasn't the case.
"I've been boxing since I was five and a half years old. And that I've been schooled and I have a few credentials behind me. So, me sparring these guys and me doing well against these guys, it's no surprise to me. I don't think there's any surprise to the guys that know boxing or have been around the circuit for a long time. If anything, it was inevitable."
Just six years removed from his debut, Richards is the reigning British and Commonwealth champion. Titles he has accrued in his last two bouts after chasing the big nights under the lights it was a relief to finally shine. Lerrone is confident he is the best in his division domestically, there is no doubt of that in his mind. It seems European title challenges could be on the horizon for the 168-pounder.
"It felt good man. And it felt good for all different reasons. But I go through life trying to prove myself right, not to prove anyone else wrong, prove myself right. Because the truth is, all I really care about right now is my mindset when it comes to boxing, my mindset. And as long as I'm happy, and I know it sounds a bit selfish, but obviously, I'm not selfish, I love my people, I love my family, I've got a lot of respect for everyone that supports me, of course.
"I feel like I've conquered Britain. Excluding all the world level fighters, I've conquered Britain. And I feel like now it's time for me to conquer Europe. I proved myself already at this level and I want to start now pushing on to European fringe world level so that we can fight for a World title in 2021. And that's the plan."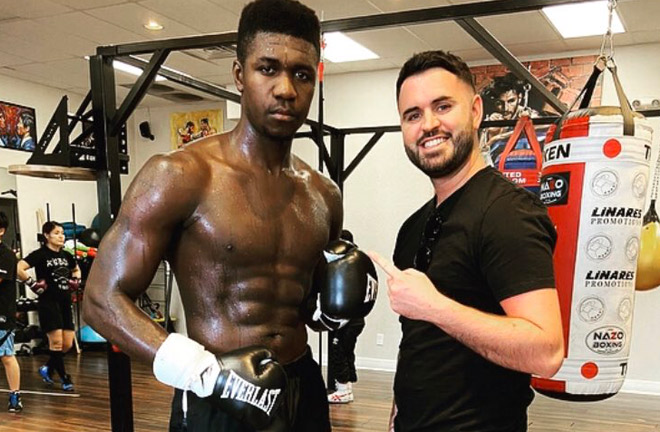 Lerrone spent some time in Las Vegas recently assembling a new team around him consisting of Ismael Salas, Cameron Goff, his strength and conditioning trainer and his new management team of Sam Jones and Adam Moralee.
"Ismael Salas is unbelievable. Unbelievable. I just learned so much when I was out there. Every session I was listening intently because I knew this guy, the amount of knowledge this guy had, I was just wanting to soak everything up. And I learned a lot out there and I feel like, even the time I spent out there with Ismael, I felt that I improved tremendously and I found myself again.
"When I'm home, so Cameron's out here, he's just down the road from me in Carshalton. So I'll be working long term with Cam, with my strength work, et cetera. The boxing, we'll get into that with the boxing situation, obviously, we would have everything organised but because of this coronavirus situation, it's messed a few things up, and delayed a few things. Obviously working with Ismael Salas in the future is definitely an option for sure."
Ever vocal, Sam Jones, had been calling for a showdown between his charge and Derby's Zach Parker stating he would even give Parker home advantage. It's about Lerrone would be interested in but respectfully appreciates it is likely to happen later down the line with World honours at stake.
"I think Zach Parker's a good fighter. I rate him a lot. I've seen the interviews when people mention my name and he always speaks highly of me, and with respect, which is noted. So no, I've got nothing bad to say about Zach Parker. I think Zach Parker's a good fighter. I think he's being managed very, very well and I feel that one day he will win a World title.
"For him to want to fight me now, if I just put my business hat on, it doesn't really make sense for him. He's ranked number one by the WBO, he's on the fringe of a World title shot. So fighting Lerrone Richards, he doesn't really gain much. But a loss on his record, if he does, and a loss of his ranking. So of course now he's just going to sit back and he's going to wait for this opportunity for the World title. And hopefully, when he wins this World title, I and he can get on for the World title. That'd be great."