The 'Hebrew Hammer' will continue climbing the ladder in the next installment of the "Rockin Fights" series on Saturday, December 20th, 2014 at The Paramount in Huntington, NY.
The main event will feature undefeated Jr. Welterweight Cletus "The Hebrew Hammer" Seldin (14-0 11KO's) Shirley, NY. Returning after a spectacular 2nd round knockout of Ramesis Gil at The Paramount on Sept. 19th, 2014, Seldin is scheduled to fight in a grudge return match with Bayan "The Mongolian Mongoose" Jargal, 17-5-3 11KO's, Arlington, VA in a 10 round Jr. welterweight match.
Seldin and Jargal hooked up at The Paramount on July 18th of this year in a feature bout televised as part of the popular ESPN "Friday Night Fights" series. From the opening bell these two warriors went right at each other with damaging punches. The bout was stopped after 3 rounds due to a cut over Jargal's eye that also caused severe swelling. The bout was ruled a Technical Draw and this time each combatant promises a more definitive ending in what was shaping up as an all-out thrilling war.
The Semi-Final 8 round bout will feature new Star Boxing acquisition, Light Heavyweight Joe Smith Jr., 16-1 13Ko's, Shirley, NY in his first appearance at The Paramount against an opponent to be named shortly. Smith is known for his devastating power as a professional and was a decorated amateur in the tri state area. In his last fight on July 23rd, 2014, Joe stopped Tyrell Hendrix in 3 rounds in New York City. Smith is also a working member of the Laborers Union (Local 66) and expects to have many Laborers at the fight.
Founder and CEO of Star Boxing, Joe DeGuardia is also proud to announce that he has entered into a long term promotional agreement with Smith. Smith, "The Irish Bomber", turned professional in October of 2009 and has blazed a trail that has seen knockout 13 of his opponents.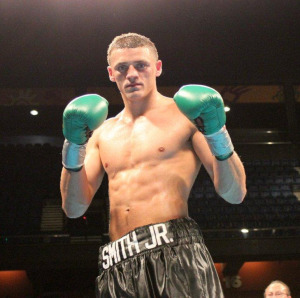 The "Irish Bomber" was elated with the signing and stated: "I'm so excited to be with Star Boxing and fighting on Long Island at the Paramount".
Smith is known for his tremendous power but has also displayed the ability to box.  He has had close to 50 amateur bouts that included titles as a Junior Olympian, NY Metro champion, and in 2008 Joe won the prestigious NY Daily News Golden Gloves Championship.  Smith is also a member of Local 66 Laborers Union and has already established a very big following.  He is managed and trained by the Jerry Capobianco, who stated: "With the help of Joe DeGuardia's team at Star Boxing I feel Joe Smith Jr will be another World Champion from Long Island ".  Joe wants to follow in the tradition of past great Irish/American fighters such as Jack Dempsey, Billy Conn, Mickey Walker, and Gene Tunney to name a few.
Star Boxing head Joe DeGuardia had this to say about his new signing "I've had my eye on signing Joe for a while as he is an exciting fighter who is a perfect fit for our fans at the Paramount.  The Light Heavyweight division is a very good one and we have had our share of champions in that division (among other, Star Boxing promoted Light-Heavyweight champs Antonio Tarver and Lou DelValle) and I'm looking forward to Joe Smith becoming another or our World Champion's in the very near future".