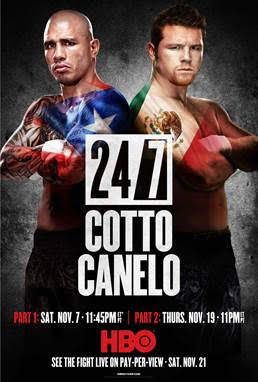 HBO's "24/7" reality franchise returns for its 21st multi-part boxing installment with 24/7 Cotto vs. Canelo, debuting Saturday, November 7 immediately following that night's HBO World Championship Boxing doubleheader. The behind-the-scenes series follows two elite fighters as they prepare for their pay-per-view middleweight title showdown Nov. 21 at the Mandalay Bay Events Center in Las Vegas.
"The intensity, rivalry and significance of Miguel Cotto of Puerto Rico versus Canelo Alvarez of Mexico will make for great storytelling in this all-new edition of '24/7'," noted Bernstein. "This is a mega-fight that will generate tremendous interest, and we look forward to documenting the multiple storylines generated by this red-hot showdown."
Episode two of 24/7 Cotto vs. Canelo debuts Thursday, Nov. 19, two nights before the high-stakes bout.
Watch: Cotto vs. Canelo 24/7 Video Preview
Cotto vs. Canelo 24/7 will provide exclusive behind-the-scenes access, along with in-depth interviews, as the fighters prepare for their first encounter. The 34-year-old Cotto (40-4, 33 KOs), from Caguas, Puerto Rico, is the reigning lineal world middleweight champ. His formidable foe is the 25-year-old Canelo Alvarez (45-1-1, 32 KOs), of Guadalajara, Jalisco, Mexico, who has turned back an impressive list of challengers.
Making his fifth "24/7" appearance, Cotto is working with Hall of Fame trainer Freddie Roach at the famed Wild Card Gym in Hollywood, Cal. Canelo once again is holding camp in San Diego with his seasoned trainer, Eddy Reynoso.
"Cotto vs. Canelo" takes place at the Mandalay Bay Events Center in Las Vegas on Saturday, Nov. 21 at 9:00 p.m. (ET)/6:00 p.m. (PT), and will be produced and distributed live by HBO Pay-Per-View®.
The executive producer of Cotto vs. Canelo 24/7 is Rick Bernstein; senior producer, Dave Harmon; coordinating producer, Bentley Weiner; producers, Abtin Motia and Christine Wilt; writer, Aaron Cohen. Liev Schreiber narrates.