ProBoxing-Fans.com will be providing live Cotto vs. Mayorga results and round by round scores this Saturday evening, March 12th, from Las Vegas. The Miguel Cotto vs. Ricardo Mayorga contest will be for Cotto's WBA junior middleweight title. Cotto will look to impress, while Mayorga will look to inject some life into the scene in the way that only he can.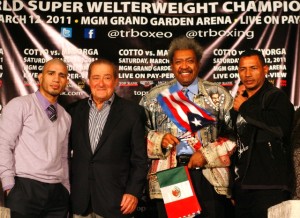 Check out our live Cotto vs. Mayorga round by round and results for up to the minute updates all evening long, as we cover not only the headliner, but also the Foreman vs. Wolak bout and all of the rest of the undercard action from the Relentless Showtime PPV card.
It's the best place to be Saturday night when you want live Cotto vs. Mayorga results but don't want to shell out any cash for the pay-per-view, or simply want to see what others have to say about the fights as they happen. The Relentless Miguel Cotto vs. Ricardo Mayorga Showtime Pay-Per-View will begin at 9 pm Eastern.
Cotto vs. Mayorga Round by Round Scoring
| | | | | | | | | | | | | | |
| --- | --- | --- | --- | --- | --- | --- | --- | --- | --- | --- | --- | --- | --- |
| Round | 1 | 2 | 3 | 4 | 5 | 6 | 7 | 8 | 9 | 10 | 11 | 12 | Total |
| Miguel Cotto | 10 | 10 | 10 | 10 | 10 | 10 | 9 | 10 | 9 | 10 | 10 | – | 108 |
| Ricardo Mayorga | 9 | 9 | 9 | 9 | 9 | 9 | 10 | 9 | 10 | 9 | 9 | – | 101 |
Cotto vs. Mayorga Results
Cotto Stops Mayorga in Final Round!!!
In front of a nearly packed house, the fighters are being brought out now. The crowd is largely pro-Cotto, with a heavy Puerto Rican flavor on hand. Mayorga looks confident, but since when hasn't he? The crowd is booing him, but don't expect that to rattle him. Cotto is poker-faced as always, expressionless as he enters the ring to vocal support from this large MGM crowd. Both men look very sure of themselves. Judging by the fan support during the introductions of Jimmy Lennon, Jr., Cotto is still one of the most well-embraced fighters and popular fighters on the entire planet. The MGM crowd is crackling!
Round one was tense. Cotto landed a few telling left hooks. One gets the pressure that his better form and polish is always on the precipice of taking over the fight. But Mayorgs is winging. Cotto tkes a competitive round one.
In the second, both men opened up. Cotto's greater accuracy is winning exchanges, but Mayorga is whizzing shots in there, some only missing by a fraction of an inch. Despite Mayorga's dogged effort, the sharpness of the Cotto punches gives him another round.
The third opened with Mayorga slugging. His shortages in sharpness and speed make it a difficult proposition. In addition, Mayorga doesn't appear to be any bigger than Cotto in the ring, something he might have counted on. After Mayorga landed his best punch of the night, he goes nuts! He starts waving in Cotto, daring him to hit him. Cotto obliges and bangs Mayorga around. Mayorga offers up little in the final minute other than defiance.
In the 4th, Cotto is patiently picking his shots. Wisely, he backs up whenever Mayorga starts throwing, making it difficult on the aging Managua brawler. At the end of the 4th, Mayorga lands his best stuff of the night, backing Cotto up with a well-times and strong volley.
In the 5th, a few Cotto left uppercuts graphically knocked Mayorga's head back, not enough, however, to knock the cockiness out of him. Mayorga is dialing it in a bit. He is getting closer and timing Cotto increasingly well with his shots. Still, Cotto is throwing combos seamlessly and looks great except for the few times Mayorga is able to land.
Cotto looks good. Obviously, the Emanuel Steward connection is working. Cotto is able to score, get out, and have Mayorga swinging at air. His punches look fast, his jab is effective, and his punch anticipation is a telling factor. In a quit round, Cotto puts another one in his column.
Action picked up agan in the 7th. Mayorga landed a few stiff rights and left hooks. Cotto returned the favor, but his sharpness may have waned slightly in this round. In the final minute of the round, Cotto got nailed by a right hand, then caught Mayorga coming in with a left uppercut. Mayorga landed a right at the bell. Good round for Mayorga.
Cotto was crisper to begin this round. Landing some nice jabs, Cotto then opened up and landed some good left hooks to the body. A left hook with :45 left seemed to freeze Cotto, who is looking the tiniest bit ragged in his approach at this point.
Mayorga is defiant and grandiose in his demonstrating, but needs to become more competitive to have a chance of winning this. It's not going to be enough to win a round or two. His problem is he's facing a fighter light years ahead in terms of quickness and refinement. He troubled Cotto again in this round with some clubbing assaults, but cannot match the overall more consistent work of Cotto. To his credit, however, he is still putting a lot of pressure on Cotto. For the final 30 seconds, in fact, he may have won the round by moving his hands against an inactive Cotto.
In the 10th, Mayorga's pursuit was stemmed when he ran into some really crisp shots by Cotto. Mayorga, for a guy who dropped 3 straight before returning recently, is not doing a very bad job.
Mayorga came out for the 11th with his eyes puffy, but still trying to make something happen to his credit. He is facing a very good version of Miguel Cotto tonight and he is still gunning for the fences. Hats off. But make no mistake, he is against it. Even when he tries to make it a machismo battle, Cotto seems to come out on top. Cotto's jab is making its presence felt in these past few rounds.
The final round to an entertaining scrap and Mayorga is gunning. But oh no! He got clipped by a left hook and wobbled badly! He belatedly fell to the canvas. In great pain, he rose. It appeared that he might have hurt his hand, perhaps dislocating a thumb, directly before Cotto landed that fight-changing left hook. Just like in the Mosley fight, Mayorga just couldn't keep it together in the last round. With Cotto moving in to finish in, Mayorga motioned to referee Byrd about his hand and Byrd stopped it at :53 of the final round. The winner and still champion: Miguel Cotto!
Foreman vs. Wolak Results
Wolak Defeats Foreman!!!
An east coast style fight in Vegas! Jewish Yuri Foreman takes on Polish Pawel Wolak in one of those old-school ethnic matchups. Wolak entered the ring first, with Foreman thaen coming in to the unlikely strains of Pantera's "Breathe, Spit, Walk." The building is filling up nicely, as we head into the final few matches of the card. Both Wolak and Foreman are 28-1, but with Wolak having 18 knockouts to Foreman's 8, the battle lines are already drawn. Wolak is not called "The Raging Bull" because he likes to box cutely. Foreman, meanwhile, is boxing for the first time since losing to main eventer Miguel Cotto last year.
At 5'11" and a 72-inch reach, Foreman has several inches of height and reach on Wolak. From the opening bell. he tried to use it and keep Wolak at bay. Both had success in a very good first round. Foreman caught Wolak with some jabs and a few potshots to the body. Wolak, however, found success in roughing up Foreman in spots. Should be interesting.
In the 2nd, the flashier work of Foreman began to tell. He ripped the body with some quick hooks and did a better job maintaining distance. Wolak closed the round with a strong right to the head.
Wolak closed the gap a bit in the 3rd, landing well to Foreman's body. Foreman does well when he moves and then suddenly sets himself and throws a shot. In the final minute, Wolak landed well, before a series of Foreman shots found their mark.
Good fight. In the 4th, both traded at ring center. The more proletariat work of Wolak stands in good contrast with the more dazzling handiwork of Foreman. Depends on what you like more. Foreman is allowed to be first since he is the one moving, and therefore, the one who decides when to stop moving. Wolak, though, usually answers. At the end of the 4th, he zeroed in on Foreman and connected well about the head. Good round for Wolak.
A blistering exchange opened the fifth. Both men are throwing passionately. Say this about Wolak: He might not be known for it, but he isn't that much slower than Foreman. Wolak is really going for it ad Foreman is having to call on all his resourcefulness ro keep him off. Foreman answered well, but another good round for Wolak.
Both dug in again to start the 6th. Wolak landed some good right and Foreman answered with a few off his own. Wolak is beginning to find a bit of a home for that right. Now we know why they call him the Raging Bull. Foreman is still moving well, but whenever he stops to throw, Wolak returns fire so well that it might be discouraging Foreman. A nice Wolak flurry at the bell might have gotten him another round.
In a stunning turn of developments. the referee is waving the fight over. The Foreman corner retired! Apparently, the work Wolak was doing in there was beginning to get to Foreman to the point where he feels this is a hopeless cause. We'll have to find out exactly what was wrong with Foreman here. After watching him try to soldier on versus Cotto, it's a bit surprising that he would capitulate here. Then again, the work of Wolak was becoming more and more telling and Foreman had been battered somewhat over the past 3 rounds.
Maybe we should have known this was going to happen. When the much better-known Foreman was installed as a minor 2-1 favorite, it seemed like the oddsmakers knew what was going to occur. Gotta watch out for those sneaky rascals.
Miguel Vazquez vs. Lenny Zappa Results
Vazquez Beats Zappavigna!!!
24-year old Miguel Vazquez met 23-year old Lenny Zappavigna in a bout for Vazquez' IBF Lightweight title. Vazquez is considered a darkhorse in the 135-pound class. A win against Zappavigna would go a long way toward proving his merit. Zappavigna, 25-0 (17 KOs) is well-regarded and should bring a lot of heat into the ring. Vazquez, whose only three losses are to Tim Bradley and Saul Alvarez (twice) will have 3-4 inches of height and reach on Zappavigna, who will presumably need to force his way inside to be successful.
A slow first round picked up in the 2nd, with Zappavigna trying to whip home some hard shots on the crafty Vazquez. The Mexican titlist made Zappavigna miss wildly at times, while poking out a decent jab. It seems like both men are still in the feeling-out process. A few sharp shots by Vazquez completed the round. Action continued to pick up in the third. Zappavigna's swings are menacing and powerful-looking, but Vazquez is getting off first. The champion is able to dictate the starting point of mot exchanges by leading Zappavigna around the ring.
The 4th was a bit of a grind, as the combatants became tangled up numerous times. Zappavigna is charging in and when he does, their arms become tangled. Vazquez came out amped-up for the 5th. He stung Zappavigna with some nice jabwork and timed him rushing in with a few well-placed right hands. Zappavigna is aggressive and landing a good left hook to the ribs every now and then, but Vazquez is able to prepare himself for the telegraphed missiles to the head. Good round for Vazquez.
The 6th was a good round. Vazquez kept moving and lashing out with quick jabs and one-twos. Zappavigna landed his best punch of the nigh to the head, but the champ came back. Zappavigna landed a few good bodyshots. Referee Tony Weeks warned Zappavigna for rabbit punches, an offense he has committed multiple times in the bout. Though in all fairness, Vazquez leaning in to avoid roundhouse rights is at least partially responsible. Zappavigna stalked some more in the 7th, but was still unable to land much of consequence. By staying busy, he might have taken the round against a more passive Vazquez.
Vazquez was a bit more effective with his strategy in the 8th, catching his foe with some zippy shots. Still, it is a somewhat uneven encounter that has the MGM crowd a bit restless. Neither fighter is able to put a very definitive stamp on the fight, but Vazquez appeared to build on his slight edge in this round. In the 9th stanza, Zappavigna opened up firing, but Vazquez deftly sidestepped the danger and returned fire with his jabs. He countered nicely on the ropes at the midway point of the round as Zappavigna charged in with an attack. Nothing blood-curdling, but there's a certain efficiency and cleanliness to the way Vazquez works. A nice right by Zappavigna closed the round.
The 10th was evenly-contested. Vazquez landed a few potshots. Zappavigna clubbed away, and the crowd voiced their displeasure. Both men landed cleanly at the bell. Members of press row appear split on who is winning. Apparently, Zappavigna's aggression is winning over some folks. Personally, I think Vazquez is fighting his fight, while largely nullifying Zappavigna's power. The 11th round saw more effort on the part of Zappavigna, who continues to wing power shots toward the general vicinity of Vazquez' head. The titleholder did little in the round, as the crowd continues to squirm.
Zappavigna opened the final round and landed some bodyshots. A fight that had early moments of promise turned into an aimless slog. Neither man is terribly effective at employing their game plan. After 12 bewildering rounds, the judges had it rather wide: 117-111 and 118-110 (twice) for the winner and still champion Miguel Vazquez.
"Relentless" PPV Undercard Results & Updates
Gonzalez Stops McLaurin!!!
In the first bout of Cotto-Mayorga: Relentless, Bayamon, Puerto Rico prospect Juan Gonzalez, 135, took on 8-1 Minnesota fighter Jeremy McLaurin, 135, in a 6 round lightweight bout. Gonzalez, a Don King promoted prospect, wasted little time in laying into McLaurin with zeal, knocking him down with a strong series of punches. McLaurin rose, only to be assaulted by a followup attack. At 1:56, referee Drakulich stepped. Gonzalez is certainly a young charge worth keeping an eye on. The punches come straight, fast, and hard.
TV Azteca's Ines Sainz just walked by and said hello. Whoa. OK, let's concentrate on boxing.
Molina stops Rabotte!!!
The second bout of the evening saw 16-1 (12 KOs) Eric Molina take on Joseph Rabotte in a 6-round heavyweight bout. Since being stopped in the first round in his pro debut, Molina has done well, winning 16 straight. Rabotte, a 9-15 (3 KOs) journeymen has been stopped ten times since his '07 debut, serving as fodder for fellow prospects like Joe hanks, Seth Mitchell, Tor Hamer, Deontay Wilder, and Amir Monsour. Molina, 227, opened cautiously against the big 255-pound Rabotte. The 6'6″ Molina started working behind a jab, but Rabotte threw some nice flurries to end round one.
The bulkier Rabotte used movement well, until a flurry downed him in the second. Molina, 28, started finding Rabotte at the end of his shots. Rabotte took a powerful right at the end of the second and is looking a bit worse for wear. Rabotte has a better third, surprising an less-than-sharp Molina with some ambush attacks. Molina seems to be struggling in the role of aggressor, with Rabotte moving so much. It looks like he's be more comfortable as a boxer. Rabotte continues to make him a pursuer and is catching him. Molina landed a little better in the 4th, but there isn't much to separate the two through four.
Molina may have won the fifth against a waning Rabotte, but this certainly doesn't look like a fighter with 16 straight wins against a 9-15 journeyman. Molina broke through with 20 seconds left to catch Rabotte during an exchange. Rabotte went down, but Molina ran out of time as the bell sounded. Molina opened up in the 6th against a still-defiant Rabotte. He landed some right, which would be an even stronger weapon if he threw it straighter. Another right wobbled Rabotte at he midway point. A followup rally convinced referee Bayless to stop it moments later. Molina moves to 17-1.
Rojas Defeats Hidalgo
Caguas prospect Jose Rojas, 122, defeated tough Isaac Hidalgo by unanimous decision in a six-rounder. Hidalgo, now 6-7-2 put up a great fight in losing by scores of 58-56 and 59-55 (twice). Rojas used superior movement to ambush Hidalgo to win most of the rounds. Rojas moves to 17-1.
Korobov Destroys Walker!!!
28-year old southpaw prospect Matt Korobov, 161, wasted little time in disposing of Michael Walker. Korobov, who won the World Amateur Championships in 2005 and 2007, unloaded a left hook that spilled Walker, now 19-7-2 (12 KOs). Walker was wobbly as he rose, bringing about the referee's intervention at 1:31 of the very first round. Korobov, who looks ready to take the next step in his career, moves to 14-0 (9KOs). That left hook reminded one of his cornerman, the irrepressible Mike McCallum.
Tommy Zbikowski Bashes Bryant!!!
Baltimore Raven Tom "Tommy Z" Zbikowski resumed his career with his first fight since '06, as he faced 1-2 Kentuckian Richard Bryant. Tommy Z might have more time to focus on his boxing with a potential NFL work stoppage looming. At 193, he is out-sized by the 225-pound Bryant. Bryant, KO'd in 1 by prospect Natu Visinia, opened by firing, but was matched by Tommy Z. A left hook to the body created a delayed reaction on the 35-year old Bryant, who fell in a heap. He rose, but the referee stopped it at 1:48. The crowd didn't appreciate Bryant's effort. He got hit by a bodyshot, landed a punch, then went down when hit by a shoulder. It looked strange, but the bodypunch created a delayed reaction, which just made it look fishier than it was. Zbikowski goes to 2-0 (2 KOs).
Thanks for tuning in once again to ProBoxing-Fans.com, with our live ringside Cotto vs. Mayorga results, round by round updates, and up to the minute coverage for the entire PPV event.